Who pays Charlie Sheen? Ask Ad.ly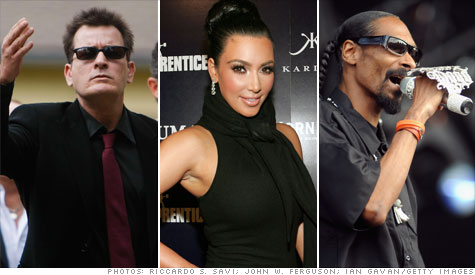 NEW YORK (CNNMoney) -- Charlie Sheen's 20-city "Violent Torpedo of Truth" tour might be off to a rough start -- but the guys who helped turn his tweets into gold are watching their business take off like a rocket.
Charlie Sheen's shenanigans brought Ad.ly -- a startup in Beverly Hills, Calif., -- into the spotlight during his heated battle with the producers of "Two and A Half Men."
Business has ramped up since the actor came aboard, said Sean Rad, Ad.ly's president and founder.
Rad started the company in 2009 based on the idea of using Twitter and Facebook to form a marketing connection between celebrities, with their legions of Twitter followers, and companies vying for the attention of those consumers.
In a nutshell, Ad.ly pays celebrities to tweet for sponsors.
"I started with a vision and the vision was that celebrities are moving online and they're starting to interact with platforms online and they're producing valuable content and that content deserves to be monetized," said Rad.
Rad said he raised $6 million worth of angel funding from GRP Partners in Los Angeles and Greycroft Partners in New York, connections that he made through the founding of a webmail service company called Orgoo, which is no longer in business.
The company's first celebrity client was Lauren Conrad, who shot to fame on MTV reality series Laguna Beach: The Real Orange County and spin-off The Hills. As social media became more popular, Rad has gradually built a roster of celebrity clients.
Getting Sheen was a win for the firm.
The contentious actor approached Ad.ly in March, looking for ways to effectively communicate to his fans via his outrageously popular Twitter feeds.
He gained a million followers on the first day he joined Twitter, breaking a record. The public had become fascinated with his erratic behavior during televised interviews, in which he openly bragged about smoking crack cocaine and living with two girlfriends.
By March 7, he was fired from his job and had already invented buzz words like "warlock" and "winning," and other catchphrases that seemed tailor-made for social media.
"Sheen was saying 'tiger blood' on TV and then it turned into a trending topic on Twitter," said Ad.ly CEO Arnie Gullov-Singh.
Rad and Gullov-Singh decided to broker a deal between the actor and Internships.com.
When Sheen tweeted about how he was looking for "a #winning INTERN with #TigerBlood," Ad.ly paid the actor "four to six figures" for it. Internships.com raked in publicity.
Partnering with celebrities is like creating a new and highly effective distribution, explained Gullov-Singh. "You can find a million people who have one friend, or you can find a handful of people who have a million friends. The latter group is celebrities."
And another way to keep that distribution humming along is writing the endorsed tweets for their clients.
"If you let the celebrity write the tweet, it would take a while," said Gullov-Singh. "They wouldn't get around to it."
So when Snoop muses via Twitter - "Wonder if this swagger wagon can fit 22's?" - his ghost writer is using language carefully crafted by Ad.ly and Toyota to promote the company's Sienna mini-van.
The celebrities approve the tweet before it's released.
Since its launch, Ad.ly has racked up 24,000 endorsements through a roster of 1,000 celebrities, led by reality television star Kim Kardashian, with more than seven million Twitter followers. She's followed by rapper 50 Cent (4.4 million,) singer Mariah Carey (4.1 million,) party girl Paris Hilton (3.7 million,) Sheen (3.5 million) and Snoop Dogg (3 million.)
The company's executives said they plan to continue their "winning" strategy, snaring more celebrities and sponsors.