Biggest winner in BP claim game is ...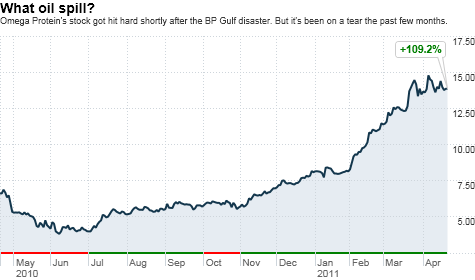 NEW YORK (CNNMoney) -- Many companies were hit hard by the BP Gulf of Mexico oil spill last year. Fortunately, the government is starting to distribute some of the money BP set aside to compensate those who suffered financial hardship.
In fact, one company disclosed this week that it has received nearly $45 million from the Gulf Coast Claims Facility, making it the largest payment so far.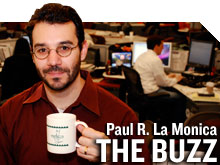 Was it a shrimp boat captain in New Orleans? A restaurant owner in Destin on Florida's Gulf coast? Casino in Biloxi, Mississippi? Nope.
How about a Houston-based provider of Omega-3 fish-oil and fish meal products ? Bingo.
Omega Protein (OME), which fishes for menhaden, a particularly rich source of Omega-3, disclosed Tuesday that it just received a final payment of $26.2 million from the fund overseen by Ken Feinberg. That's on top of emergency payments of $7.3 million and $11.4 million last September and October.
For a company that reported total sales of $168 million last year, a $45 million windfall is obviously a huge chunk of change. Omega has conceded as much.
In a statement earlier this week, Omega chairman and CEO Joe von Rosenberg said that "we consider this an excellent financial result" and added that it is something that "our stockholders can be very pleased with."
No kidding. Omega's shares, which plunged from about $7 last April right before the BP (BP) disaster to below $4 by early June, are now trading at about $14.
The stock was still trading below pre-BP spill levels as recently as October -- which is when Omega first disclosed it received emergency payments from the GCCF.
A spokesperson for the GCCF had no comment about the process for approving Omega's claim. But even though it may sound odd for a fish-oil company to get that much money, it does seem justified.
Omega, whose products are used more for underwater farming (aquaculture) and ingredients in food for livestock and pets, said in its 2010 earnings report last month that fish meal volume fell 29%. That was partly due to the Gulf spill.
Bret Scholtes, chief financial officer, said in an interview that the company's fishing season in the Gulf usually lasts from mid-April through the end of October.
Last year, he said that there were areas of the Gulf closed for fishing for much of the spring and summer, including a significant closure in July that tied up the company's fishing fleet for about a month-and-a-half.
But it also seems that Omega was able to use the hit to supply to its advantage. The company said pricing rose 40% last year because of "global tightening of fish meal availability."
What's more, von Rosenberg also said in Tuesday's press release that the company actually wound up catching 90% of the fish it had originally budgeted for last year.
All things considered, Omega didn't seem to suffer nearly as much as many other smaller businesses that rely on Gulf coast seafood and tourism.
But one analyst who follows the company said that Omega did suffer hardship due to a fishing halt in the Gulf.
Timothy Ramey, an analyst with D.A. Davidson in Lake Oswego, Ore., said that the reason why Omega's results weren't as bad as they could have been is because it did well in the other area where it fishes for menhaden: Chesapeake Bay and other parts of the Atlantic coast.
"It's pretty irrelevant to the claim that they got lucky somewhere else," said Ramey. "It doesn't diminish the damage in the Gulf."
Scholtes said that last year could have been an "outstanding" year as opposed to merely a "good" one if not for the Gulf spill.
"In our opinion, we received compensation for what would have been an incredible year," he said.
So what will Omega do with the nearly $45 million?
Scholtes said that the company did not have any specific plans but that it will continue to invest in the growth of the business.
Last year, Omega bought Cyvex Nutrition, which makes fish-oil capsules and other dietary supplements for people.
Ramey said he thinks that the money could also wind up being a safety net (so to speak) in case there are more problems down the road in the Gulf as a result of the oil spill. (Disclosure: Ramey's firm did advise Omega on the acquisition of Cyvex.)
"The claim encompasses current losses and future potential losses," he said. "It's a calculated judgment that this will compensate for the risk to resources in the Gulf 3-5 years down the road."
Along those lines, Scholtes said that Omega just started fishing in the Gulf again this week, and that it's unclear just how this year's season will shape up.
"We're working with experts and have a lot of spotter planes in the Gulf. We are very optimistic about what the year will bring," he said. "But there are a lot of unknowns."
Reader comment of the week. It seems like ages ago that S&P issued its dour outlook on U.S. debt. But it was only Monday. For a short week, it sure has felt lonnnng.
Anyway, lots of chatter over on Twitter about the rating agency's big move. Stocks fell Monday as investors freaked out.
But Christopher Abate, aka @cabate2000, had an interesting take that I'm sure was shared by many bond geeks. "why is everyone reporting that stocks fell on S&P news and not that treasuries rallied? Lol," he wrote. Good one.
By the way, the markets are closed on Good Friday. And so is The Buzz. Be back Monday.
The opinions expressed in this commentary are solely those of Paul R. La Monica. Other than Time Warner, the parent of CNNMoney, and Abbott Laboratories, La Monica does not own positions in any individual stocks.