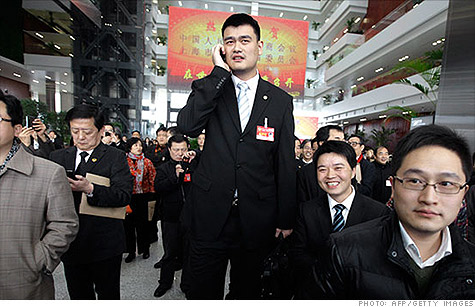 The retired basketball star is building a vast and diverse business empire in his native China.
FORTUNE -- What does a 31-year-old, 7-foot 6-inch guy in China do for an encore after a nine-year NBA career that made him his country's most famous athlete? Become a tech investor, of course.
Yao Ming, the former Houston Rockets center who has reportedly amassed a $150 million-plus fortune in salary and endorsement deals, is reinventing himself in China as a venture capitalist, philanthropist, vintner, and student. But thus far, his second act is proving more challenging -- and far less lucrative -- than his sports career.
He's pumped his own money into various businesses, including nearly $6 million into Top100.cn, an ad-supported digital-music partnership between Beijing-based Orca Digital and Google (GOOG, Fortune 500). The site for Chinese consumers has struggled to compete with pirated online music services, and in 2010 traffic fell dramatically when Google rerouted China traffic to its Hong Kong site over censorship concerns. Still, Orca CEO Gary Chen says that Yao has been supportive: He stopped by Top100.cn's offices last summer, met with management about the company's strategy, and even offered to take individual photos with its 35 employees.
More: 10 most powerful businesspeople in China
He's also purchased the Shanghai Sharks, the Chinese Basketball Association squad where he spent his formative years. The move is clearly a labor of love: When Yao bought the team in 2009, it was in danger of failing to start the new season because it lacked the financial resources; by some estimates, the annual cost of running the Sharks is more than $3.1 million. "I think he felt an obligation in swooping in and trying to save the club," says Brook Larmer, author of the biography Operation Yao Ming. Larmer sees the Sharks as a way for Yao to get back into the CBA and influence the way basketball is developed in China. "I think it's more about bringing NBA standards to Chinese basketball," Larmer says.
While Yao declined to comment extensively on his tech or sports investments, he did agree to talk with Fortune about Yao Family Wines, a winery in California's Napa Valley that sources grapes from nearby vineyards. The winery was founded in November, and its first bottle was a Napa Valley Cabernet Sauvignon priced at 1,775 yuan, or $170. Yao is already planning an expansion: The company aims to buy its own land in the coming years. The wines are now available in Hong Kong, and they should hit U.S. shelves this fall. Yao is the principal owner, and although he would not disclose how much he has invested, experts say a new winery usually requires $2 million to $5 million in capital upfront.
Yao says he first learned to appreciate wine from watching ex-teammate Dikembe Mutombo swirl and sniff his wineglass, often during steak dinners, sparking a curiosity in him to learn more. "When you drink a glass of wine, you sit at home, listen to some music, or read a book," he says. "It really makes me feel comfortable and peaceful." With a bustling post-basketball empire, Yao may be happy to have one business in his portfolio that gives him comfort and peace.