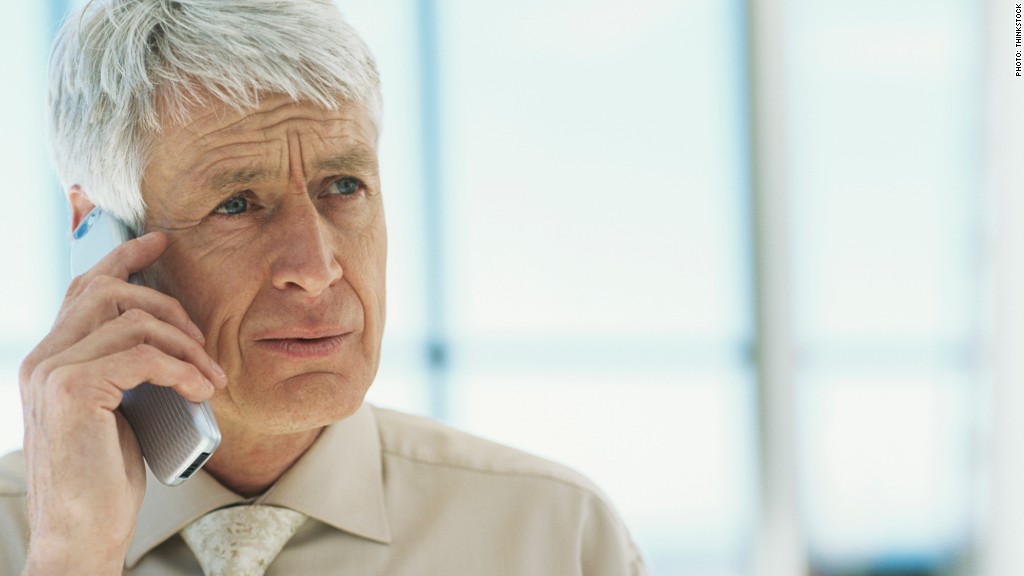 Lured in by the promise of free lunches, big-cash prizes and high-yield investments, seniors are losing big money to bogus financial schemes and bad advice.
On average, seniors who become victims of financial abuse lose an estimated $140,500, according to a survey of 2,649 financial planners conducted by the nonprofit organization Certified Financial Planner Board of Standards.
More than half of the financial planners surveyed said they have worked with a senior -- or multiple seniors -- who has been a victim of "unfair, deceptive or abusive practices," such as misleading marketing schemes and other scams that end up draining their bank account.
No such thing as a free lunch: One of the most common scams targeting seniors are "free lunch" seminars. Typically marketed as educational presentations, these seminars entice older attendees with the promise of a free meal.
Many of them, however, end up being sales pitches for investment products that come with misleading or fraudulent claims, said Marilyn Mohrman-Gillis, managing director of public policy & communications at the CFP Board.
"It's a very typical mechanism used to lure people in and put them in a situation where they are given a hard sell for products that aren't suitable for them," said Mohrman-Gillis. "And it's hard when you're in a situation like that where you've accepted a free meal and you're feeling a lot of pressure to buy."
Related: Seniors lose billions to financial abuse
According to the CFP Board's survey, a whopping 73% of financial planners say they know of at least one senior who has been invited to a "free meal" seminar.
Another 58% of planners say they are aware of seniors receiving unsolicited pitches -- whether it's by mail, e-mail or over the phone -- for financial products and services, including supposedly low-cost, high-yield investments. The elderly are also often overcharged for medical expenses or fall prey to reverse mortgage scams.
Others are marketed prize-winning or sweepstakes scams, in which seniors are told they won a big prize -- such as money or a vacation -- and are asked for their credit card or checking account information to pay for shipping and handling or the tax associated with the bogus prize. Once scammers get the senior's account information, they steal their identity and their finances.
Often though, the perpetrator is someone the senior knows. About 20% of financial planners surveyed said they know seniors who have been taken advantage of by their guardian or Power of Attorney. In fact, 35% of planners who reported being aware of at least one case of elder abuse say that the senior victims in those cases either always or often knew the perpetrators personally.
In one case, a financial planner said an 80-year-old client had signed his Power of Attorney rights over to his nephew, who proceeded to withdraw between $5,000 and $10,000 from his uncle's bank account.
Beware your financial adviser: Along with guardians, financial advisers are also betraying the trust of many seniors, the survey found.
About 83% of financial planners surveyed said seniors have been duped by financial advisers, many of whom offer clients inappropriate financial products or omit or misrepresent information about the costs and risks of a product. And one in five financial planners are aware of "malicious practices," where financial advisers commit fraud by lying or making unauthorized transactions.
The most common products used by advisers to exploit seniors are equity indexed annuities and variable annuities. Annuities, which are attractive to many seniors because they typically promise a fixed income throughout retirement, can be great options, but are often misrepresented and come without sufficient disclosures.
Related: On retirement, too many of us are fools
While advisers can make a killing on these products -- thanks to high commission rates and penalties -- seniors can be left out on the lurch, Mohrman-Gillis said.
"These instruments are very complicated, they are often sold without disclosing the risks associated with them or the benefits to the salesperson who sells them, they are often front-loaded with very high commission rates and you can't liquidate them without a significant penalty," said Mohrman-Gillis. "This often puts seniors in a situation where they don't have access to liquid assets in retirement."
Variable life insurance, mutual funds and universal or whole life insurance, are some of the other products that are often fraudulently marketed to seniors, the planners reported.
Silent victims: Despite the big losses resulting from these financial abuses, only some 16% of seniors actually report these abuses to authorities.
One woman in her late sixties, for example, decided to cash in her IRA and invest the money with a company promising high returns that she heard about at her church congregation, according to a survey respondent. Even when the company was charged with running a Ponzi scheme and had its assets seized, the client -- who lost more than $150,000 -- blamed the U.S. government and still hasn't reported her losses to officials.
The CFP Board survey was conducted in response to the Consumer Financial Protection Bureau's request for information and public comment about financial abuse of seniors announced earlier this summer. In its call for comment, the CFPB cited a MetLife study finding that seniors lost a combined $2.9 billion to financial abuse in 2010.