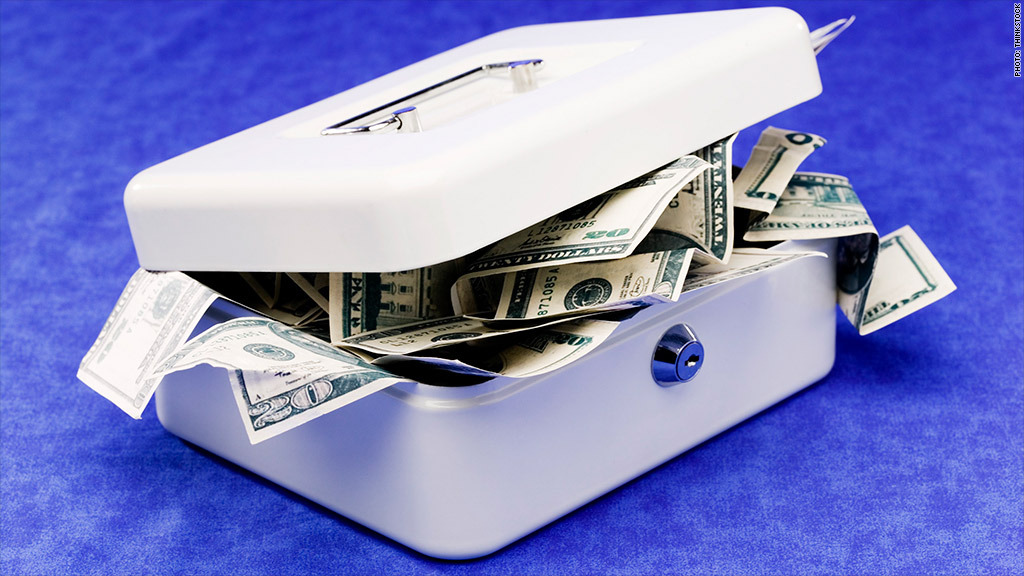 The number of people who don't have bank accounts is on the rise, as many households turn to alternative ways of getting cash -- like prepaid cards, payday loans, pawnshops and check-cashing services.
About 8.2% of U.S. households, or nearly 10 million, lack a bank account, according to survey results released Wednesday by the Federal Deposit Insurance Corporation. That's up from 7.7%, or about 9 million households, in 2009.
Most commonly, households reported that they don't have a bank account because they don't have enough money to open and fund one, with 33% of respondents saying this is the case.
Greg McBride, senior financial analyst at Bankrate.com, said that checking accounts can be costly for some consumers -- especially for those living paycheck-to-paycheck who can't meet minimum balance requirements and get hit with fees or those who are chronic overdrafters.
"[There's a] declining availability of free checking -- and a lot of that is banks pushing out unprofitable customers," said McBride. "And if you have a tendency to overdraft accounts and fees are $35 a pop, that's really going to prompt you to not open an account."
About 21% of households say they don't need or want an account. Meanwhile, 7.5% of households said they don't trust or like dealing with banks and 5.4% of households said that bank account fees or minimum balance requirements are too high.
Another 6.6% say they can't open an account because they lack required identification or have a negative banking history or credit profile. And 6.4% report that they previously had an account but the bank closed it -- often due to overdrafts or bounced checks -- meaning that they may have a hard time opening another account in the future.
Related: 'I was denied a bank account!'
Instead of putting their money in a bank, these households are resorting to less mainstream ways of getting the money they need.
Over the last year, a quarter of households have used at least one form of alternative financial service like a money order, check cashing service, tax refund anticipation loan, pawn shop, money-transfer service or payday loan. And about 12% of households have used one of these products in the past 30 days.
Others stick to using only cash, while a growing number are opening prepaid cards. Nearly 18% of households without bank accounts reported using a prepaid card -- up from 12% in 2009. That compares to about 10% of overall households using prepaid cards, which is relatively unchanged from 2009.
And while most members of the unbanked say they don't plan to open a checking or savings account, some do intend to enter the traditional banking world -- often because they want to be able to write checks and pay bills, secure their money and save for the future. About a third of unbanked households said they are "very likely" or "somewhat likely" to open an account, and the odds of wanting to open a bank account increase the more a household uses alternatives like check-cashers or prepaid debit cards.
"The high cost of many alternative financial services does take a toll," said McBride. "On the surface, it starts as a lower cost option relative to $35 overdrafts, but once you've rolled over that cash advance [and get charged additional fees], it's not a lower cost option anymore."
Households that have had bank accounts in the past are also more likely to say they plan to open an account. This makes sense, said McBride, since most people who haven't ever had a bank account before don't understand the value it can provide.
Related: Denied a bank account? You have options
Minority, unemployed, young and lower-income households tend to be the least likely to have bank accounts. Compared to the 8.2% unbanked rate among all households, 21% of blacks are unbanked, as well as 22% of foreign-born non-citizens, nearly 23% of households with unemployed members and 28% of households earning less than $15,000.
In addition to the one in 12 Americans who don't have a bank account, there's a group known as the underbanked. These are people who have bank accounts but who still use alternative ways of getting cash -- either because it's quicker to use an alternative or because they think bank accounts come with higher costs. About one in every five households is considered underbanked, representing 20.1%, or 24 million, U.S. households, the FDIC's survey found. That compares to a rate of 18.2% in 2009.
Altogether, more than one in four U.S. households, or 28.3%, are either unbanked or underbanked.
The FDIC conducted its survey with the U.S. Census Bureau in June 2011, surveying nearly 45,000 households. Its last comprehensive study on the unbanked was released in 2009.