U.S. stock futures were slightly higher Friday, as investors watched the nation's shopping malls for signs of consumer strength in the holiday shopping season.
Little major news is expected in the United States on Friday's holiday-shortened trading day, so investors will be turning their attention to Europe and the continued questions over Greece's finances.
European finance ministers failed to finalize the details of a debt-reduction package for Greece before the close of their meeting Wednesday. The officials had been expected to agree to release the funds for Greece so it would be able to make payments due in December.
Many Americans have already gotten their holiday bargains for Black Friday, the traditional kickoff to the shopping season. Leading retailers Wal-Mart (WMT) and Target (TGT) opened at 8 p.m. on Thanksgiving night, and big crowds were reported at those stores and others.
During a Friday morning interview with CNN, Toys "R" US CEO Jerry Storch said the long lines at stores were probably a sign that "people do feel a little more relaxed about the economy." Macy's CEO Terry Lundgren, also speaking on CNN, said he enjoyed watching the "stream of humanity" flow into his stores.
As Gallup noted, though, fewer than one in five Americans plan to partake in the Black Friday madness.
U.S. markets were closed Thursday for Thanksgiving. Stocks finished higher Wednesday as investors focused on positive U.S. economic numbers.
European stocks were higher in morning trading. Asian markets closed with gains.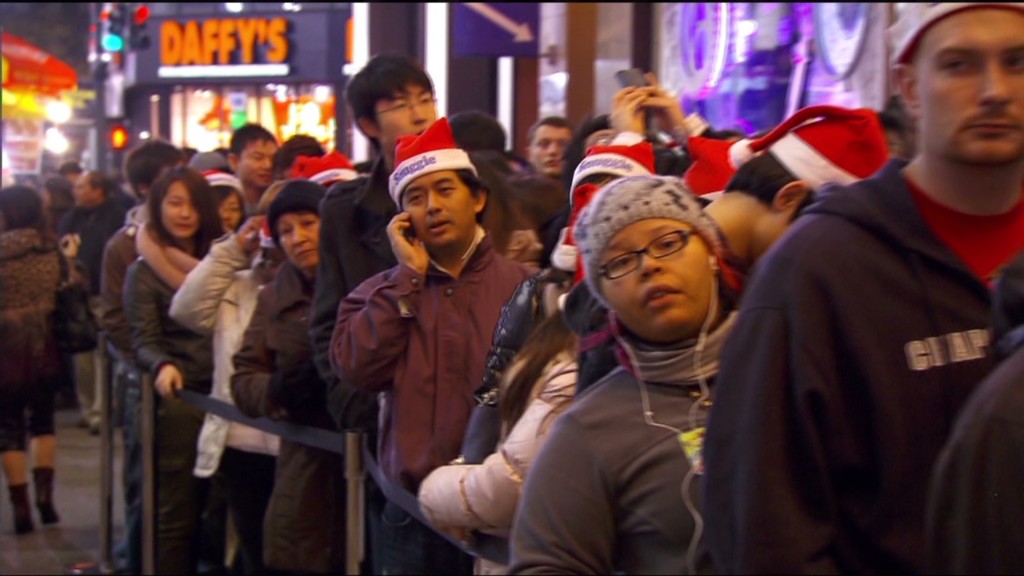 Companies: Shares of BlackBerry maker Research in Motion (RIMM) were up more than 11% in premarket trading following a report by Canadian brokerage firm National Bank Financial that anticipates sales of the BlackBerry 10 smartphone, due to roll out early next year, will be better than expected.
Hostess Brands received approval from a bankruptcy judge Wednesday to shut down and begin selling off its assets.
Currencies and commodities: The dollar fell against the euro, British pound and Japanese yen.
Oil for January delivery eased 32 cents to $87.06 a barrel.
Gold futures for December delivery climbed $5.50 to $1,733.70 an ounce.
Bonds: The price on the benchmark 10-year U.S. Treasury edged higher, cutting the yield to 1.68% from 1.69% late Wednesday.