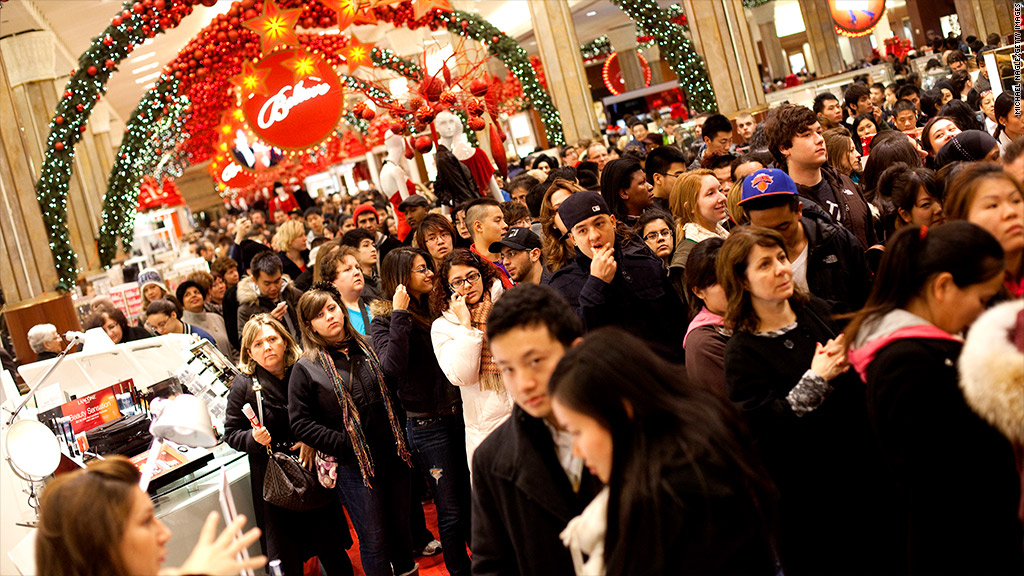 Black Friday at Macy's flagship store in midtown Manhattan has a different vibe than the typical hometown mall. For many in the crowd, the shopping is secondary: The real fun was in the spectacle.
Television crews recorded the event, a lone preacher ranted against greed and a mass of humanity waited for the store's doors to open.
Not everyone was from New York. Out-of-towners far outnumber the locals, and some shoppers even made the trek from overseas.
Ired Savilla, in town with her friends Irma Gutierrez and Manuel Orbino, did not plan on a Black Friday foray. But the 24-year-old Venezuelan heard about it from fellow tourists and thought it sounded like fun.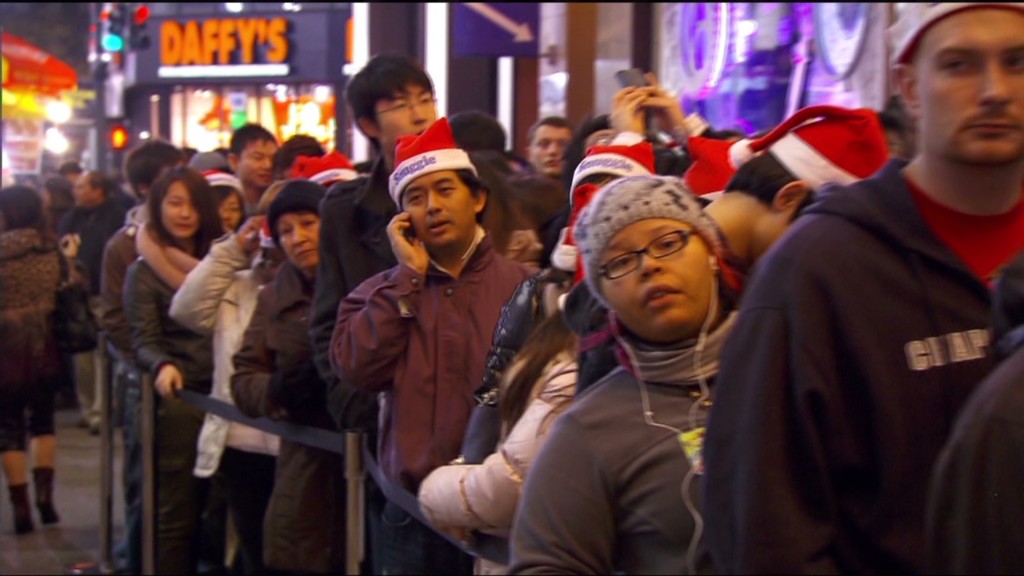 "We weren't going to stay this long but we changed our flight to Saturday so we could come here," said Savilla.
South Americans were well represented. Three sisters in their early and mid-20s, Michelle, Andrea and Rosanna Ichida, were in from Sao Paulo, Brazil. Their interest in the sale was stoked by media coverage.
"We watched Thanksgiving on television and wanted to see it ourselves," said Andrea.
Shopping-wise, they had their sights set on luggage. "Prices are a lot less expensive than in Sao Paulo," said Michelle.
Susan Shepard and Micky Appleton, of Andover, England, were celebrating their 50th birthdays. The pair had treated themselves to a helicopter ride over New York, a visit to the 9/11 memorial and a carriage ride in Central Park. Friday was their last full day in town and the women were capping off the trip with Midnight at Macy's.
"We already sussed out what we want to buy," said Appleton. Purses were first on her list.
Related: Black Friday: Shorter lines but bigger checks
Sophia Carter, 7, was with mom Julie, dad David, and Teddy, Sophia's stuffed animal, whom she brought with her from Littleton, Colo. The family was making their second holiday trip in a row to New York. Last year it was Christmas.
"We came for the parade, for the Rockettes and to see Santa," said Julie. She said she thought she would look for bargains on jewelry, shoes and New York-themed gifts. Sophia had no doubt what she wanted to buy -- toys.
Related: 7 hot toys for the holidays
As Manhattan residents, Andres Florez and Jessica Passman were a rarity in the crowd. They live on the Upper East Side, although they're originally from Florida. He's a web editor and she's a marketer. The pair, who are in their late 20s, are no strangers to Black Friday sales.
"We're pros," said Passman.
They knew exactly what they wanted to buy: watches, boots and jackets. "We'll probably spend more this year than last," said Florez.
Related: Toys R Us shoppers choose deals first, turkey later
That was also true for the mother-daughter team of Brenda Lopez, 16, and Elena Gutierrez, 35. They were early arrivals, getting to 34th Street at about 9 p.m. from their home in Parkchester, the Bronx. That enabled them to grab a spot near the front of the line.
Brenda was mostly interested in clothes and shoes but "anything on sale" was fair game, she said.
Some of the items that Macy's was promoting included 1/2 ct. diamond stud earrings and winter coats. The store was also offering free headphones with a $75 purchase of fragrances and had slashed houseware prices by 40%.
Related: Holiday deals shaping up to be the best in years
Those items were of limited interest to Beth Sakonchick and her sister Linda Kolpak of Avon, Conn.,or sister-in-law Monica Sakonchick of Austin, Texas.
"We came into town to see the parade," said Beth Sakonchick, whose in her 50s. "I had that on my bucket list. Then our daughters (Samantha Kolpak and Lindey Sakonchick) said 'Let's go shopping.' "
They intended to just "look for bargains."
Inside, many of the Macy's workers on duty were waiting just as eagerly for the doors to open as the customers were. They counted down the last 10 seconds, the doors flew open and the Macy's employees burst into applause.
The crowds moved eagerly down the store aisles and scattered in different directions and up the elevators. Another Black Friday at the nation's biggest store was underway.