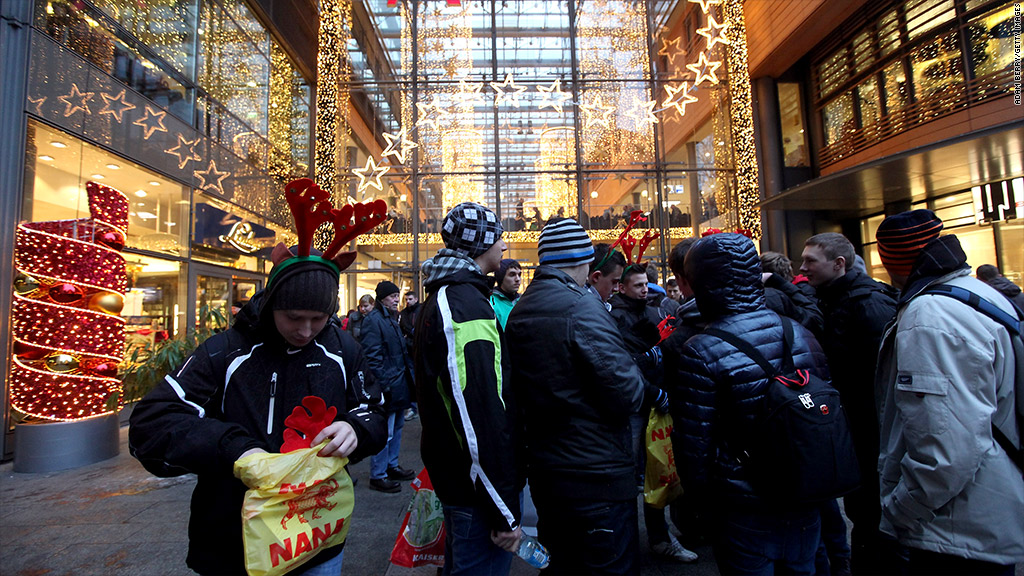 Looking to celebrate this festive season? You'll be in good company if you pop open a bottle of Prosecco.
As Europe's age of austerity grinds on, squeezing household budgets, the sparkling Italian wine is fast replacing champagne as the party fizz of choice.
"Prosecco is well-established as a popular alternative to champagne in Europe, but now it looks as if it will also become a household name over here," said Alain Guilpain, wine manager at Tesco, the U.K.'s biggest retailer.
Guilpain said Tesco's sales of Prosecco almost doubled in 2012, bucking a sparkling-wine downturn seen across the retail industry. Tesco's best-selling Prosecco is priced at just under £10 ($16) a bottle. A bottle of champagne typically costs about twice that.
Champagne sales in the U.K. have fallen this year by about 9% percent, to 17 million bottles. Sparkling wine sales, including Prosecco, have risen by 6% to 61 million bottles.
Switching to sparkling wine is just one way consumers are looking to save this holiday period. Shoppers across Europe have been hunting for bargains and putting off buying until the last minute.
Related: Last minute shoppers bring hope to stores
Even in Germany, which has so far avoided the recession gripping much of the region, the late rush right before Christmas Eve was particularly pronounced, the national retail association said. Still, it is expecting holiday sales to have risen by 1.5% to 80.4 billion euros ($106.3 billion).
In the U.K., retailers also saw evidence that shoppers were thinking carefully about how to spend their money.
"Customers have been particularly savvy in their shopping patterns, with strong promotions of confectionery and bakery items more than month before Christmas motivating them to get ahead of the game," said Mark Price, managing director at grocery chain Waitrose, which reported a 4% increase in holiday sales.
Related: Britain feels strain as austerity bites
The British Retail Consortium said the Christmas rush came later this year, as hard-pressed customers held out for bargains. Overall spending was likely to be up only modestly over 2011.
"Generally, customers bought only similar amounts to last year," said BRC Director General Helen Dickinson. "Sales were hard-fought and often driven by discounts, so cutting into margins."
Sales in southern Europe, the region hardest hit by the debt crisis, were particularly weak. Italy had its worst Christmas in 10 years, according to the Codacons consumer organization.
Clothing, footwear, furniture and household items fell by as much as 20% in the run-up to Christmas. Codacons said only 40% of households could afford to shop during the January clearance sales. Those shoppers had an average of 224 euros to spend, down 50% from four years ago.