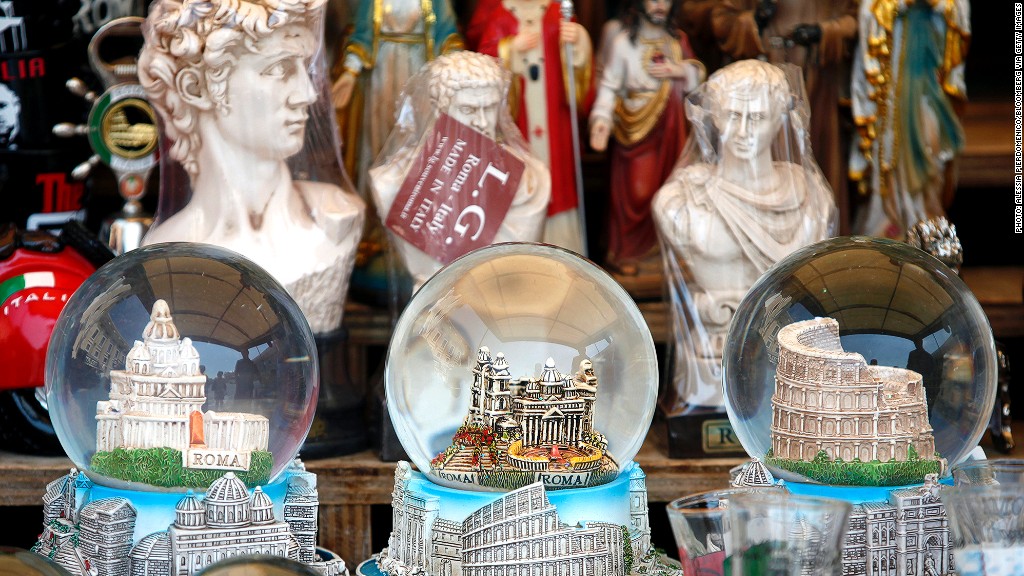 If you're planning on visiting the Vatican any time soon, take plenty of cash for tickets and souvenirs.
Vatican museums and shops have been unable to accept credit or debit card payments since Jan. 1, after the Bank of Italy prevented Deutsche Bank from providing the service due to concerns about financial oversight in the city-state, sources familiar with the matter told CNNMoney.
The world's smallest state is home to the Pope and such popular tourist sites as St. Peter's Basilica and the Sistine Chapel, attracting some 5 million visitors per year.
The Vatican has taken several steps in recent years to improve its record on banking supervision. But a report last year by Moneyval -- an independent group of European experts -- found it was still falling short of international standards to tackle money laundering and other financial crimes.
Related: Swiss bank to close after U.S. tax case
The Vatican said in a statement that an agreement with one of its contractors was about to expire. It was talking with other service providers and the interruption of service "should be short." Neither Deutsche Bank nor the Bank of Italy issued statements.
Deutsche Bank's Italian arm had run the payments system since 1997. It was told in 2010 by the Bank of Italy that it needed authorization, which it duly sought. The request triggered an in-depth assessment of the Vatican's banking regulation by the Bank of Italy, the sources said.
Related: EU strikes deal to bring banks under single supervisor
The review by the central bank revealed similar concerns to the Moneyval report, and as a consequence Deutsche Bank was told in December it would not receive permission to continue arranging payments, the sources said.
Any bank with operations in Italy would run into the same problem, they added.
Vatican Museums apologized on its website for the inconvenience caused. Tickets can still be bought online using a credit or debit card, but that service will also be suspended beginning Jan. 15.
--CNN's Richard Greene contributed to this article