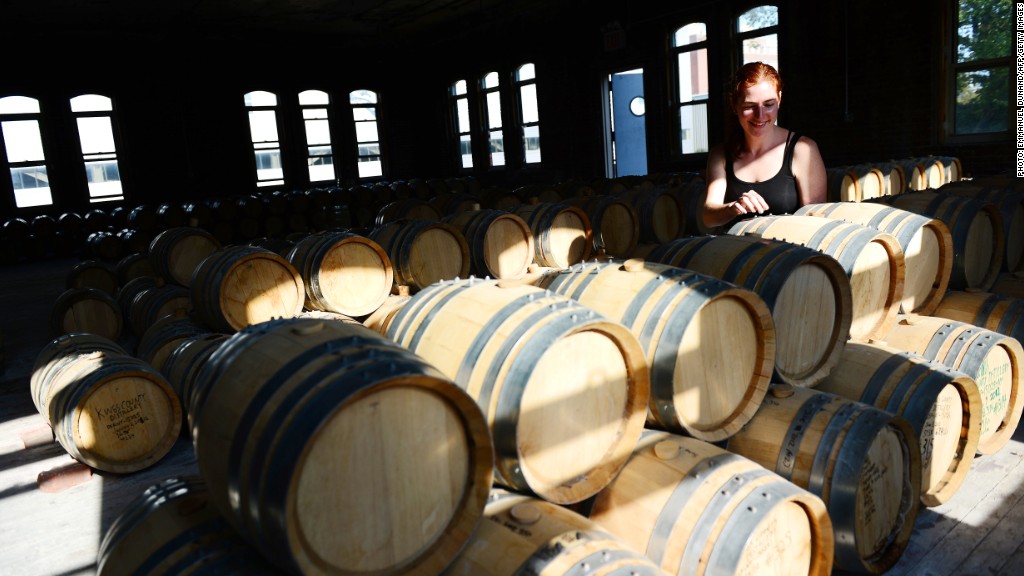 Ask and ye shall receive.
After an outpouring of outrage, Maker's Mark announced Sunday that it won't be watering down its whiskey, after all. The bourbon producer last week said it would have to cut the alcohol volume of its signature red wax-sealed whiskey to 42%, from 45%, in order to meet rising global demand.
But Maker's Mark said it was reversing its decision, and starting Monday, it will resume production at 45%, just the way it has made it since the beginning.
"You spoke. We listened. And we're sincerely sorry we let you down," the company said in a statement. "While we thought we were doing what's right, this is your brand -- and you told us in large numbers to change our decision."
Related: Doubling down on bourbon in the heartland
The response to last week's announcement was immediate across social networks. A stream of whiskey-loving Twitter users remarked that this was a surefire way to lose customers.
Rob Samuels, chief operating officer of Maker's Mark, said the company heard from thousands of customers via phone calls, emails and social media. He said that the overwhelming feedback made it "very clear" that customers were less than pleased with that decision.
In a comment posted on CNNMoney's story about the change, reader Mike Carter said Maker's had been his favorite brand for many years, but he would now be switching to a competitor.
"I won't buy watered-down bourbon," he wrote. "This is a very bad decision."
Disgruntled customers may be breathing a sigh of relief, but Maker's Mark still faces the same issue that caused the whiskey maker to water down the drink in the first place.
Emerging markets consumption of liquor has soared, according to Matt Shattock, CEO of spirits company Beam (BEAM), which makes brands like Knob Creek and Jim Beam. Shattock told CNNMoney last year that bourbon, with its sweeter taste, is appealing to consumers in countries like India.
The surge in global demand has led to shortages, Maker's Mark said, and using less alcohol in each bottle would allow it to stretch the supply.
Bill Samuels Jr., the company's chairman emeritus, said Maker's Mark had faced 20 shortages in the 35 years he ran the company.
Bourbon is a type of American whiskey that must be aged in new barrels and distilled at less than 160 proof, or 80% alcohol.
According to the company, the response made it clear that customers were not willing to compromise on quality and would rather put up with occasional shortages.
Rob Samules said that moving forward, Maker's Mark will have to balance its inventory and work closely with its distillery to keep up supply with demand.
"The unanticipated dramatic growth rate of Maker's Mark is a good problem to have," he said.