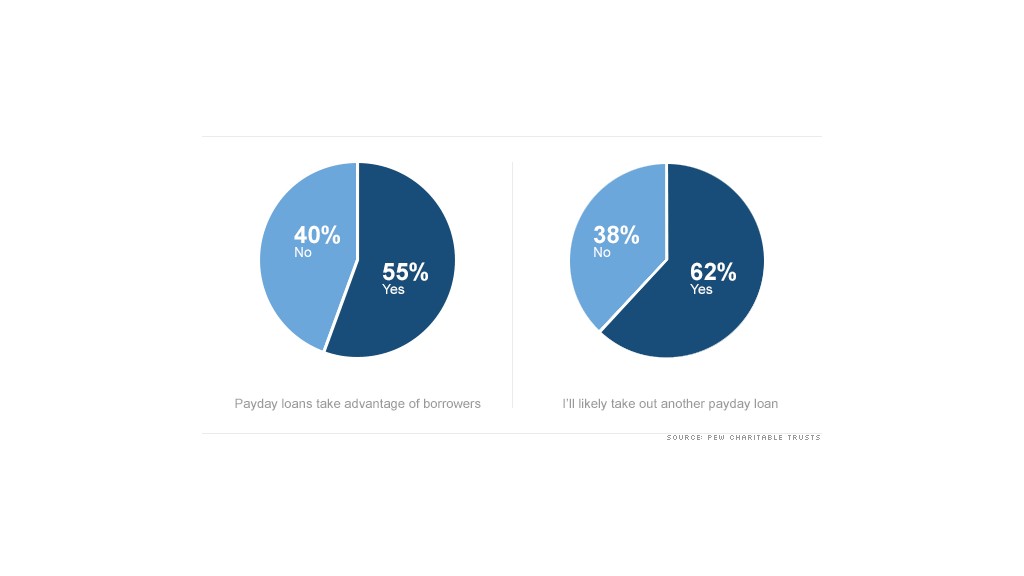 Many borrowers are in a love-hate relationship with payday lenders: they say the loans rip them off, yet the relief of quick cash leaves them coming back for more.
Payday loans are advertised as short-term credit lines, typically extended for two weeks to help consumers get through to their next paycheck.
Each year, nearly 12 million borrowers take out payday loans averaging $375 each. Yet, only 14% can afford to repay the $430 in principal and fees owed after two weeks, according to a Pew Charitable Trusts report based on interviews with more than 700 borrowers.
Instead, many borrowers find the $55 fee needed to renew the loan for another two weeks to be much more affordable. For the average borrower that leads to a five-month cycle of debt where they end up owing a total of $520 in fees, plus the principal on the loan, Pew found in a separate report issued last year.
Related: Debt collection horror stories
Payday loans are often advertised as a convenient source of emergency cash, but most borrowers say they use the money for recurring expenses like rent -- with 86% of borrowers saying they have trouble covering monthly bills at least some of the time. To get out of this debt trap and repay their loans, 41% of borrowers have taken out another loan, sold or pawned possessions, used a tax refund or borrowed money from friends or family.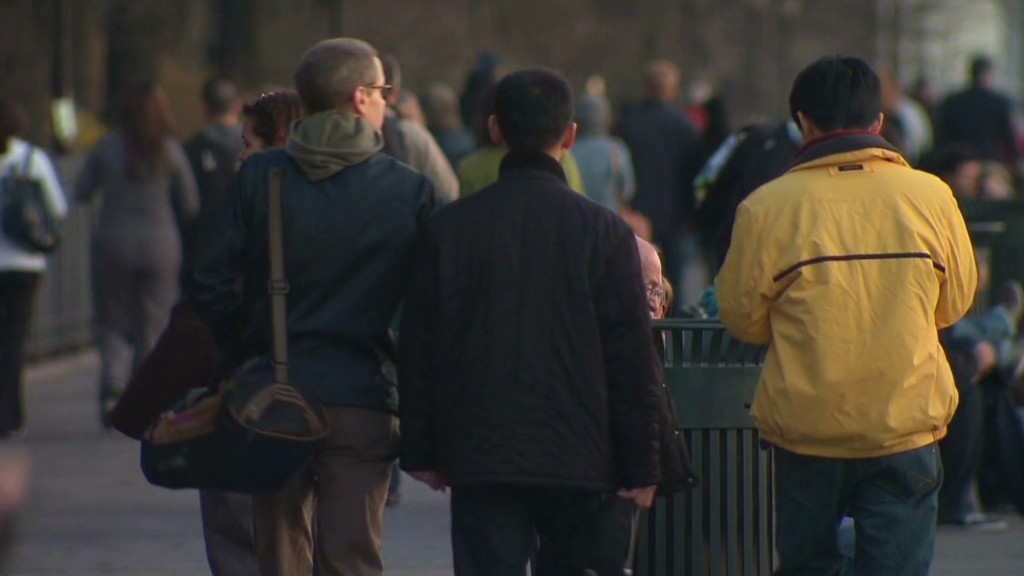 Because of the excessive fees and how long it takes to get out of debt, over half of borrowers say that payday loans "take advantage of borrowers." And 72% said more regulation of the industry is needed. While the government's Consumer Financial Protection Bureau now has jurisdiction over payday lenders -- meaning it can audit companies and create new rules for the industry -- the agency hasn't publicly announced any enforcement efforts yet.
Despite all the criticism, many borrowers give payday lenders high marks for customer service, and 48% of borrowers think payday loans help borrowers more than they hurt them -- compared to 41% who said payday loans mostly hurt borrowers and 8% who said they help and hurt people equally.
"Payday borrowers' experiences -- receiving credit to cover expenses but then ending up spending far more than suggested by the loan's two-week price tag -- lead to complicated and conflicted feelings," the report stated.
Related: A startup tries to fix payday lending
More than half of borrowers said payday loans relieve stress when they're in need of quick cash and three in five borrowers would likely use them again. In fact, 37% of borrowers said they are so desperate they would take out a payday loan no matter how bad the terms are, and nearly half of respondents in "fairly bad" or "very bad" financial situations would do this.
"These borrowers accept an unaffordable loan for the simple reason that it allows them to stay solvent for two more weeks, regardless of cost," the report found.
A payday loan may seem like the only option out there for someone who is desperate for cash, but it's not, said Nick Bourke, a Pew project director. Alternatives include credit cards and home equity loans. While these options aren't always ideal, they can be more affordable than payday loans.
And for many consumers, it's just a matter of reeling in spending. About 81% of borrowers said they would cut back on their spending on items like clothing and food if they weren't able to take out a payday loan, Pew's previous report found.