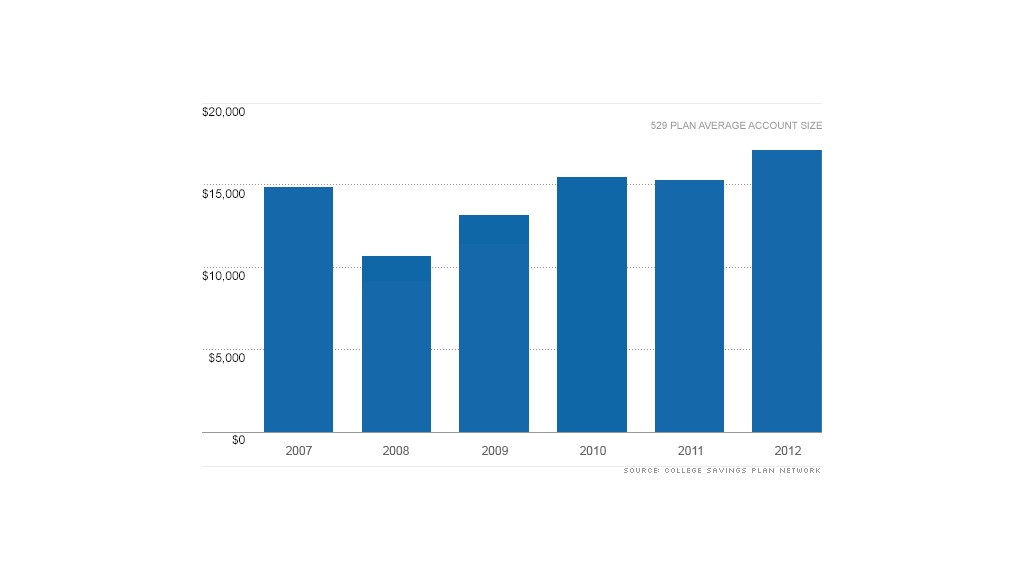 As tuition soars, parents and grandparents are putting more money than ever into 529 college savings plans.
Average balances for 529 college savings and prepaid tuition plans grew to a record $17,174 in 2012 -- up 12% from an average of $15,349 in 2011, according to a report from the College Savings Plans Network, a nonprofit and affiliate of the National Association of State Treasurers.
Also known as "qualified tuition programs," 529 college savings plans are typically offered by the states and allow holders to save money and withdraw it tax-free, as long as the proceeds are used towards approved college costs -- typically tuition, fees, room, board and other required supplies. Another kind of 529, prepaid tuition plans, let savers prepay for future tuition and lock in current prices, but they typically do not cover other expenses.
In December 2012, the number of existing 529 accounts increased by about 4% to 11.1 million, up from 10.7 million in December 2011. Total 529 investments reached a record $190.7 billion, up from $165 billion in 2011.
Those numbers were also helped by a strong stock market last year. In 2012, the S&P 500 soared 13%.
Related: 529 college savings options: The basics
Children with a college savings account are seven times more likely to attend college than those without one, according to a 2010 study by Washington University in St. Louis's Center for Social Development.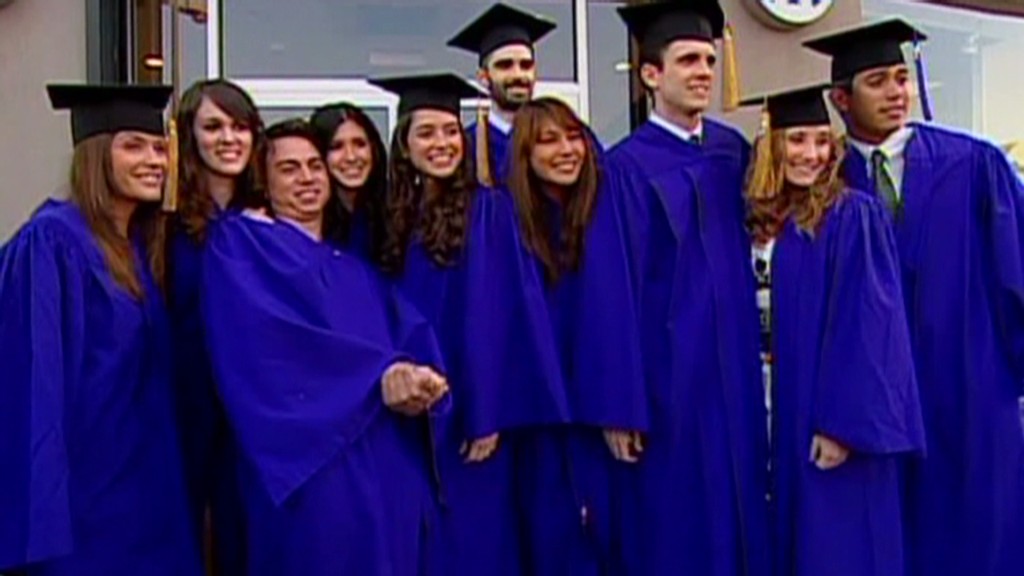 The increased savings will also allow these students to be less dependent on costly student loans, said Michael Fitzgerald, Iowa State Treasurer and chair of the College Savings Plans Network. "Every dollar you can save is a dollar you don't have to borrow," he said.
Yet, students and their families are still struggling to keep up with rapid increases in tuition.
Related: Five top-rated 529 plans
"We are sort of on a national treadmill," said Patrick Callan, president of the nonprofit Higher Education Policy Institute. "States are putting more money into financial aid. Students are borrowing more, and parents and grandparents are saving more. But tuition is still outpacing people's likely ability to pay."
Average tuition paid at public community colleges and four-year colleges and universities rose by 8.3% last year, according to a recent report by the State Higher Education Executive Officers Association.
Related: Get your kid to graduate in four years
For the 2012-13 school year, the average prices for tuition, fees, room and board for in-state students at public four-year colleges and universities is $17,860, according to the College Board. And the average bill at private institutions is nearly $40,000.
"It's getting so expensive so the importance of saving for college is growing as well," Fitzgerald said. "It's a real problem we face, but [529 plans are] one tool that will help."
Correction: An earlier version of this article incorrectly stated the average balance in 2011 for 529 savings plans.