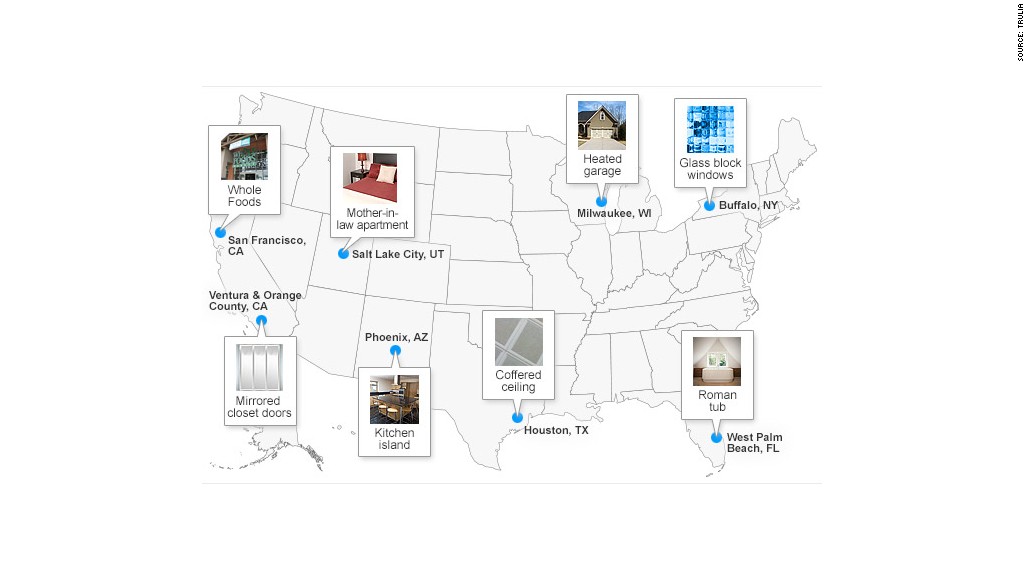 Roman tub. Whole Foods. Mirrored closet doors. Home sellers in different parts of the country are highlighting some pretty unusual features and amenities in their listings in order to spark interest from local buyers.
In some cities, such terms turn up 10 times more often than in other parts of the country, according to data compiled by real estate website Trulia.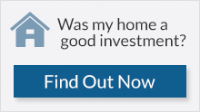 In Hawaii, "lanai" -- an open-sided porch that might be called a veranda or portico elsewhere -- is a big selling point for those seeking to enjoy the trade winds off the Pacific, for example.
Less explicable is the popularity of "stone walls" in Fairfield County, Conn. True, the region's bedrock is good for building walls, but this part of New England is hardly unique for the quality and quantity of its rocks -- just ask any Yankee farmer harvesting a bumper crop of granite.
Related: Million-dollar foreclosures
Whether these phrases make immediate sense or not, calculating how often they appear in listings helps sellers and real estate agents better understand how a local housing market works, said Jed Kolko, Trulia's chief economist.
"Sellers especially need to know, not just market trends like pricing, but what features buyers are focused on," he said.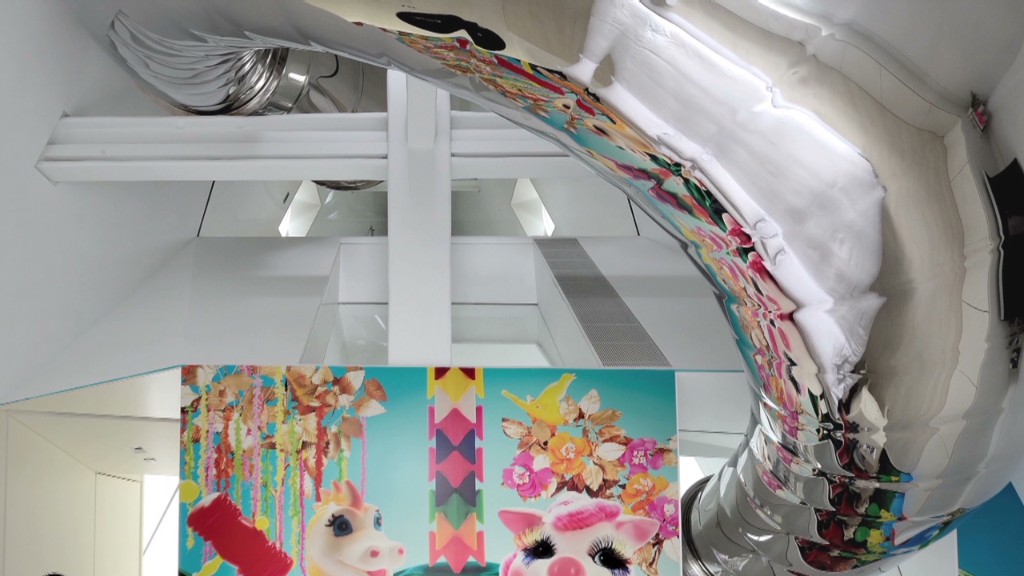 In Ventura and Orange counties in California, for example, the popularity of "mirrored closet doors" isn't because local residents are especially narcissistic. More likely, said Kolko, there is big demand for homes that were built in an era when that feature became popular.
The same type of trend may explain why "kitchen island" appears in so many Phoenix listings. That became a hot amenity during the housing boom, when many of Phoenix's homes were built.
Meanwhile, in San Francisco, listings tout proximity to Whole Foods, the national grocery chain.
One explanation: Close to a third of the area's residents don't have cars, forcing many residents to grocery shop on foot. That would make it a big advantage to be close to a favorite market, especially when the trip home could mean toting heavy bags up the steep San Francisco streets, said Kolko.
Related: 5 best places to buy a home right now
"Coffered ceiling" comes up quite frequently in Houston. A coffer is a sunken panel, usually square, that is used as a decoration, and is also known as a caisson or lacunaria. The coffers, which are a sort of dropped ceiling, can serve as a convenient place to route an air conditioning duct, said Kolko. Or they can add a touch of luxury -- without breaking the bank.
Many amenities that home buyers are looking for are weather-related. In Palm Bay, Fla., frequent hurricanes have made "storm shutters" a major listing point. In tornado-prone Omaha, Neb., listings tout "steel siding," while "heated garages" seem to matter most to residents of frosty Milwaukee and "glass-block windows" -- known for both their insulation and security -- are popular in Buffalo.
Other locally popular terms include "hearth room" in Memphis, Tenn., "Roman tub" in West Palm Beach, Fla., "pole barn" in Grand Rapids, Mich., and "solar screen" in Fort Worth, Texas.
Then, there's the "mother-in-law apartment," which is more popular in Salt Lake City than any place else. Could it be because Utah families tend to be big and tight-knit? The state has the largest average family size in the nation, according to the Census Bureau.
"With bigger families there, I'm not surprised to see that term be common in listings," said Kolko.