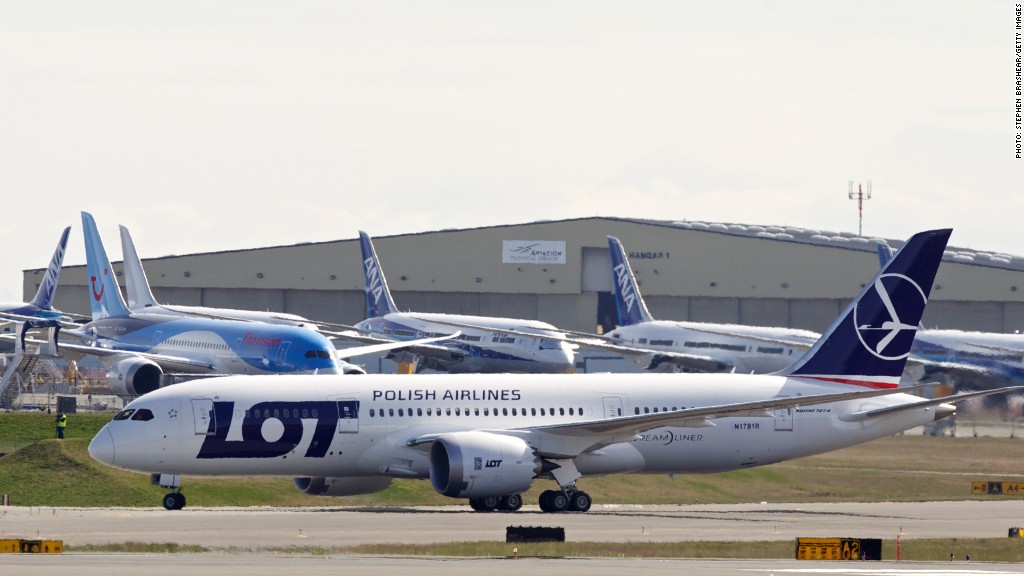 Boeing's troubled 787 Dreamliner completed a two-hour flight Monday, in a first test of the aircraft's redesigned battery system.
The brief flight, which departed from Everett, Wash., took the plane along the Pacific coast into Oregon before returning to land at Paine Field. According to Boeing, the flight went "according to plan."
Boeing has not been able to deliver 787 Dreamliners to customers since the Federal Aviation Administration ordered the plane grounded on Jan. 16 as safety investigators probed two fires in its lithium batteries.
The aircraft used Monday is an undelivered Boeing-owned model built for LOT Polish Airlines.
Earlier this month, the FAA approved a Boeing proposal for fixing the plane's battery system problems.
The plan includes a redesign of internal battery components to minimize chances of a short circuit. It also involves better insulation of battery cells and a new containment and venting system that is supposed to prevent overheating from affecting the plane or being noticed by passengers.
Boeing (BA) will do at least one more test flight.
"The plan is to conduct one certification demonstration flight," Boeing spokesman Marc Birtel said. "That flight ... will demonstrate that the new battery system performs as intended during flight conditions."
Related story: Boeing apologizes for Dreamliner fiasco
The Dreamliner has sold well in Asia and the Middle East, where airlines depend on long-range flights for much of their business and can benefit most from the improvements in fuel economy the lighter-weight plane promises.
The problems with the new battery technology have already prompted Boeing's European rival Airbus to revert to standard nickel-cadmium batteries in its A350 plane, designed to compete with the Dreamliner and due to make its first test flight in the middle of this year.
-- CNN's Aaron Cooper contributed to this report.