It's opening day for baseball Monday -- the start of the season when many fans flock to their favorite stadium. But a day at the ballpark can get pricey, especially if you include the cost of food and drink to get through nine innings.
Classic baseball refreshments like hot dogs and beer can vary widely in price depending on the ballpark, CNNMoney found when it surveyed the 30 major league teams.
Mets fans at New York's Citi Field shell out the most for a regular hot dog -- $6.25 a pop. Meanwhile, Cincinnati Reds' watchers at Great American Ball Park can get a dog for just a buck -- the cheapest of any of the 26 stadiums that replied to our price requests. So Cincinnati fans can get six franks for less than the price of a single hot dog at Citi Field.
Meanwhile, thirsty fans pay the most at Washington Nationals games -- where, unless they take advantage of a $5 drink special before the first pitch, the cheapest beer available is a 16-ounce can for $8. For half that, beer drinkers can get a 12-ounce draft at Cleveland Indians games. The best deal? A 14-ounce beer for $4 at Arizona Diamondbacks' Chase Field.
Related: Hot dogs and beer: See what $20 buys at the ballpark
Some stadiums offer unique food options to cater to local taste buds -- those items generally carry even higher price tags.
At Giants games, seafood lovers can enjoy an $8.75 bread bowl of clam chowder or a $16.50 crab sandwich on San Francisco sourdough bread. For those with a sweet tooth, the stadium offers a $10 Ghirardelli hot fudge sundae in homage to San Francisco's famous Ghirardelli Square.
At Comerica Park, Detroit Tigers fans can buy a variety of fried options, including a $7 deep-fried red hot sausage on a stick and a $5 package of deep-fried peanuts.
Minnesota Twins fans can enjoy "state fair classics" like fried pickles ($7.50) and turkey drumsticks ($9.75) at Target Field in Minneapolis.
Texas Rangers Ballpark in Arlington, Texas, is home to a $26 monster of a hot dog dubbed the "Boomstick," a 2-foot-long beef hot dog, smothered in chili, nacho cheese, jalapenos and caramelized onions on a potato bun.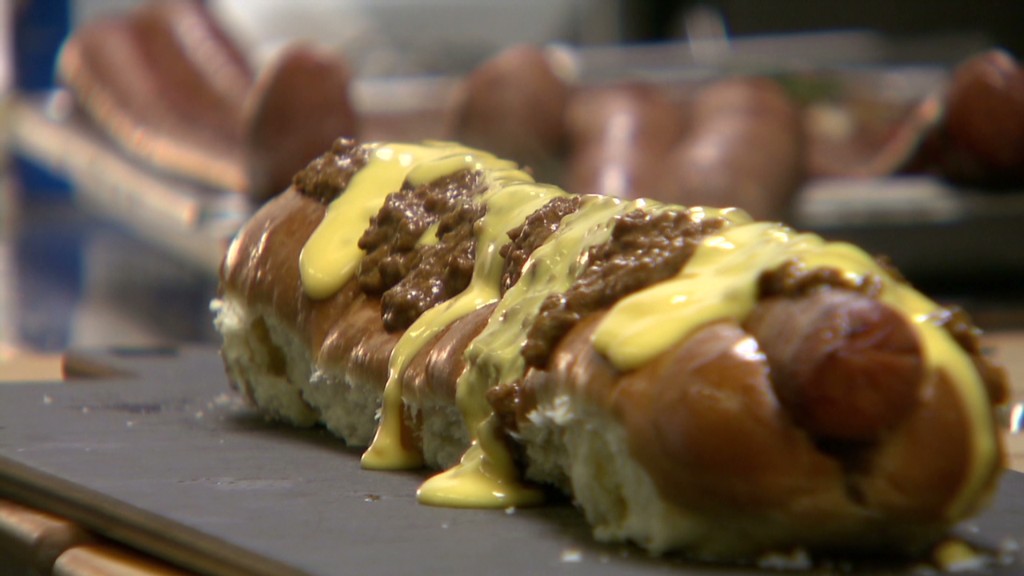 Some stadiums are trying to lure more fans with lower food prices. At most stadiums, fans pay between $3 and $5 for a basic hot dog and $5 to $7 for the cheapest beer -- for a total of $8 to $12. But at Arizona Diamondbacks' ballpark, a 14-ounce beer and a "value" hot dog costs just $5.50 -- less than a beer alone at other parks.
Low concession prices became a priority after the financial crisis of 2008, said Diamondbacks President and CEO Derrick Hall.
"For us, it was a challenge to make sure that we can remain affordable and get as many people to the ballpark despite the economy," he said.
Related: Meet the 'Boomstick,' baseball's largest hot dog
After fan surveys listed food and drink prices as a top concern, Progressive Field in Cleveland, Ohio will feature lower food prices this year, said Kurt Schloss, vice president of concessions.
"We've spent the past year and a half trying to get to know our fans better," he said. "One of the biggest barriers to attending a game was the entire expense of coming down here."
The Boston Red Sox, New York Yankees, Tampa Bay Rays and Toronto Blue Jays did not respond to requests for 2013 stadium food prices.