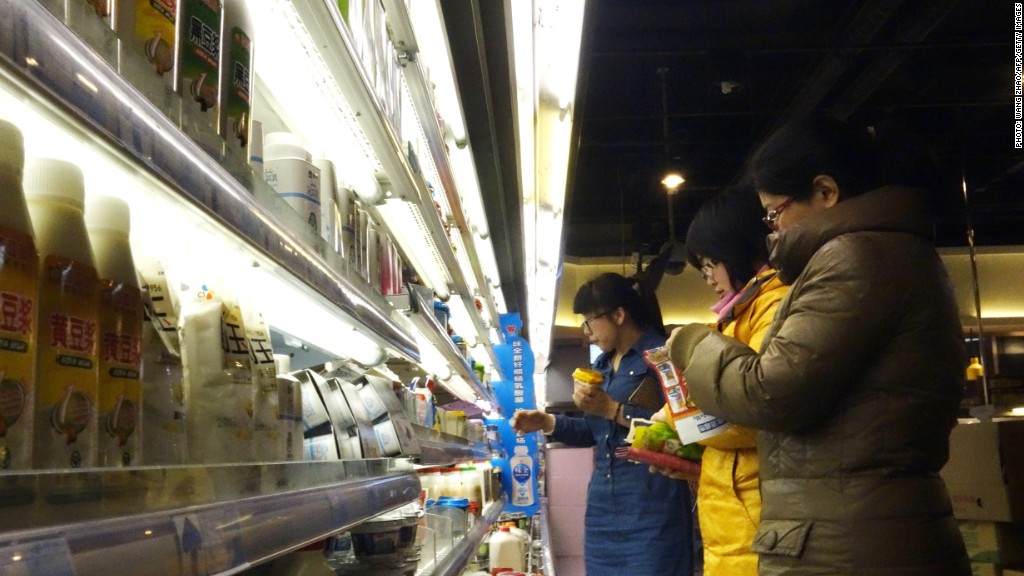 China's consumer price index took a substantial dive last month, retreating from a 10-month high posted in February.
Chinese consumers paid 2.1% more for goods and services in March than they did a year ago, the government's National Bureau of Statistics reported Tuesday.
That's a slower rate than February's 3.2% annual increase, and represents tame inflation for the world's second largest economy. A year ago, the country was experiencing an annual inflation rate of almost 4%.
Food prices also registered a slower rate of growth, falling to 2.7% growth in March from 6% the previous month.
Food is an important gauge of cost of living expenses in China. It accounts for more than a third of the country's inflation calculation, and for rural families, it makes up the bulk of expenses.
The Chinese government prefers to keep its annual inflation rate below 4% -- a level it sees as consistent with healthy economic growth and consumer demand.
Related story: Australia, China strike deal on currency
China has averaged economic growth of around 10% a year in the past three decades, propelling it up the list of biggest economies, generating wealth for its growing middle class and boosting global trade.
But that pace of expansion is hard to maintain, and China may be reaching a new normal of growth.
Recently, China has felt the impact of sluggish growth in the United States and recession in much of Europe, which has depressed export demand. Government efforts to take the heat out of a real estate boom have also had a dampening effect.