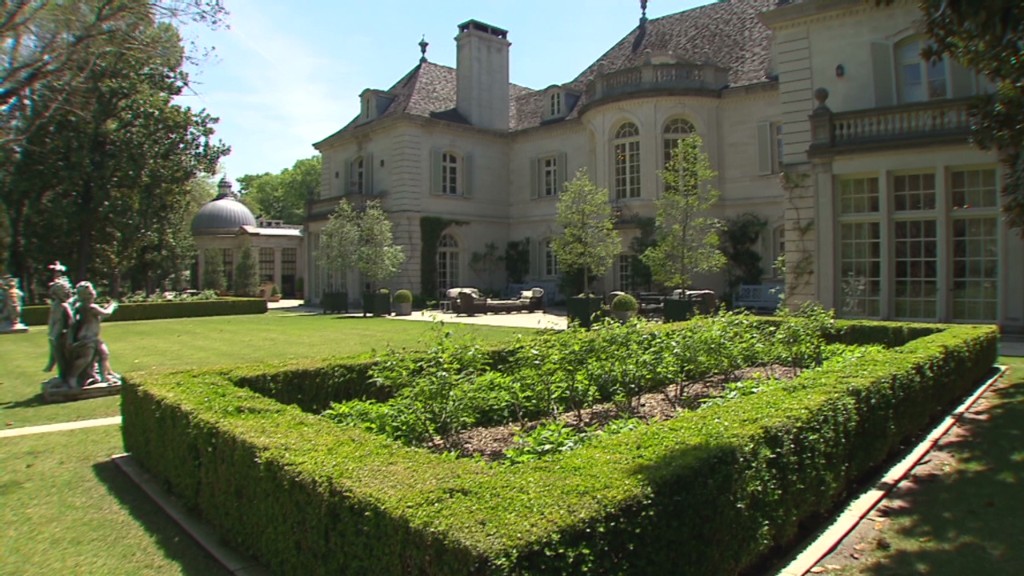 With a price tag of $135 million, the sprawling Crespi/Hicks estate in Dallas is considered one of the most expensive homes for sale in the U.S. right now.
The 25-acre property boasts 42,500-square-feet of living space, including a main house and pool and guest houses, according to listing agent, Douglas Newby.
Originally built in the late 1930's for an Italian count named Pio Crespi, the property is currently owned by Tom Hicks, a financier and the one-time owner of the Texas Rangers.
Hicks and his wife, Cinda, bought the home for an undisclosed amount 16 years ago and have since spent roughly $100 million on renovations.
Related: Mansion for sale. Swim in your own living room
The home's original designer, Swiss-born Maurice Fatio, re-purposed fixtures and materials from old European estates for use in the home, said Newby. The library shelves are carved walnut originally made in the 1800s for a Palazzo in Bologna, Italy and there's a 19th-century parquet floor from France and 10th-century Delft tiles from Holland.
Hicks imported workers from Europe to replicate the carvings and finishes. He even went to the quarry in Indiana to get the original limestone that was used in the home.
"Not only to the quarry but to the same spot in the quarry to get limestone that matched," said Newby.
Related: Slide through NYC's penthouse playroom
There are modern updates too, including a media room with four rows of big, stuffed chairs and a well-equipped gym.
The home's listing price is based on area land prices, which average about $2 million an acre, said Newby. And the buildings were valued at about $2,000 a square-foot, close to what the renovations cost.
"So many of the great estate houses have been converted to public purposes so it's quite remarkable that a house like this is still in private hands," said Newby.