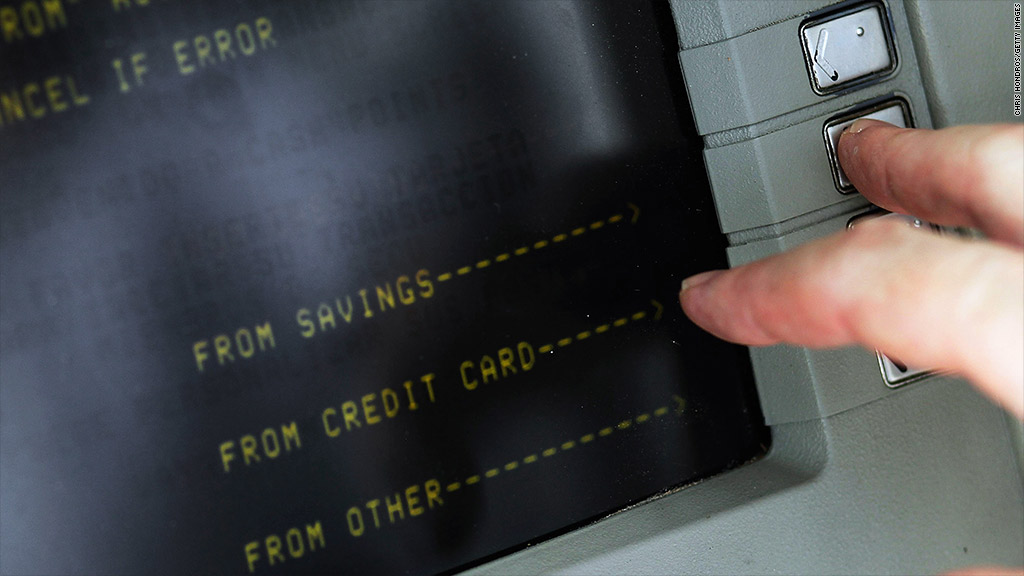 It's getting more expensive to visit ATMs outside of your bank's network.
Typically, you face two fees when using an ATM that doesn't belong to your bank or credit union's ATM network: Your own financial institution charges you a fee for cheating on them and the ATM you use charges you as well.
It's the second fee that is making the trip to the ATM so costly. Fees banks and credit unions charge non-customers for using their ATMs have soared 20%, from an average $1.75 per transaction in 2007 to $2.10 in 2012, according to a study conducted by the U.S. Government Accountability Office.
Related: Credit unions' homey image starts to fray
While some ATMs charge as little as 45 cents, others hit non-customers with fees as high as $5. The percentage of financial institutions charging these fees has also increased over the past five years -- from 87% to 96% -- as banks look to offset the higher costs of operating the machines and declining ATM fee revenue, the GAO found.
The good news, however, is that the fees banks charge their own customers for going out of network have remained relatively flat -- rising only slightly to an average of $1.42 per transaction from $1.36 over the past five years. Meanwhile, the percentage of financial institutions charging these fees remained steady at 55%.
Nevertheless, when added together, these two kinds of fees can add up to hundreds of dollars a year -- depending on which ATMs you choose and how often you withdraw cash.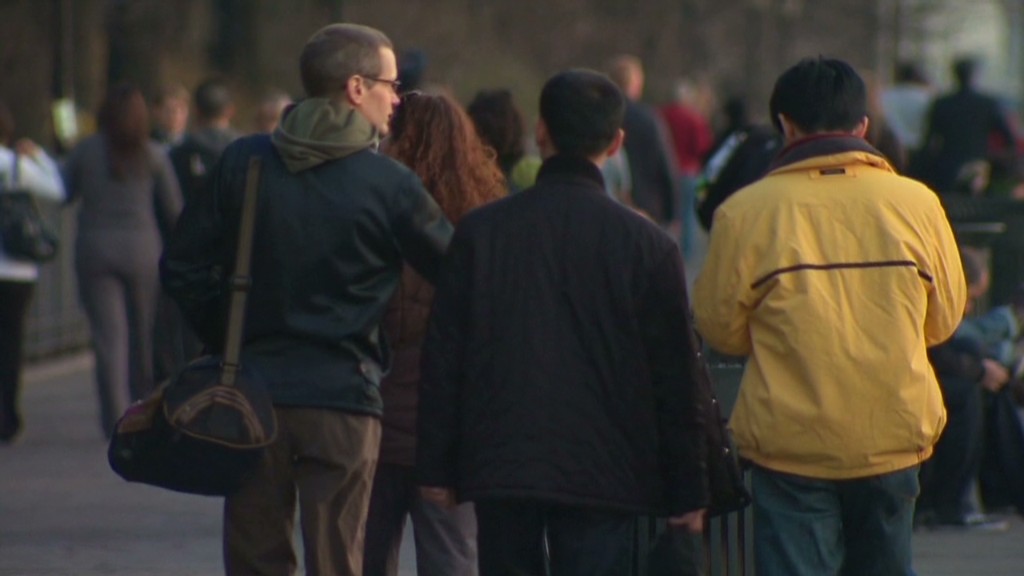 And ATM fees are only likely to climb higher as banks continue to try to recoup revenue in the wake of regulations that limited certain fees and interest rates, said Bill Hardekopf, CEO of LowCards.com.
"Banks are looking for other sources of revenue now that the CARD Act and the Dodd-Frank bills took away some of their previous sources," he said.
Related: Bieber launches prepaid debit card
Hardekopf also expects the use of ATMs to increase, given the growing number of unbanked consumers who are opening new bank-issued prepaid cards that enable them to use ATMs to get cash.
"That increase in demand could lead to higher revenues from ATMs and possibly a higher fee to use the ATM," he said.
Check out the table below to see how some of the nation's biggest banks stack up:
ATM fees: How much the big banks charge
| | Customers using out-of-network ATM | Non-customers |
| --- | --- | --- |
| Bank of America | $2 | $3 |
| Chase | $2 | $3 |
| Citi | $2* | $3 |
| Wells Fargo | $2.50 | $3 |
| TD Bank | $2.50* | 50 cents-$3** |
| U.S. Bank | $2.50* | $1-$3 (free for customers whose banks participate in MoneyPass network)** |
| PNC | $2.95* | $3 |
| Capital One | $2 for bank ATMs, $4.99 for ATMs in certain locations like casinos* | $3 |
| HSBC | $2.50 * | $1.50 |