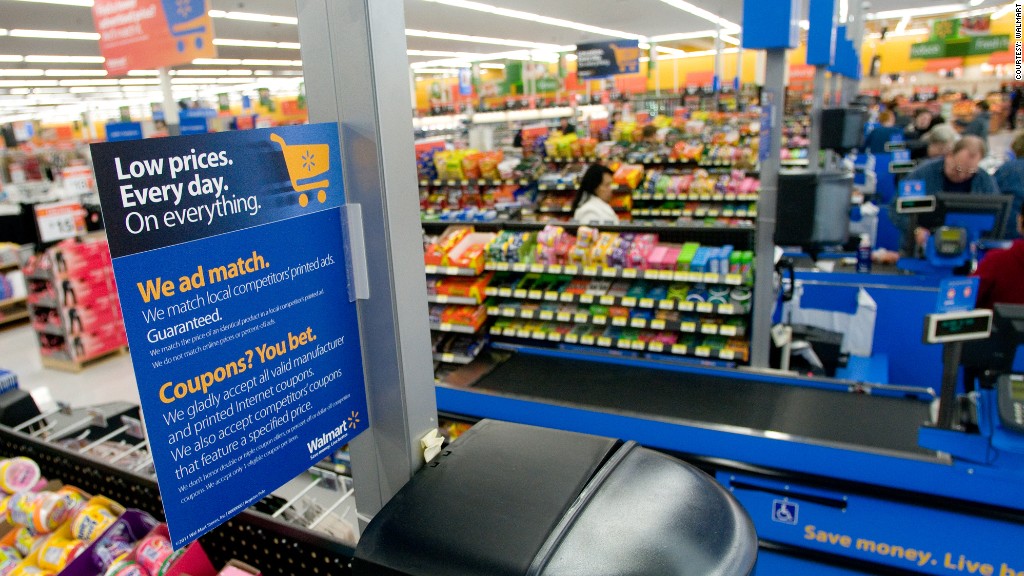 Wal-Mart will pay $82 million for violating the Clean Water Act and other environmental regulations, after dumping pesticides and other hazardous materials down the drain.
The retail giant pleaded guilty to six counts of violating the Clean Water Act -- all misdemeanors -- in cases filed by federal prosecutors in Los Angeles and San Francisco. Wal-Mart (WMT) also pleaded guilty to separate charges filed in Kansas City, Mo., for improperly handling pesticides that had been returned by customers.
The federal cases follow state charges that Wal-Mart already settled in California in 2010 and Missouri in 2012.
Federal prosecutors say up until January 2006, Wal-Mart did not have a program in place to train employees how to dispose hazardous waste. In some cases, Wal-Mart employees discarded chemicals improperly, either by throwing them into municipal trash bins or pouring them into local sewer systems in California.
Dumping hazardous waste down the sink "was neither legal nor safe," said United States Attorney Andrew Birotte Jr. in a statement. "The case against Wal-Mart is designed to ensure compliance with our nation's environmental laws now and in the future."
The products included items like fertilizer, bleach, hairspray, nail polish and deodorant, said Wal-Mart spokeswoman Brooke Buchanan.
"This is stuff that on your retail level, would be considered hazardous waste, but in your household, would not be," she said.
Related: The Wal-Mart economy's big winners
In the Missouri case, Wal-Mart pleaded guilty to violating the Federal Insecticide, Fungicide and Rodenticide Act (FIFRA.) The company sent damaged household products, including pesticides, to the Greenleaf recycling center, where they were processed to be resold to customers. The pesticides were mixed and offered for sale without the required ingredient information or registration. Between July 2006 and February 2008, Wal-Mart trucked more than 2 million pounds of regulated pesticides and household products to Greenleaf, which was also convicted of a FIFRA violation and paid a criminal penalty of $200,000 in 2009.
In its own statement, Wal-Mart said the fines will not impact the company's financial results in the second quarter.
The company also issued a three-page factsheet detailing its environmental compliance measures enacted since 2006. The company now has a program in place for disposing hazardous waste. Associates sort different chemicals into color-coded buckets, for example, and can access specific instructions on hand-held terminals.
"Since we implemented this plan, every single associate has access to how to handle these products," Buchanan said.