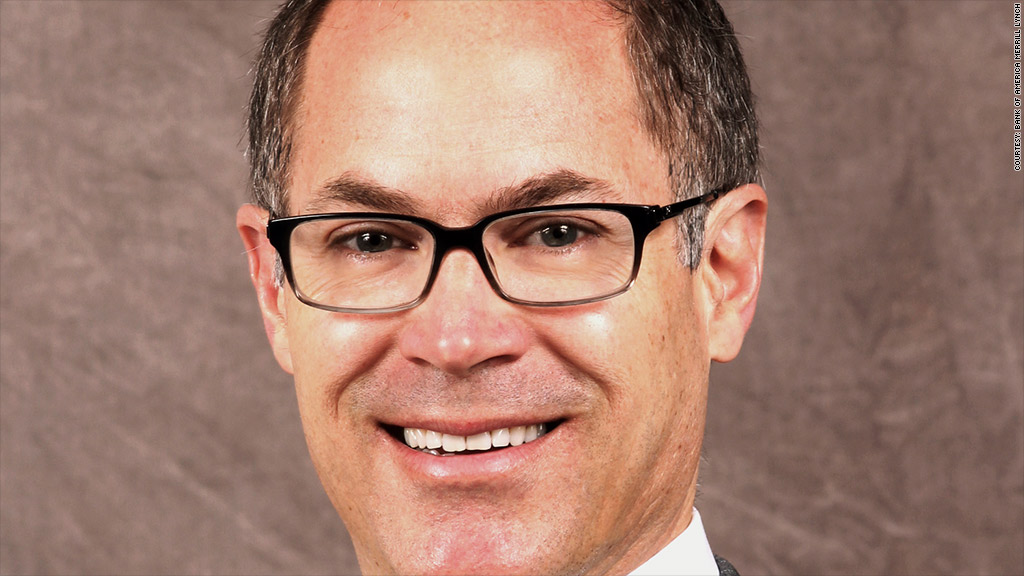 Mark Stephanz, a senior investment banker at Bank of America Merrill Lynch, was sure his decision to come out of the closet would end his career.
He had been at the firm for over 20 years, and everyone knew him as a straight, married man with three children. So he knew the news could come as a shock.
"Wall Street has always had that good old boys image, so I was fearful at first that I was risking my career," he said.
But his internal struggle finally became too much to bear. First, Stephanz gradually came out to his family. Then he told his coworkers and managers.
The reaction was surprising. His boss was supportive and said he couldn't believe that Stephanz, who was 47 at the time, had lived his life as he had for so long. His clients, too, were supportive.
Related: Firms make financial planning more gay-friendly
That was just a few years ago. If he had come out even earlier, Stephanz doesn't know whether it would have gone so smoothly.
Acceptance on the trading floor: Wall Street has been making a public push to promote workplace inclusion of lesbian, gay, bisexual and transgender employees.
Many firms are creating or beefing up their LGBT networks, which connect employees with mentors within the firm, sponsor LGBT pride events and recruit straight employees (referred to as "straight allies"), to join the network. They're also actively recruiting LGBT employees, especially right out of college, and some are publicly supporting same-sex marriage.
Related: Gay marriage's corporate boosters
Wall Street firms also now have some of the most LGBT-friendly policies in corporate America.
Most of the major players boast "corporate equality" scores of 100 on a rating system maintained by the Human Rights Campaign, one of the country's leading gay rights groups. The group ranks companies based on their policies, such as whether they offer health benefits to same-sex partners or provide transgender-inclusive health insurance.
In contrast to Wall Street's high scores, the average across all Fortune 500 corporations is only 54. Walmart (WMT), for example, receives a 60 and ExxonMobil (XOM) a negative 25. (Walmart said it received the lower score because it doesn't offer transgender or same-sex partner health benefits, but that it will "continue to evaluate" its current policy.)
A 'business issue': As a result of the growing support on Wall Street, many employees like Stephanz say it has become a more comfortable place to be openly gay.
"[It's] not necessarily easy, but easier," Stephanz said. "There's this whole reputation of bravado and macho stuff that makes people think it's not a very gay-friendly environment, but in reality it's quite different."
At a conference of Wall Street leaders last month on the subject, Goldman Sachs CEO Lloyd Blankfein said he's not just supporting LGBT equality and same-sex marriage to "stand on the right side of history."
Related: 'What legalizing gay marriage means for our money'
"[I]t is also a business issue," Blankfein said in a statement. "To be successful, we must attract, retain and promote from the broadest pool of talent available."
The conference was sponsored by Out on the Street, an organization that helps firms attract LGBT talent and foster leaders. Since its launch in 2011, membership has grown from six banks to 16, including Goldman Sachs (GS), Morgan Stanley (MS), Merrill Lynch (BAC), Citigroup (C), Credit Suisse and UBS (UBS).
"Five years ago a CEO might say, 'We don't discriminate based on sexual orientation,' but now you're seeing folks like Lloyd Blankfein [and other Wall Street CEOs] say that it matters to them that employees can be out at work," said Out on the Street founder Todd Sears.
Still a long way to go: But it takes time for such messages to pervade an entire corporate culture.
Nationwide, 41% of employees are still closeted at work, according to a 2012 survey from the Center for Work Life Policy. And that's likely not significantly different for Wall Street, said Sears.
Some employees still fear that coming out could stunt career growth, while others worry it will distract from their work performance, he said.
Related: Marriage ruling could save same-sex couples thousands
Alex Cook, who worked at Merrill Lynch as an investment banking analyst from 2009 to 2011, never brought his boyfriend to work events. And he was the only gay employee he knew of in his class of analysts.
"Wall Street is definitely historically conservative, so it's not that I hid it, but I chose for it not to be in focus," he said.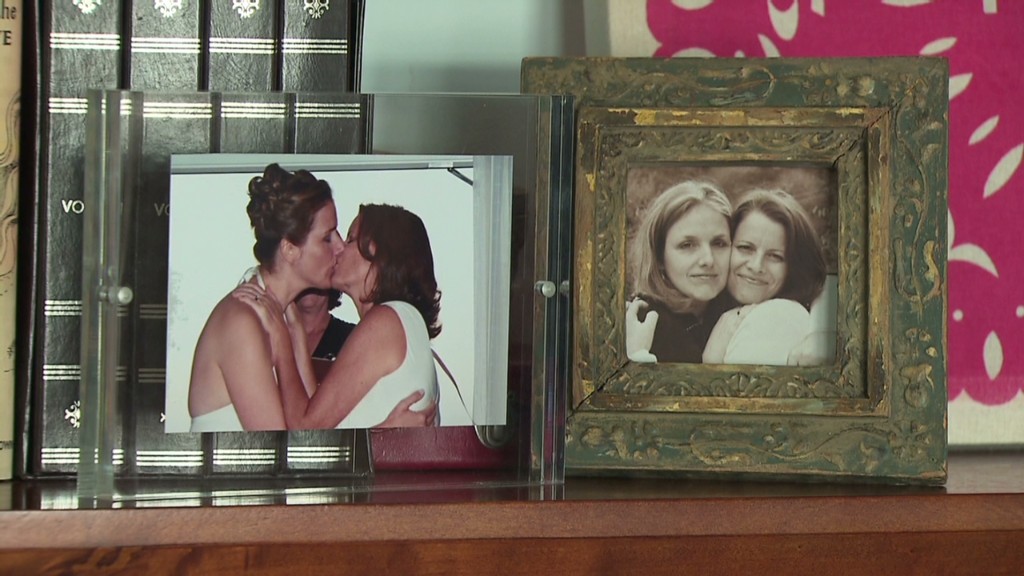 But Erika Karp, a managing director at UBS Securities who came out more than 15 years ago to her colleagues on the trading floor at Credit Suisse, said that coming out today should not be as difficult as it was for her.
"What's changed the most is that being gay is not the defining characteristic of financial professionals, it's one piece of it," said Karp. "The industry is less likely to make decisions and form opinions just on the virtue of someone being gay."
Related: Transgender job seekers face uphill battle
And many feel their careers improve once they come out.
"For me, being able to come out enhanced my ability to connect with people at work, which has helped me tremendously," said Johann Shudlick, vice president in Goldman Sachs' investment banking division. Shudlick came out several years ago after spending his first couple years at Goldman closeted.
While gay and lesbian employees are making strides on Wall Street, transgender employees are noticeably absent.
Citi confirmed that it has transgender employees, but other banks said they weren't aware of any or declined to comment.
"Transgender issues are one of the next frontiers," said Sears of Out on the Street.