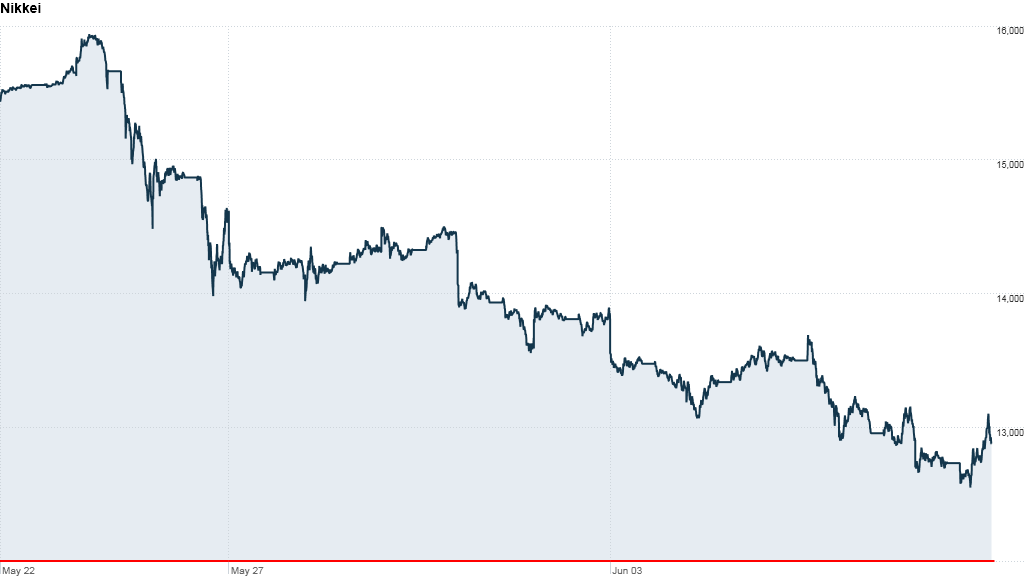 After shooting into the stratosphere, Japanese stocks have tumbled back to Earth.
On Friday, the high-flying Nikkei (N225) index posted further declines, at one point extending its slide from a trading high of 15,942.6 points on May 23 to more than 20%. While losses were trimmed by the close, the initial drop briefly put the leading index of Japanese stocks into a bear market.
The recovery was based on reports that the Japanese government pension fund -- the largest pension fund in the world -- plans to shift more of its $1.2 trillion in assets into Japanese equities.
The index closed at 12,878, down 19.2% from its May 23 high. Trading was choppy as the Japanese yen lost traction against the U.S. dollar.
Even with the losses, Japan still boasts one of the best performing stock markets in the world. The Nikkei is up 24% for the year, compared with a gain of about 13% for the S&P 500.
"This is a correction, it's not a disaster," said Nariman Behravesh, chief economist at IHS. "Investors got a little carried away with Abenomics."
Prime Minister Shinzo Abe, who came back to power in December, has launched an aggressive campaign to boost Japan's economy following 15 years of deflation. The plan -- dubbed Abenomics -- includes coordinated government spending, central bank stimulus and structural economic reforms.
Related: 7 big winners in Nikkei surge
Investors responded to Abenomics by selling the yen and buying Japanese stocks. The weak yen helped boost shares of Japanese exporters, including Toyota (TM), Sony (SNE) and Kirin (KNBWY). But those stocks and others have been punished this week as the yen regained ground.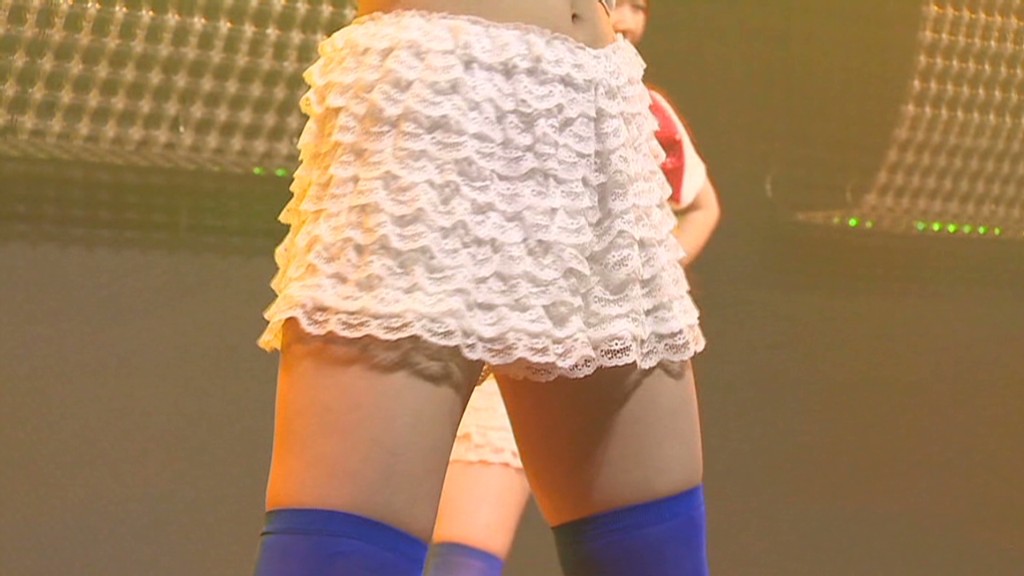 "The stronger yen hurts the export-led recovery that Japan is hoping for," said Kathy Lien, managing director of BK Asset Management.
Investors are also having doubts about Abe's ability to implement the ambitious structural reforms he has outlined.
Market swings call Abenomics into question
In a speech Wednesday, Abe pledged to cut red tape to stimulate business activity. A ban on online sales of over-the-counter medicine would be lifted and special economic zones created.
Abe's government will approve a series of reforms later this month to make labor markets more flexible, encourage immigration, bring nuclear power plants back online and draw more Japanese women into the workforce. He has also set a target of raising per capita national income by at least 3% annually.
Meanwhile, the Bank of Japan is walking a fine line as it attempts to achieve an inflation rate of 2% without driving up interest rates on government debt. The country's gross public debt is projected to hit 230% of GDP by 2014 after years of budget deficits.
Behravesh said the Japanese economy will improve this year, but he said investors should not expect Abenomics to solve all of the nation's problems.
"The initial euphoria has worn off, and people are taking a more realistic view," said Behravesh.
-- CNNMoney's Alanna Petroff and Charles Riley contributed to this report.