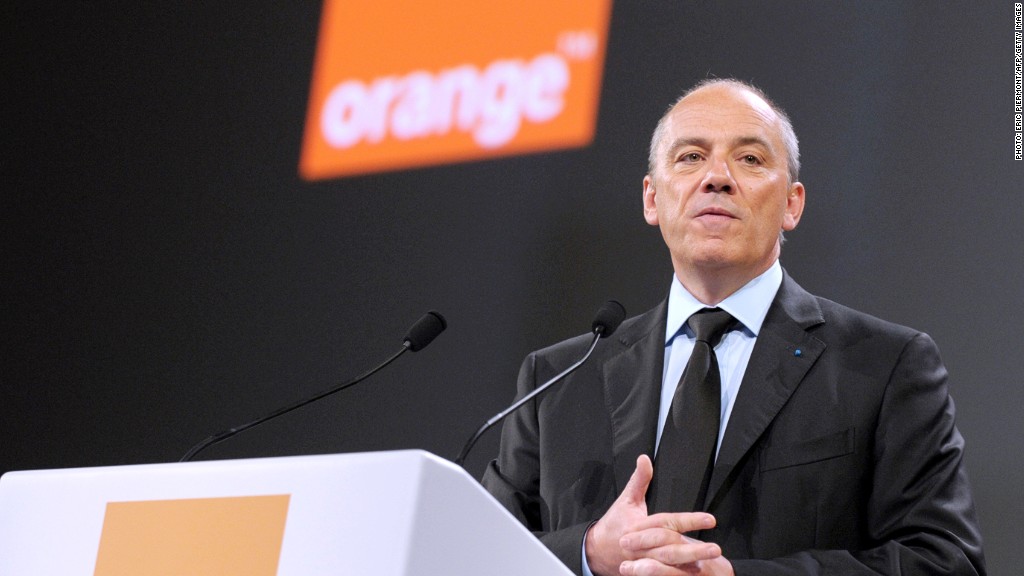 French prosecutors suspect a former top aide to IMF chief Christine Lagarde of conspiring with others to commit fraud during the settlement of a business dispute five years ago.
Orange CEO Stephane Richard had been held for questioning since Monday and has now been placed under formal investigation, the Paris prosecutor said in a statement.
Under French law, a formal investigation means prosecutors believe they have serious evidence implicating a suspect in a crime. It does not necessarily lead to charges or a trial.
Richard, who has denied wrongdoing, was Lagarde's chief of staff when she intervened as finance minister to refer a claim against the state from French businessman Bernard Tapie to arbitration. Tapie, a supporter of former French President Nicolas Sarkozy, won a settlement worth 285 million euros plus interest.
Orange, which recently changed its name from France Telecom (FNCTF), is one of the world's leading telecom groups, with sales of 43.5 billion euros and 170,000 employees worldwide.
An Orange spokesperson said the investigation would not interfere with Richard's ability to carry out his responsibilities and he would be back at work on Thursday.
Lagarde's home was searched in March, and she was questioned by a French court in May. The court decided not to place her under formal investigation.
She was given the status of "supervised witness" instead, which means she would answer questions at any future hearings accompanied by a lawyer. The court could still place her under formal investigation if new evidence emerges during the inquiry.
Lagarde has not been accused of profiting personally from the Tapie case but her decision to overrule officials and refer it to arbitration raised questions about whether she was complicit in the misuse of funds and whether she had given Tapie preferential treatment because of his support for Sarkozy.
She says she acted in the interests of the state and within the law. The IMF has repeatedly stated its confidence in Lagarde since the investigation began.
Tapie sued the French state for compensation in 1993 after selling a stake in sports company Adidas to French bank Credit Lyonnais, which was owned by the state at the time. He claimed Credit Lyonnais defrauded him when it resold the stake at a far higher price. The bank has denied wrongdoing.
Lagarde was appointed IMF managing director in June 2011, succeeding Dominique Strauss-Kahn, who resigned after a New York hotel maid accused him of assaulting her in his suite. U.S. prosecutors dropped the case against him a few months later.
--CNN's Saskya Vandoorne and Jim Bitterman contributed to this article.