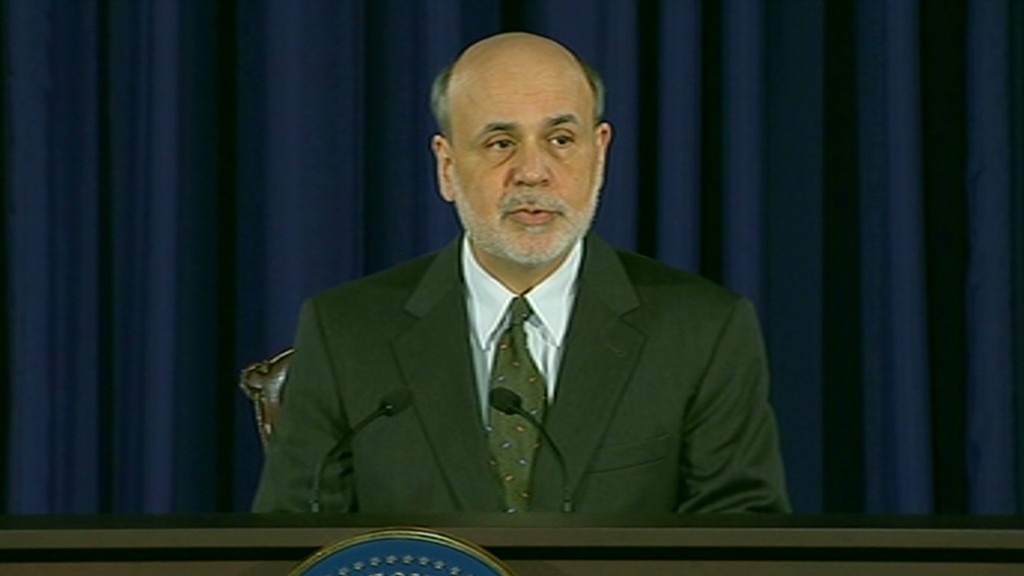 Ben Bernanke scared stock investors on Wednesday when he said the Federal Reserve may start slowing its economic stimulus program later this year, but what does it mean for borrowers and savers?
For years, the Fed's extraordinary intervention in the economy has kept borrowing rates very low. But people fear that once the Fed steps back, rates will inevitably rise.
Indeed, mortgage rates have recently risen from their record lows. Last week, average rates for a 30-year fixed-rate mortgage hit 3.98%, up from 3.35% in early May, according to mortgage giant Freddie Mac.
The recent rate increase amounts to about $100 more a month on a $300,000 mortgage, totaling $36,000 more over the course of 30 years, said Keith Gumbinger, vice president of HSH.com, a mortgage information company.
Related: Fed sets road map for end of stimulus
Unlike most consumer lending, mortgage rates are tied to long-term interest rates. While they probably won't climb much further, they are unlikely to fall back to record lows, he said.
Meanwhile, most borrowers will likely continue to enjoy rock-bottom rates on everything from auto loans to private student loan bills.
Of course, there's a downside to low interest rates: savers get stuck with measly returns from savings accounts and low-risk investments like CDs. The low rates have been particularly hard on retirees living on fixed incomes.
These consumer credit and savings products are largely tied to short-term rates, which the Fed has kept near zero percent since December 2008.
Short-term rates aren't expected to move higher anytime soon, said Greg McBride, senior financial analyst at Bankrate.com. Even when long-term interest rates start moving up, the Fed has committed to keeping short-term rates near zero until the economy strengthens considerably.
Related: Farewell 3% mortgage rates
In turn, the so-called "prime rate," the interest rate around which banks lend to their best customers and the most common benchmark used for setting credit card and other loan rates, has been stuck at 3.25% for years.
While borrowers with poor credit have seen credit card rates increase slightly this year, rates for consumers with excellent credit have continued to fall. Some have been offered interest rates in the single digits or 0% introductory offers for lengthy trial periods, said John Kiernan, senior analyst at Cardhub.com, a credit comparison site.