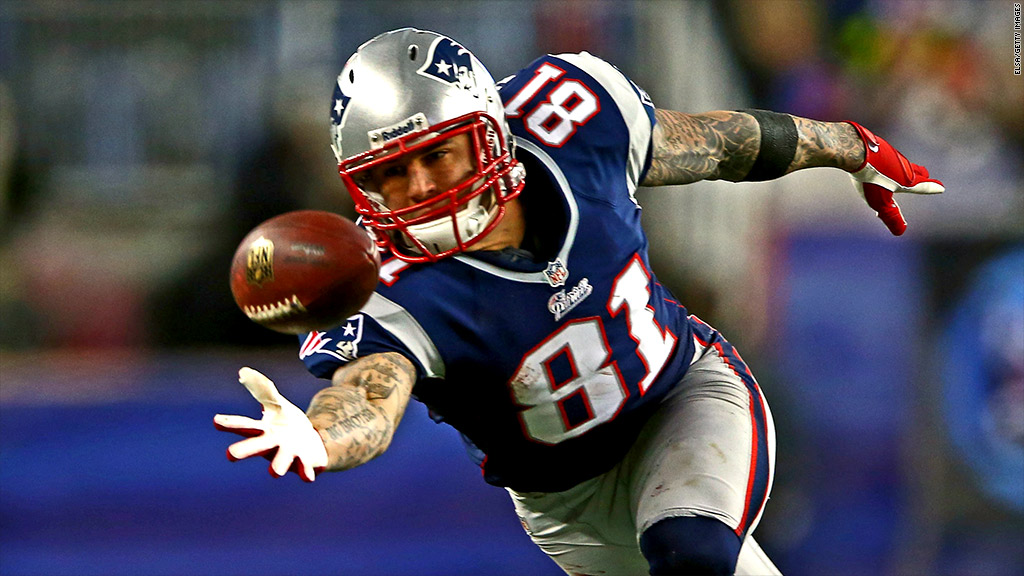 Owners of Aaron Hernandez football jerseys have taken to eBay to rid themselves of his jersey -- and make a hefty profit.
Official Hernandez jerseys, which went for $100 online, are now selling for a premium, and bids are reaching twice the original value.
Hernandez was an NFL player for the New England Patriots until last week, when police charged him with first-degree murder. Prosecutors say he had a falling out with a friend at a night club in mid-June, then orchestrated his execution-style killing two days later.
The NFL has stopped selling his No. 81 jersey. The Patriots are offering fans a chance to exchange Hernandez jerseys for any player's on the team.
But that is only for in-person trades at Gillette Stadium in Foxborough, Mass. As a result, some are heading to eBay.
Related: The Rise and Fall of Aaron Hernandez
Upon hearing about Hernandez's arrest on Wednesday, Ben Kent in Virginia Beach decided he couldn't keep the jersey around the house. It would set the wrong example for his two kids. So, he put his used red jersey up for auction.
"I figured I'd try to dump it. Where can I wear this thing now? I'd receive a lot of backlash," he told CNNMoney.
Kent started the bid at $50 and didn't even expect it to sell at that price. But by Monday morning, the item had received more than 2,000 views, and 37 bids had pushed the price up to $227.50. The bidding is due to end at 5:08 pm ET.
Kent thinks the bids are likely coming from collectors -- or those willing to wear the shirt as part of an insensitive joke.
Kent said anyone wearing a No. 81 would be showing support for Hernandez, accused of playing a key role in the killing of his fiancée's sister's boyfriend, semi-pro football player Odin Lloyd.
"It might sent the wrong message," Kent said.
Related: Apple TV adds HBO Go and WatchESPN
That isn't holding back buyers on eBay, though. Bids have pushed up the price of official jerseys made by Nike, originally $100, to $130 and beyond. Autographed jerseys are selling for even more.
Topping the list: a $4,000 unsigned white Hernandez jersey posted Monday morning at 7 a.m. after the Boston Globe broke the news of inflated eBay sale prices. That one doesn't have any bidders yet, though.