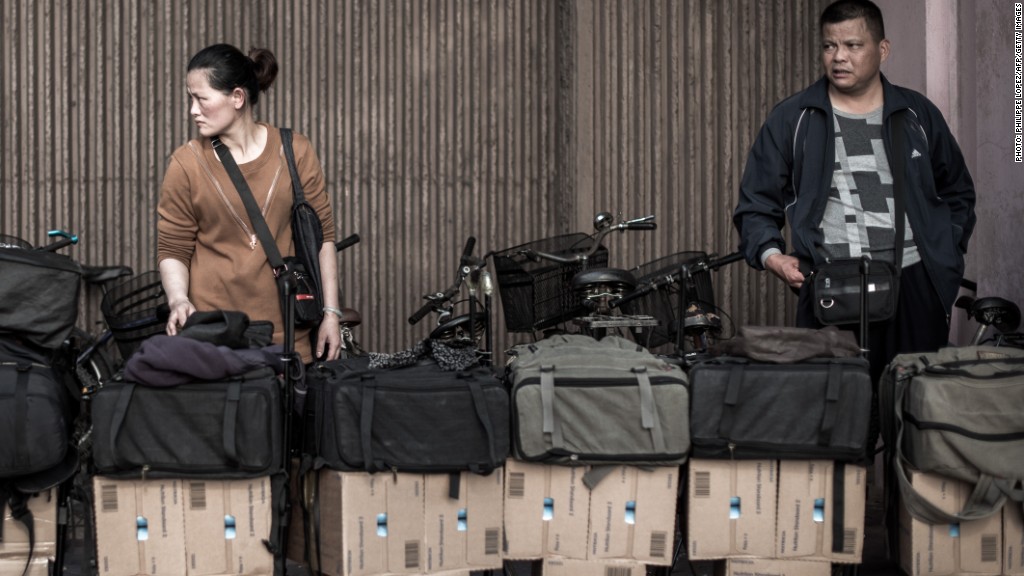 A powerful state agency in China is investigating price fixing by producers of infant formula, forcing at least one of the companies in question to commit to lower prices.
The National Development and Reform Commission investigation, first reported by state media, is said to target companies including Mead Johnson Nutrition (MJN), Danone (DANOY), Abbott Laboratories (ABT), Nestle (NSRGF) and Biostime (BTSDF).
"Based on the evidence obtained, these companies are involved in price control with distributors and retailers, aimed at excluding fair market competition," an anonymous NDRC official told state media. The NDRC is China's central economic planning agency.
China's demand for foreign-produced formula has been growing since 2008, when melamine-tainted infant formula led to six deaths and caused hundreds of thousands of other children to fall ill.
At least one of the foreign companies under investigation, Nestle-owned Wyeth Nutrition, has already agreed to lower prices.
"Wyeth Nutrition has been actively cooperating with NDRC in its investigation of infant formula manufacturers' pricing practices in China, and it is committed to continuing to cooperate with NDRC in its investigations," Wyeth spokesman Bob Cao said in a statement.
As a result of the investigation, Cao said the company had assessed its pricing practices and decided to "improve certain sales and marketing practices."
The company will lower prices by an average of 11% through 2014, while certain product prices will be slashed by a maximum of 20%. Prices on any new products will not be increased over the next year.
Other companies contacted Thursday did not immediately return requests for comment. State media reports made no mention of fines or other possible sanctions for companies found to have fixed prices.
There was some evidence that the investigation extends beyond formula producers and that regulators are taking a look at the broader dairy industry.
Fonterra, a New Zealand-based dairy cooperative, also confirmed it had been contacted by the NDRC. The company has a small business in China, but does not sell infant formula in the country.
Related story: China draining world baby milk supply
Chinese families, fearful of tainted formula, have been scouring the globe for milk they perceive to be safer. The rush has created shortages as far afield as the U.K.
Major supermarkets in the U.K. including market leaders Tesco (TESO) and Sainsbury's began restricting purchases of formula in April in an effort to prevent private exports to China.
The rationing in U.K. stores followed shortages reported earlier this year in some Australian shops. Customers had been buying formula in bulk and either sending it to their family and friends in China, or selling it online for a profit.
Hong Kong has also introduced baby milk restrictions at its border. Travelers cannot leave with more than 4 pounds of formula, and several people have been arrested for smuggling more than their allotted quantity.