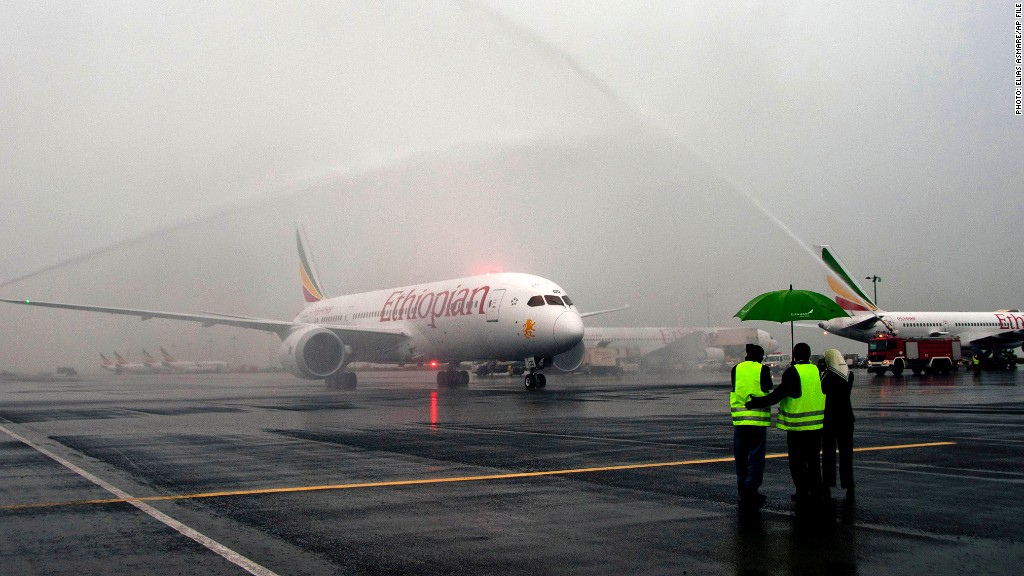 An emergency beacon was the likely cause of a fire on board an empty Boeing 787 Dreamliner aircraft at London's Heathrow Airport a week ago.
The U.K. Air Accidents Investigation Branch (AAIB) said fire damage was greatest in the area of the plane's emergency locator transmitter (ELT) and detailed examination of the beacon had found some evidence of disruption to its battery cells.
"There are no other aircraft systems in this vicinity which, with the aircraft unpowered, contain stored energy capable of initiating a fire in the area of the heat damage," the AAIB said.
AAIB recommended that the U.S. Federal Aviation Authority take action to remove or switch off the fixed ELT systems -- manufactured by Honeywell -- on Dreamliner aircraft until Boeing (BA) can prove their airworthiness.
Boeing will wait for the FAA to respond to the recommendations before taking any action, spokesman Doug Alder said, adding that ELTs are not required in the U.S. The FAA said it was reviewing the report.
All 68 Boeing 787s, which have been delivered to 13 customers, have fixed ELTs made by Honeywell (HON) and would be covered by any instruction from the FAA.
Related: 787 Dreamliner fire probe looks at Honeywell beacon
The AAIB also recommended that the FAA review installations of lithium-powered ELT systems in other aircraft.
Some 6,000 ELTs of this type have been fitted to a range of aircraft and this is the first incident of its kind.
The AAIB said an incident in the air, rather than on the ground, could post a "significant safety concern" because it would be hard for the crew to detect and suppress fire in the space above the cabin ceiling where the ELT is located.
Honeywell said it expected no material financial impact from the episode and would help Boeing and other airlines respond to the recommendations.
"Temporarily addressing the ELTs on Boeing 787s as a precautionary measure is prudent," it said in a statement.
The fire at Heathrow turned the spotlight back on the Dreamliner after Boeing's marquee aircraft was grounded earlier this year due to a fire risk with its main lithium-ion batteries.
The ELT -- which sends details of the aircraft's location in the event of an emergency -- has its own batteries, which use a lithium-manganese dioxide composition.
Boeing shares took a knock when news of the fire broke last week. But they popped up by 2.6% Thursday, and have gained 43% since the start of the year.
Boeing has placed a big bet on the Dreamliner, the first of a new generation of wide-body, long-range aircraft which use composite materials rather than aluminum to save weight.
-- CNNMoney's Aaron Smith contributed to this article