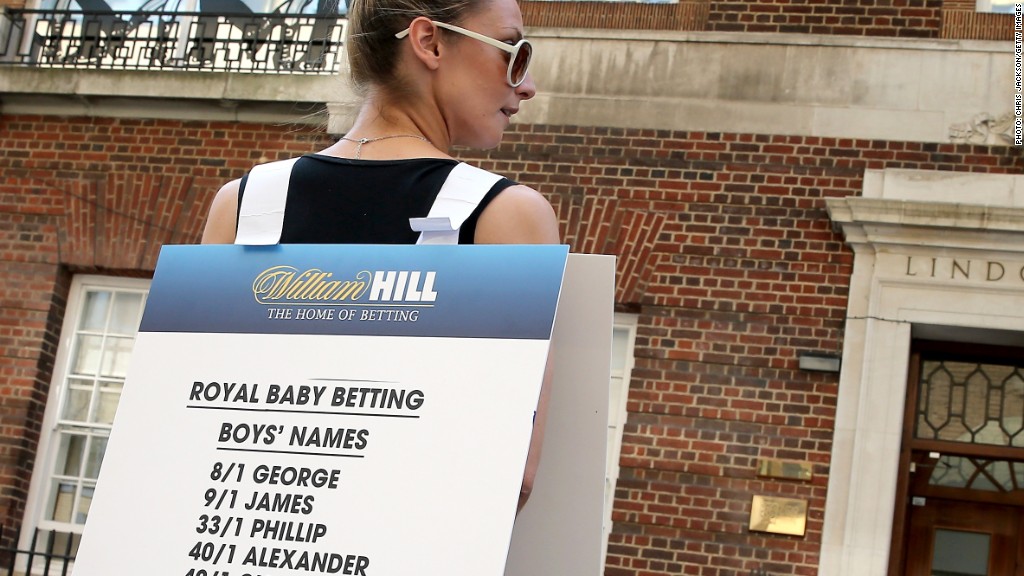 The birth of the royal baby has sparked a gambling frenzy, and the action has spiked since the Duchess of Cambridge went into labor Monday.
British bookmakers were reporting a huge surge in royalty-related bets, taking in over £1.2 million ($1.8 million) from people around the world who are wagering on everything from the royal baby's name to his future career. Between 20% and 30% of those bets were placed after the royal palace announced that Kate had gone into labor Monday morning.
Even after the royal family announced the birth of a baby boy, the bets kept coming in, with gamblers primarily trying to guess the soon-to-be-disclosed name.
"The money keeps pouring in for the royal baby," said Joe Crilly, a spokesman for William Hill, one of the world's biggest online betting outfits. "At £350,000 we have already far exceeded the amount we were predicting we would take in."
Related: Retailers cashing in on royal baby bonanza
Another agency, Betfair, says it's also collected about £350,00, while the online betting agency Paddy Power has taken in nearly £450,000.
"Whilst most punters are putting down money on the name of the new arrival, we're also seeing bets on everything from the baby's first word to his first nightclub gaffe with old Uncle Harry in tow," said a Paddy Power spokesperson.
Paddy Power is also taking bets on where the royal christening will take place and when 'Baby Number Two' will come along.
Meanwhile, a spokesperson for Ladbrokes said the U.K. betting agency is taking an average of 900 bets an hour on the baby's name, a record for royal-related betting.
The odds are good that the name will be James, George or Alexander, while Henry and Arthur are considered long-shots.
"James is the red-hot favourite ... We're staring down the barrel of a gun if the baby's named Henry," the spokesman said, referring to the steep payout Ladbrokes would have to pay.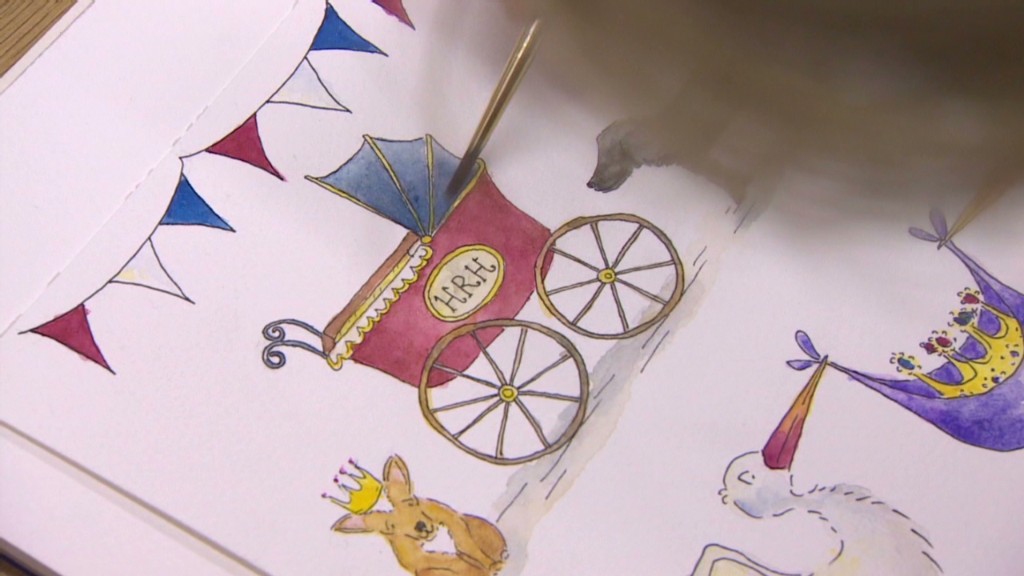 Gamblers and bookmakers alike had widely expected Catherine and William to welcome a baby girl after Kate accidentally indicated she might have a daughter. Some bookmakers even stopped taking bets on the baby's sex. But those gamblers who went against the grain pocketed a nice sum.
"Punters who believed it would be a boy have now collected over £100,000 worth of winnings," said a Ladbrokes spokesperson.