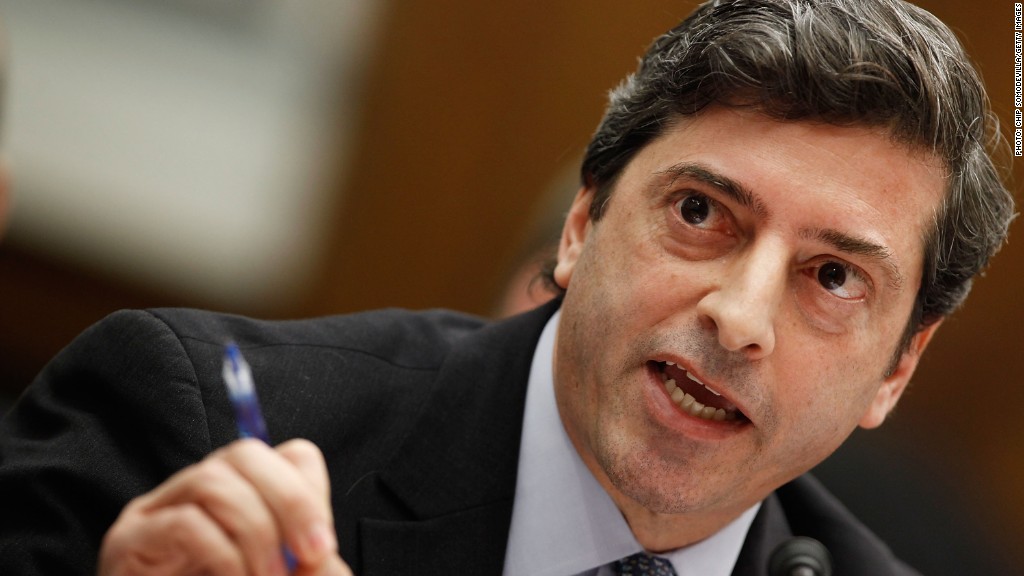 Washington's revolving door is opening for another former government official.
Corporate law firm Kirkland & Ellis is hiring Robert Khuzami, a former top cop at the Securities and Exchange Commission who announced six months ago he was leaving the agency.
Rohini Pragasam, a spokeswoman for the law firm, confirmed that Khuzami will join Kirkland, but declined to provide further details.
The New York Times, which first reported the appointment, said that Khuzami will earn $5 million per year at Kirkland.
The hiring could reignite a debate about cozy relations between officials at the SEC and the companies they regulate. At Kirkland, Khuzami could eventually represent some of the same companies the agency policed -- an arrangement that continues in Washington even as critics decry potential conflicts of interest.
Khuzami arrived at the SEC in 2009, as the chronically underfunded agency faced criticism for failing to do more to prevent the financial crisis and for missing the Madoff fraud. He took a new approach to enforcement, creating specialized units for various crimes and an Office of Market Intelligence to handle tip-offs and complaints.
Along with counterparts at the Department of Justice, the SEC focused on insider trading during Khuzami's tenure, and also brought charges against more than 150 individuals and entities in connection with the financial crisis.
Khuzami started his career as a federal prosecutor, working on several high-profile terrorism cases before joining Deutsche Bank in 2002.
In Washington, it's common for congressional staffers and regulators to leave the federal government for better pay and shorter hours at companies that seek to influence legislation. Many lobbyists, consultants and lawyers now working for banks and white collar defense firms once worked to craft legislation or enforce the law.
This phenomenon is often referred to as the "revolving door."
Khuzami, for example, hopscotched from prosecutor to bank lawyer to regulator before signing with Kirkland. After he left the SEC, Mary Jo White, who was Khuzami's boss during his stint in the United States Attorneys' Office, was nominated by President Obama to lead the agency.
One of White's first staffing moves was to hire Robert Rice as SEC counsel. Rice came to the agency from Deutsche Bank, the same firm that employed Khuzami until 2009. Like Khuzami and White, Rice had worked as a federal prosecutor in New York's Southern District.
Deutsche Bank's current general counsel, Richard Walker, previously served at the SEC as enforcement director -- the same position held by Khuzami until earlier this year.
Related story: SEC Chair Mary Jo White's first big test
The tendency of SEC officials to "switch sides" so frequently has attracted the attention of the Project On Government Oversight, a watchdog group that issued a report on the topic in February.
"The movement of people to and from the financial industry is a key feature of the SEC, and it has the potential to influence the agency's culture and values," the report said. "It matters because the SEC has the power to affect investors, financial markets, and the economy."
While at the SEC, Khuzami rejected the idea that the agency's enforcement actions were in any way influenced by future employment prospects.
"Enforcement staff, having landed a highly sought-after and difficult-to-obtain job, often passing up other opportunities in the process, would not risk reputation and career and even jail by undermining an investigation for a possible future job prospect," he wrote in a Reuters column.
Others argue that the revolving door encourages government regulators to perform well as a way of showcasing their competency for future employers. Defenders of the practice also say that it allows the government to hire candidates with direct knowledge of the industry they are assigned to police.
Government rules are likely to require Khuzami to avoid SEC-related work for a year.
The Obama administration, for its part, has sought to slow the revolving door by prohibiting staffers from lobbying the government for two years after they leave the White House.
But that hasn't stopped staffers from collecting generous speaking fees and taking jobs as consultants -- employment options that critics regard as loopholes.