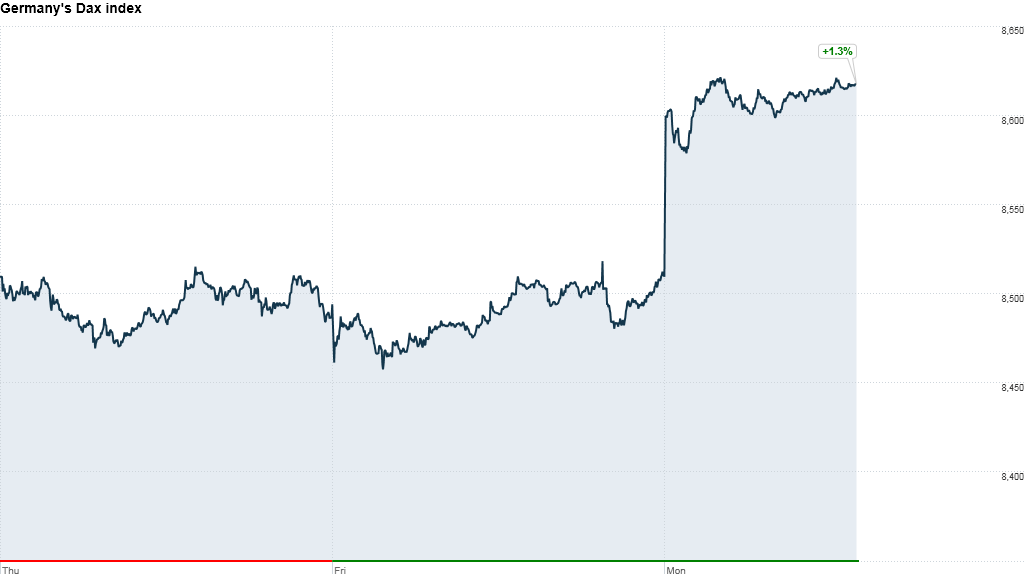 Global stocks rallied and the U.S. dollar fell Monday after Larry Summers took himself out of the race to be the next chairman of the Federal Reserve.
Summers' withdrawal boosts the chances of Janet Yellen taking over at the Fed. Yellen is expected to take a less aggressive approach to unwinding the massive monetary stimulus measures that have supported markets worldwide.
Asian markets closed with healthy gains. Stocks in Hong Kong advanced 1.5%, while Korea rose 1% and Singapore climbed 1.8%. Emerging markets in the region were even stronger, with Philippines shares surging 2.8% and Indonesian stocks up 2.6%.
The Tokyo Stock Exchange was closed for a holiday. At the same time, the U.S. dollar was weaker against most major currencies.
Markets in Europe followed the upbeat trend. Germany's benchmark DAX index led the way, gaining 1.3% to post a new record high. French stocks were 0.85% higher in morning trading, and U.S. futures pointed to a strong open.
Saturday's announcement that the U.S. and Russia had agreed a framework to eliminate Syria's chemical weapons was also supporting sentiment, as the threat of U.S.-led military strikes faded further.
Related: U.S. stock futures gain with Yellen now Fed favorite
The Summers announcement comes before a Fed policy meeting that is widely expected to provide clarification on when the central bank will begin to scale back the massive economic stimulus programs that have fueled growth and juiced markets since the global financial crisis five years ago.
Now that Summers, a controversial pick, has stepped out, the "market interpretation is that there is less sense of urgency to unwind QE," said Michael Liang of Foundation Asset Management. "The market in a way has been affected by [the idea of] tapering. Now it's more of a mild situation ... In the short run, I think the pressure is off."
Expectations of less aggressive Fed tapering could have the biggest impact in emerging markets, where investors had been pulling their money and returning to the U.S. in search of higher yields.
"As market expectations adjust to less aggressive Fed tapering, this should reduce the immediate risk of significant capital outflows from Asia, providing significant relief for those economies with current account deficits that have faced balance of payments pressures," Nomura economists wrote in a note. Those countries include India, Indonesia, Malaysia and Thailand.
The U.S. dollar's drop is "probably more of a knee jerk reaction," Liang said. "By taking less aggressive monetary policy, this will support U.S. economic growth, which in turn will support an even stronger dollar."
Yellen is now considered the frontrunner to lead the Fed when the term of current Chairman Ben Bernanke ends in January. Before the appointment can be made official, the Senate is tasked with holding confirmation hearings and voting on the nominee.
-- Virginia Harrison contributed to this article.