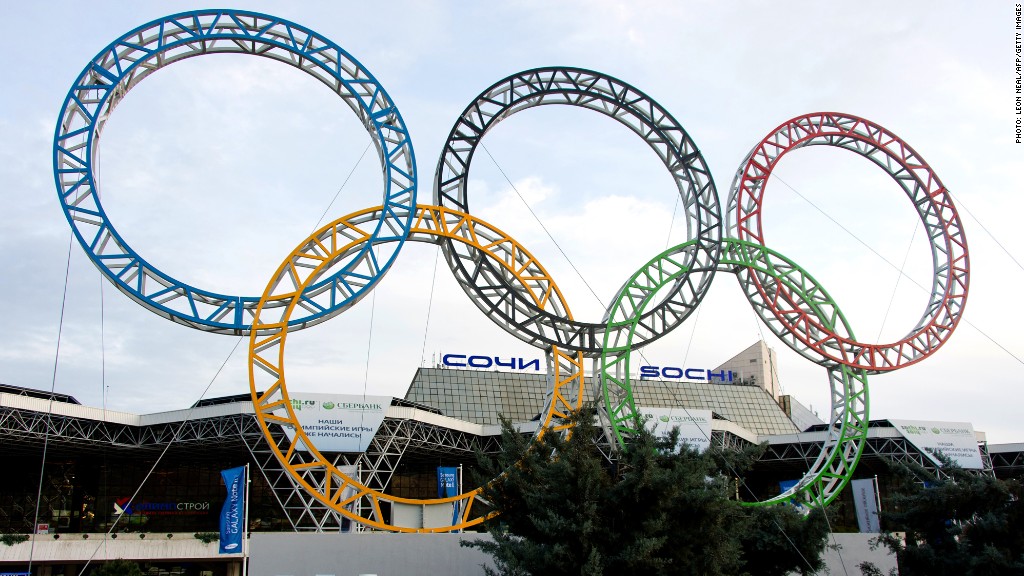 The threat of protests at next year's Winter Olympics in Russia against a controversial anti-gay law has left sponsors jittery about potential damage to their business.
The law prohibits the distribution of information to minors that promotes same-sex relationships. Critics say it infringes gay rights and are worried that spectators waving rainbow flags or wearing rainbow T-shirts could be arrested at the Games.
Major sponsors such as Coca-Cola (CCE) and McDonald's (MCD) are concerned about the risk of high-profile protests at the Games. Such demonstrations may draw attention to them for the wrong reasons and fuel calls for a boycott of their products.
President Vladimir Putin signed the law in June, sparking global outrage and a wave of protests demanding a boycott of the Games, which will be held in the Black Sea resort town of Sochi in February. There's no sign of athletes staying away but others big names are distancing themselves from the event. Just this week pop singer Cher said she had refused an invitation to perform because of Russia's anti-gay stance.
Related: Bars worldwide boycott Russian vodka over anti-gay laws
Putin said in an interview on state television in September that gay people would not be discriminated against at the Sochi Games. But that appears at odds with statements made by government officials that the anti-gay propaganda law will be enforced.
The legislation gives authorities the power to impose fines as well as detain foreigners who are deemed to have breached the law before deporting them. Four Dutch tourists reportedly making a film about gay rights in Russia were arrested under the law in July.
The other big Olympic sponsors are Visa (V), Samsung (SSNLF), Panasonic (PCRFF), General Electric (GE), Dow Chemical (DOW), Procter & Gamble (PG), Omega (OCFN) and Atos (ATOS). They're staying tight-lipped about the issue in public but a senior official at the International Olympic Committee said this month that several had raised concerns about how the law could affect the Games.
"I have heard a lot from the sponsors, especially the American sponsors, of what they are afraid of might happen," IOC marketing commission chairman Gerhard Heiberg said. "I think this could ruin a lot for all of us," he added, saying the IOC would enforce its rules against demonstrations.
Related: Olympics win boosts Japan stocks
A spokesperson for Coca-Cola said the company has been "straightforward in our many discussions with the IOC about our expectations regarding safety and security [at the Games] ...and will continue to engage directly with the IOC on this paramount priority."
Companies pay an estimated $100 million to become a major Olympic sponsor. They also pump in massive additional investment to support related marketing campaigns. Media tracking company The Global Language Monitor puts the cost of being a top sponsor as high as one billion dollars over a four-year period.
Civil rights and gay activist groups are driving global campaigns against Russia's perceived anti-gay agenda, and now the Olympic sponsors are in their sights.
Related: Married same-sex couples gain equal tax benefits
The Washington-based Human Rights Campaign Foundation wrote to the chief executives of the 10 major sponsors in August, demanding they adopt a public position opposing the new laws. The group also called for the IOC to obtain written commitments from the Russian government about athlete and visitor safety.
So far none of the sponsors has heeded the call, though Coca-Cola and McDonald's have diversity policies which contain some protections for gay rights.
But public pressure and calls for consumers to shun sponsor products is mounting. For months Twitter has buzzed with cries for a boycott of the Sochi Games and attention is increasingly turning to sponsors.