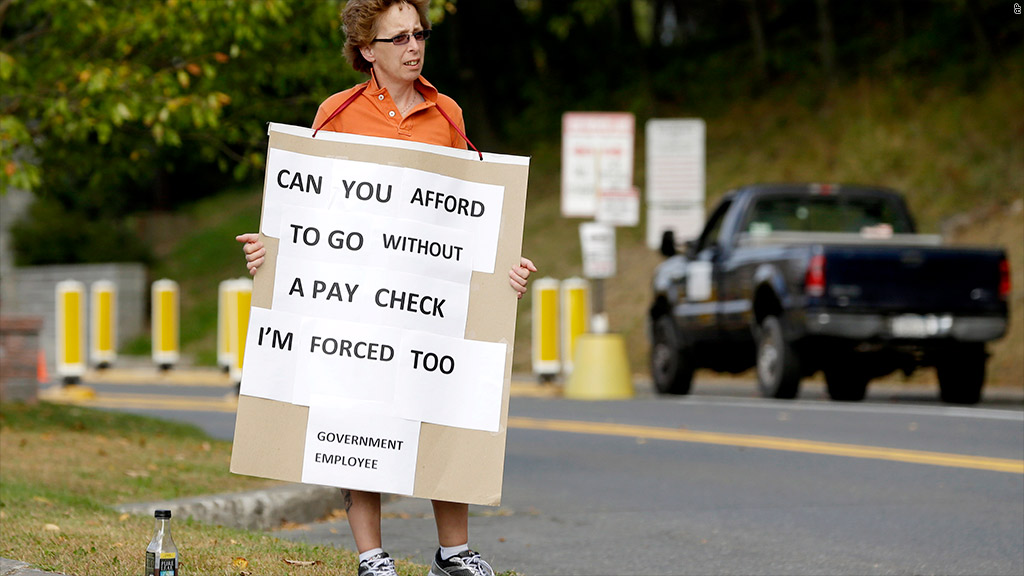 As hundreds of thousands of federal workers remain furloughed and are uncertain how long they'll have to go without pay, some banks are stepping up to offer financial help.
TD Bank (TD) announced Thursday that customers impacted by the government shutdown can get a loan for the amount of their monthly paycheck (up to $1,000) without paying interest or fees. They will also be reimbursed for credit card late fees and can qualify for special mortgage payment plans.
The assistance program will last between Oct. 10 and Nov. 2 (if the shutdown doesn't end before then) and is available for those with accounts in good standing. Customers just need to show their furlough papers, government ID and previous two pay stubs.
"Uncertainty surrounding the government shutdown has our customers concerned," said Nandita Bakhshi, head of Retail Distribution and Products at TD Bank. "[O]ur hope is that we can make it easier for our customers to cover their bills and make ends meet if they're not receiving their pay."
Related: Don't miss these shutdown freebies
Capital One (COF) has a financial hardship program that is now being advertised for government employees. The bank will work with each customer individually to waive fees out-of-network ATMs or late payments. It will also allow some customers to defer payments.
Other banks, including Chase (JPM), Wells Fargo (WFC ), Bank of America (BAC), Citi (C), Discover (DFS) and U.S. Bank (USB) said they will work with impacted workers on a case-by-case basis and encourage customers to call them directly.
"We are monitoring the situation closely and are prepared to help any customer facing financial difficulty as a result of the government shutdown," Bank of America said in a statement. "Every situation is different, so if customers are having difficulty, we ask that they contact us so we can work with them on a solution."
The government shutdown began Tuesday, and an estimated 800,000 workers have been furloughed without pay.