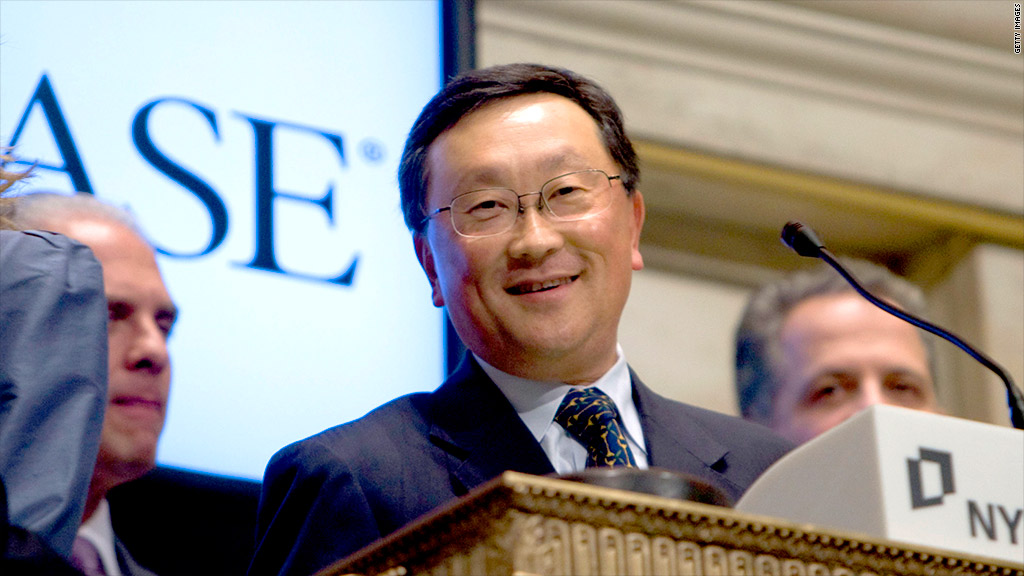 Anyone willing to attempt the turnaround of long-struggling BlackBerry is a brave soul indeed. But the man tasked with the job could wind up being compensated very handsomely for his efforts.
BlackBerry's new executive chairman John Chen -- who is also serving as the company's interim CEO -- will receive a $1 million annual salary and a performance bonus of $2 million, according to regulatory documents filed recently.
But Chen's real chance to make big bucks comes in the form of 13 million restricted shares of BlackBerry, worth about $84.4 million as of Monday's closing price. And that's a very depressed price. Shares are down 45% this year. If Chen actually rescues BlackBerry, these restricted shares could be worth a lot more.
However, Chen will have to stick around for three years to get 25% of those shares, four years for the next 25% and a full five years for the remaining 50%.
Related story: Corporate daredevil John Chen may turn BlackBerry around
Chen could still get a nice payday -- albeit not $87 million -- if he leaves the company.
If Chen is terminated "without cause," which is often the case even when a CEO is essentially fired, he will continue to receive his $1 million annual salary through the remainder of the year in which he left the company. On top of that, he'll receive an extra award of two times his base salary and two times his bonus, for a total of another $6 million.
BlackBerry (BBRY) is, at least temporarily, pinning its hopes on Chen, who successfully turned around the struggling enterprise software maker Sybase and sold it to SAP (SAP) in 2010.
Related story: Where BlackBerry's ousted CEO went wrong
The previous BlackBerry CEO, Thorsten Heins, is due $12.3 million in severance after being ousted last week. BlackBerry announced Heins' firing along with the news that the company is no longer seeking a buyer.
Instead BlackBerry's largest shareholder, Fairfax Financial, said it would invest $1 billion in the company.