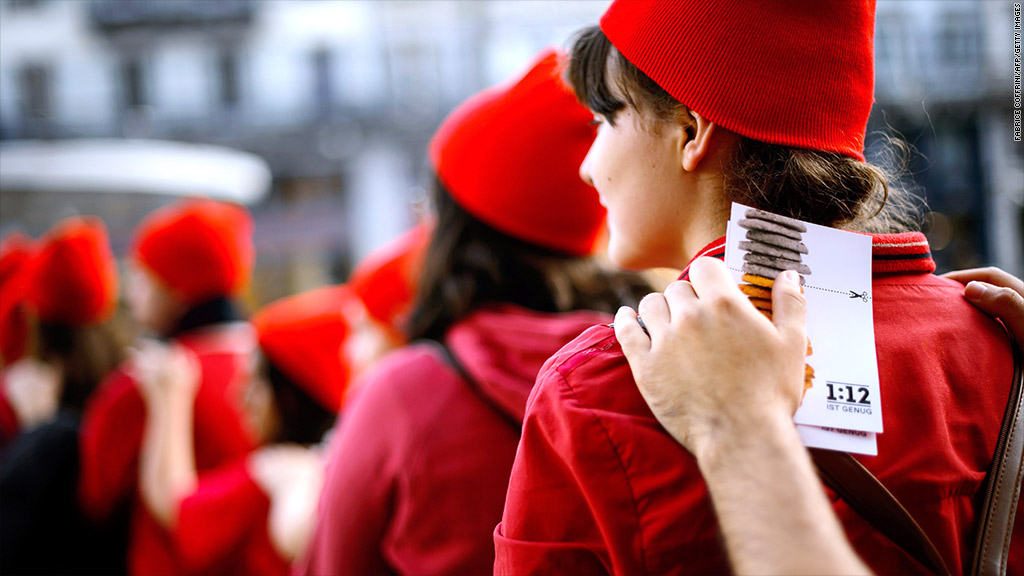 Swiss voters overwhelmingly rejected a proposal to cap the salaries of top executives Sunday, heeding warnings that the limit could damage its economy and businesses.
The "1:12 -- for fair wages" initiative, which proposed capping executive salaries at 12 times the lowest paid employee's, was rejected by 65.3% of voters, and failed to win majority support in any of the country's 26 districts.
The vote means that Swiss-based executives at companies such as UBS, (UBS) Credit Suisse (CS), Novartis (NVS)or Glencore Xstrata (GLCNF), will still be able to earn salaries worth more in a month than their lowest paid workers make in a year.
Switzerland's constitution allows popular initiatives to be put to a national vote four times a year, provided the organizers gather 100,000 signatures in support.
In order to force a change in the law, the initiative would have needed to be approved by a majority of the electorate and the country's 26 cantons, or districts.
Related: Opinion: U.S. should follow Swiss on pay cap
The Swiss federal government and parliament had recommended voting against the cap, joining business leaders in warning that it could force some companies to leave the country and others to shed jobs.
Switzerland is a wealthy country, enjoying above average rates of growth and employment and relatively short working hours. The average household has net disposable income of about $30,000, compared with the OECD average of $23,000.
But OECD figures also show a considerable gap between rich and poor -- the top 20% of the population earn nearly five times as much as the bottom 20% -- and anger at growing inequality has been increasing as executive pay packages soar.
Examples of excess -- such as a plan by Novartis, subsequently dropped, to pay its outgoing chairman nearly $78 million over six years -- gave the 1:12 campaign momentum.
And while the salary cap may have failed, a popular initiative to give shareholders more control of executive pay won clear backing from Swiss voters in March.
Related: UK moves to block bankers' bonus cap
Some of Switzerland's neighbors have also responded to popular anger over executive pay at a time of record unemployment in Europe and stagnant wages.
EU policymakers are hoping to limit bonuses for any banker earning more than 500,000 euros a year (or $678,000 U.S.). The maximum payout would be equal to annual salary or twice salary if a majority of shareholders approve.
The cap -- which is being challenged in court by the British government -- would apply globally to banks based in the EU, and to international banks operating within Europe. It could affect more than 35,000 bankers around the world, the vast majority of them in London.