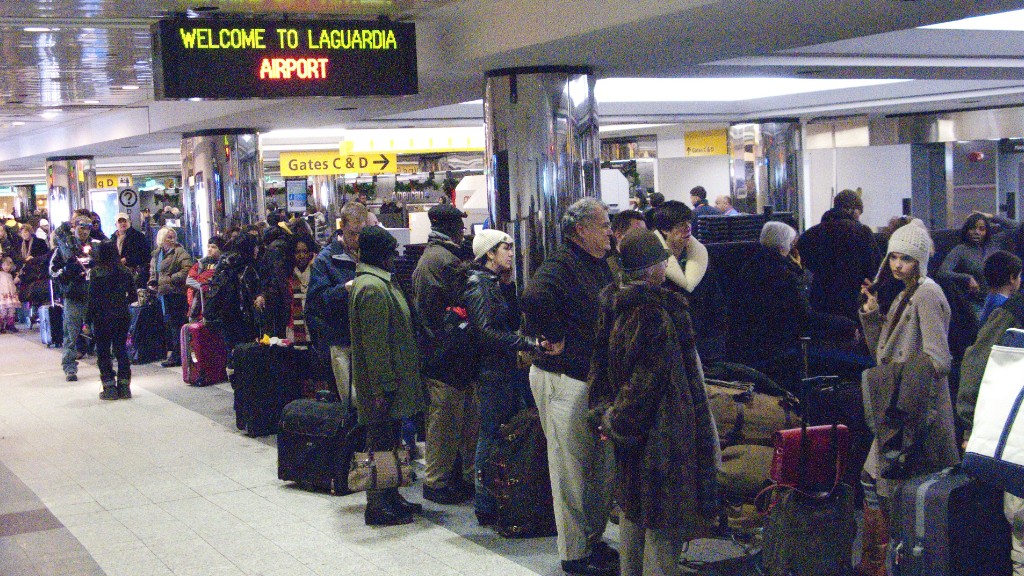 A small piece of good news if your Thanksgiving air travel has been thrown into turmoil by the winter storm: Several major airlines are letting customers change reservations without paying fees.
There are caveats, of course. But the savings could be considerable, since change fees can range from $100 to $300 per flight.
If you're flying on Delta (DAL), the airline is offering a one-time ticket change, without a fee, to Thanksgiving travelers to and from New York City, Washington, D.C., Boston, Baltimore and other airports in the East.
Delta also said travelers are entitled to refunds if their flights are canceled or "significantly delayed."
Related: Fewer people traveling for Thanksgiving
US Airways (LCC) is also relaxing its change-fee policies for travelers scheduled to fly during the days leading up to Thanksgiving, so long as the airports and the fares remain the same.
JetBlue (JBLU) and American Airlines of AMR Corp. (AAMRQ) waived their change fees for customers who were scheduled to fly to or from Dallas/Fort Worth on Nov. 24 or 25, after Texas got pummeled by an ice storm. Jetblue is also waiving change fees for customers flying to and from the greater New York City area on Wednesday and Thanksgiving.
United, of United Continental Holdings (UAL), is waiving fees for some passengers traveling to or from Cleveland, Washington-Dulles or Newark, N.J.
The storm is expected to hit the East Coast on Wednesday.
As a word of advice, Airfarewatchdog president George Hobica said fliers should buy travel insurance during the winter holiday season, because of the high chance of cancellations and delays.
Related: More people are flying, with fewer complaints
Also, don't rule out the more reliable travel by land, he said.
"If your flight is canceled, try to get as close to where you're heading as possible if you can't get all the way there," he said. "If your JFK to LA flight is canceled, see if the airline will fly you to Las Vegas, for example. From there you can hop on Southwest or rent a car to LA."