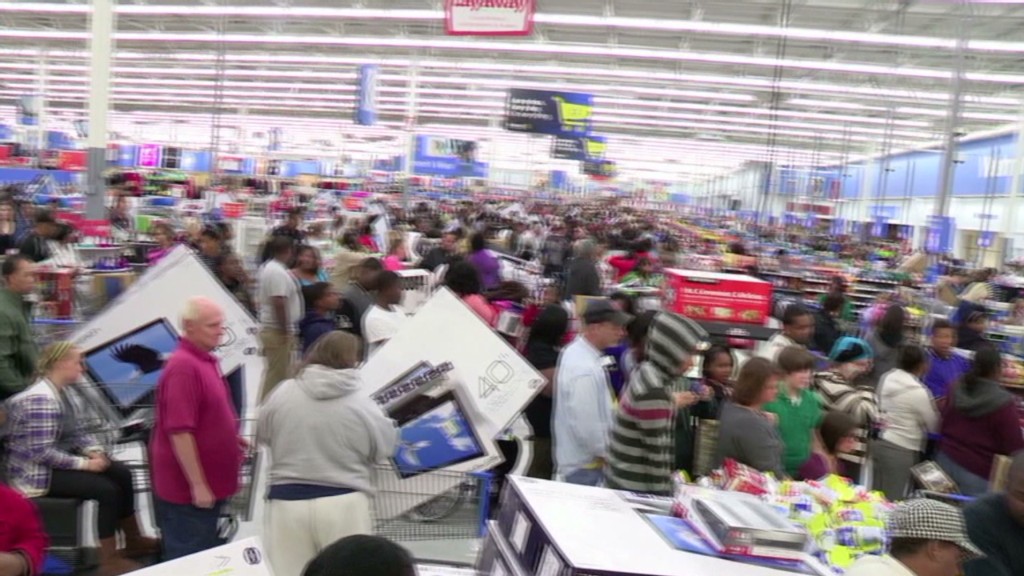 Black Friday has become the most storied shopping day, filled with big deals and even bigger crowds.
So what should you expect this year?
For starters, Black Friday has given way to Black Thursday, since most major retailers are opening their doors earlier than ever before on Thanksgiving day itself.
Kmart leads the pack, opening at 6 a.m. on Thanksgiving day and staying open for 41 hours straight. Toys R Us is opening at 5 p.m., Wal-Mart (WMT) will start its sales at 6 p.m., while Macy's (M), Kohl's (KSS), J.C. Penney (JCP) and Sears (SHLD) will let customers in at 8 p.m.
Related: 8 must-have holiday toys
The early openings has fueled people to vent on social media calling the stores' decisions "heartless," "greedy" or "shameful" for taking away Thanksgiving from store employees.
For shoppers who decide to head out there early, they can expect some big savings.
Like every year, some of the hottest deals are on consumer electronics, like Apple's (AAPL) iPad, Amazon's (AMZN) Kindle and laptops from various brands.
Staples (SPLS) will be selling the new Kindle Fire 7 inch 16GB tablet for $79, which is roughly half off, though this deal is only for 1 per customer and as supplies last. Wal-Mart will give iPad mini buyers $100 gift cards.
Related: Wal-Mart's 2013 Black Friday deals
Best Buy (BBY) is getting a lot of hype for its sales, which include a 55-inch LG flat screen television for $499.
Black Friday deal experts say some of the best deals could come from Wal-Mart, since the doorbuster sales offered during specific hours are guaranteed to any shopper in line for the items at that time. If something sells out in stores, shoppers will get a voucher for the item at the sale price.
Related: Retailers brace for a tough holiday season
While shoppers will be out looking for big discounts, some retail workers across the country are planning to join protests demanding better pay. OUR Walmart, a union-backed group said it is planning 1,500 protests at Wal-Mart stores across the country.
Workers held similar demonstrations last Black Friday, and the protests have continued throughout the year.