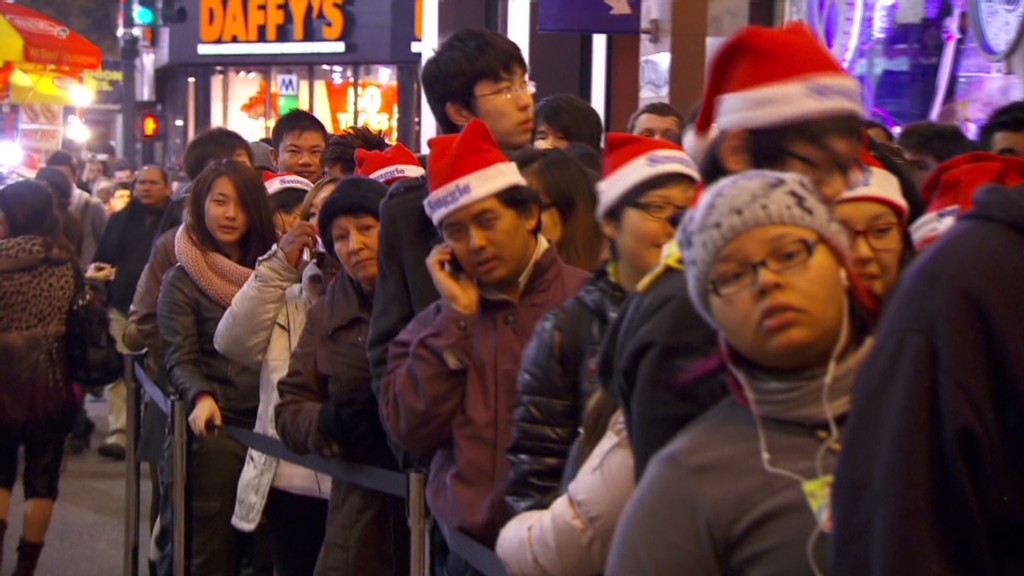 Black Friday's encroachment into Thanksgiving Day has stirred debate about whether scoring deep discounts is worth sacrificing time with family. But even those who decide to hit the stores early may not end up getting the best deals this Black Friday.
Some of the nation's largest retailers plan to open their doors on Thanksgiving Day, kicking off with Kmart (SHLD) at 6 a.m.,Toys R Us at 5 p.m. Wal-Mart (WMT) and Best Buy (BBY) at 6 p.m. and Macy's (M), Target (TGT) and others will open throughout the evening.
The big enticement will be so-called "doorbusters," limited-time only deals offered to the first shoppers in the store. Hot-ticket doorbusters are typically electronic items like TVs and laptops at deep discounts of 50% or more.
Poll: Will you shop on Black Friday or not?
Yet most stores keep such limited supplies of these deals, that few shoppers walk away with them, said Marshal Cohen, chief retail analyst at the NPD Group. "If you're looking for that ultimate score, the half-price big screen TV, if you're not the 24th person in the line, 'good luck,'" he said.
Some die-hard shoppers started camping out in front of an Ohio Best Buy as early as last week to nab its popular doorbuster deals on big-screen TVs, laptops,video games and other electronics, such as a $500 55-inch LG flat-screen TV.
One exception: Wal-Mart is guaranteeing prices for some of its best deals, as long as customers are in line during specific times. If a store runs out of the product, shoppers get a voucher guaranteeing the product at the sale price.
But shoppers may not need to venture out to nab most Black Friday deals in the first place. With competition fierce, many retailers' are offering deals online that rival the ones being offered in stores, said Walter Loeb, a retail analyst and president of Loeb Associates.
Target, for example, will start offering almost all of its in-store deals in the early morning hours of Thanksgiving on Target.com before stores even open. Meanwhile, Consumer Reports has noted that Amazon (AMZN) is offering Black Friday prices on big-screen TVs that are similar to deals available at Wal-Mart and Best Buy stores.
Related: Black Friday 2013: What to expect
"Prices during the holidays, even for some of the doorbusters, aren't necessarily the best prices of the season," said Patricia Huddleston, a professor of retailing at Michigan State University.
A recent survey by personal finance site, NerdWallet.com, found that 23 out of 25 stores were offering at least one product at the exact same price as last year, while some stores had multiple deal repeats or offered better prices on certain products earlier in the year.
And certain products will likely see even deeper discounts as Christmas approaches.
For example, better prices on winter clothing and generic toys are often found in the final week or two before Christmas as stores attempt to clear their shelves, said Trae Bodge, a spokesperson for RetailMeNot.com, a web site that tracks consumer deals.
So unless you have your eye on a hot product that you're worried will sell out, it's often best to wait. "Black Friday is about specific items," Bodge said. "Do the remainder of your shopping afterwards."
Related: 5 Black Friday tricks to avoid
Jessica Kessler had her first Black Friday experience several years ago, waking up at 3 a.m. on Friday to stand outside in the cold with hundreds of people waiting for Kohl's to open. Since then, she has ventured out with her husband's family in the early morning hours of Black Friday to hunt for deals. But she said there is no discount deep enough to draw her from her home on Thanksgiving.
"I was able to knock out a good bit of my shopping in the years that we went and got some deals that I was happy with," she said. "But at this point, there is no amount of savings that they could offer that would make it worth it to me."