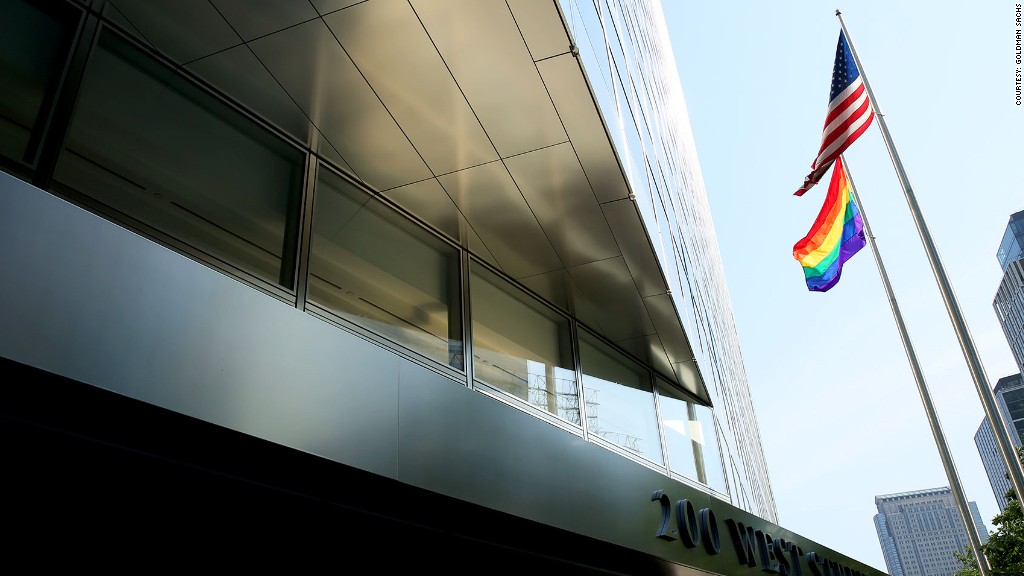 It's been a record year for gay rights.
Not only did the Supreme Court overturn the Defense of Marriage Act, the law preventing same-sex couples from receiving federal spousal benefits, but hundreds of American corporations have been rallying for the cause, publicly supporting same-sex marriage and ramping up benefits and protections for lesbian, gay, bisexual and transgender employees.
Heading into 2014, a record 304 U.S. companies boast perfect "corporate equality" scores of 100 from the Human Rights Campaign, according to the LGBT advocacy group's new report examining more than 900 businesses on 40 different policies and practices. That's up from 252 perfect scores last year and 189 two years ago.
A perfect "corporate equality" score means a company has a non-discrimination policy in place protecting LGBT employees, provides same-sex partner health benefits, offers transgender-inclusive medical insurance, publicly supports LGBT equality and has organization-wide LGBT initiatives.
Related: Best companies to work for
Industries boasting the highest percentage of companies with perfect scores include law, banking and financial services, and retail and consumer products. Companies new to the 100% club include Nissan (NSANF), General Electric (GE) and Procter & Gamble (PG). Other companies among the most improved this year (though they haven't achieved perfect scores yet) include Wal-Mart (WMT), which saw its score jump from a 60 to 80 after it introduced same-sex benefits for employees, and Cracker Barrel (CBRL), which rose 10 points to a score of 45 after it launched a LGBT employee network and implemented a non-discrimination policy for LGBT employees.
A record 90% of all companies in the HRC report and 67% of Fortune 500 companies offer health benefits for same-sex couples. Meanwhile, 46% of all companies and 28% of Fortune 500 companies offer transgender-inclusive health care, with an all-time high of 340 companies now covering transitional medical procedures for transgender employees -- up from only 49 companies in 2009.
Related: Find out if a company shares your values
Corporate America has long been an active player in the battle for LGBT rights. As the Supreme Court prepared to debate the constitutionality of DOMA, hundreds of companies -- including Facebook (FB), Google (GOOG) and Starbucks (SBUX) -- filed briefs urging the Supreme Court to overturn the law. When the law was struck down, companies issued statements of support, and Goldman Sachs even hung a rainbow flag outside its headquarters.
Most recently, more than 100 businesses joined a coalition calling on Congress to pass the Employment Non-Discrimination Act (ENDA), which would prohibit companies nationwide from discriminating against employees on the basis of sexual orientation and gender identity. Apple (AAPL) CEO, Tim Cook, even wrote an op-ed in the Wall Street Journal saying the law should be passed.
Many companies are already ahead of the proposed law. A record 91% of Fortune 500 companies prohibit discrimination on the basis of sexual orientation and 61% on the basis of gender identity.
Related: What's next after the same-sex marriage rulings?
"This will go down in history as the year that corporate support for equality left the boardroom and reached each and every corner of this country," said HRC President Chad Griffin. "Not only do fair-minded companies guarantee fair treatment to millions of LGBT employees in all 50 states, but now those same companies are fighting for full legal equality in state legislatures, in the halls of Congress and before the U.S. Supreme Court."
Despite the momentum, however, some companies are still lagging behind -- particularly in the oil and gas, mining and manufacturing industries, according to the HRC.
ExxonMobil (XOM) continues to receive the lowest score of any company, for example -- with a score of negative 25. HRC deducted extra points because the company has resisted efforts by shareholders to amend its non-discrimination policy. An ExxonMobil spokesman called the report "inaccurate" and said the company has a policy prohibiting all forms of discrimination, even though it doesn't explicitly say that lesbian, gay, bisexual and transgender employees are protected.