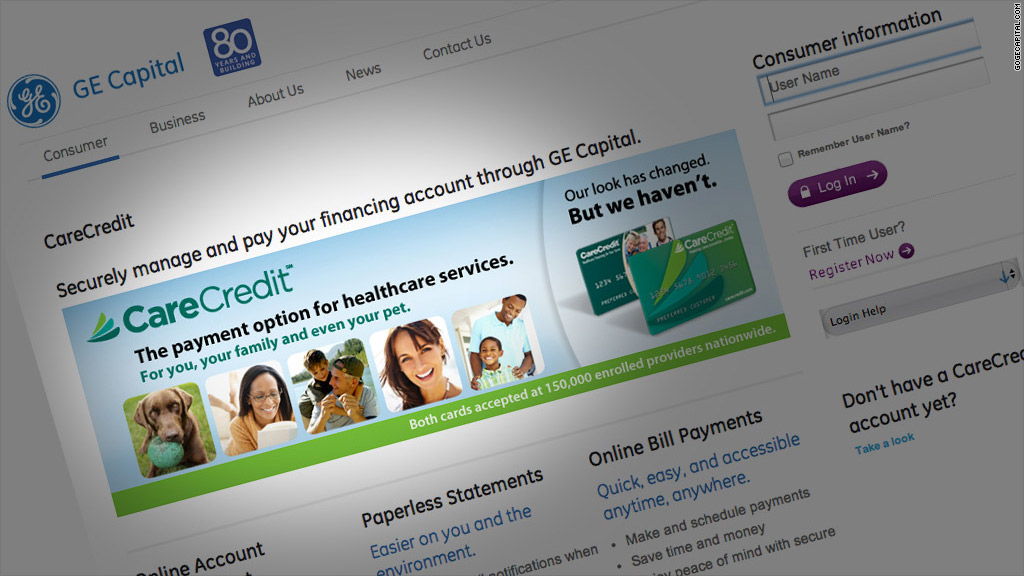 GE Capital's medical credit card business is being ordered to repay $34.1 million to more than one million customers over deceptive enrollment practices.
The Consumer Financial Protection Bureau brought the enforcement action against GE Capital and its subsidiary, CareCredit, after receiving hundreds of complaints from consumers about the card, which is used to pay for a range of health care services.
The agency said the issuer was misleading consumers into thinking they were signing up for an interest-free line of credit. In reality, it was a deferred-interest program, in which cardholders were hit with months' worth of interest if they didn't pay off their balance by the time the promotional period ended.
"Medical debt is already a big problem for many Americans," CFPB Director Richard Cordray said in a statement. "Poor credit card transparency should not be making the problem even worse."
Related: Beware - Retail cards have costly trap
CareCredit assessed an APR of 26.99% on cardholders' balances throughout these promotional periods, which ranged anywhere from six to 24 months, the CFPB found.
The agency said more than 1.2 million consumers were potentially impacted by these unfair interest rate hikes and can file claims for reimbursement of the extra interest they were charged.
GE Capital is the largest issuer of credit cards dedicated to medical expenses, with four million active customers enrolled in its CareCredit card. Patients are able to open CareCredit cards at more than 175,000 doctors, dentists and other medical service providers across the country in order to pay for their visits and procedures.
The CFPB began its investigation into GE Capital in 2009, and found that the company failed to explain that the card was a deferred interest loan and that customers could incur interest, didn't provide clear disclosures and didn't properly train its staff to make sure representatives understood the credit card agreements.
Related: Banks fork over $17 million for misdeeds in 2013
"Many consumers, most of whom were enrolled while waiting for health care treatment, incurred substantial debt because they did not understand how they could have avoided deferred interest, penalties, and fees," according to the CFPB.
Impacted customers will be notified by CareCredit that they are eligible for a refund, then they must file a claim for reimbursement. GE Capital has also agreed to improve its disclosures and better train its staff, the CFPB said.
"CareCredit works with all regulators to set a standard of transparency and we have worked cooperatively with the CFPB on this inquiry," said GE Capital spokeswoman Dori Abel.