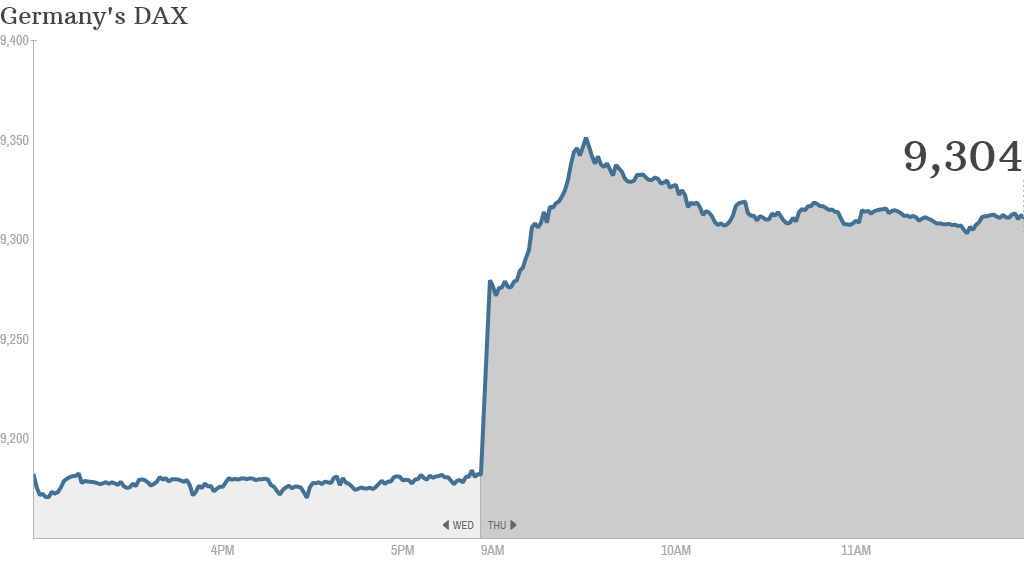 World markets marched higher Thursday after the Federal Reserve surprised some experts by announcing a modest reduction, or tapering, in its bond buying program.
Some market watchers had been holding out hope that the Fed would announce tapering after Fed chairman Ben Bernanke's tenure ends in January. But the U.S. job market has been improving and Bernanke told reporters on Wednesday that he and other Fed officials -- including current vice chair and Bernanke successor Janet Yellen -- believe the economy will continue to create jobs.
The Fed said it will reduce its monthly purchases of mortgage-backed securities and U.S. Treasuries to $75 billion per month, down from $85 billion, beginning in January.
Japan's Nikkei surged 1.7% to close at a six-year high on Thursday, while Australia's ASX All Ordinaries index jumped 2%. European markets followed suit, with London's FTSE 100 rising 1% and Germany's DAX gaining 1.7% in early trading.
U.S. stocks surged on the news Wednesday afternoon, with the Dow and S&P 500 finishing at new closing highs.
Related: Why tapering could be good for stocks
India's Sensex dropped 0.5% but there was little sign of a repeat of the broader emerging market sell-off seen earlier this year when Bernanke raised the prospect of tapering.
The Fed has been buying bonds since 2008 and many investors say the liquidity boost has been the main driver of the bull market in stocks since 2009. The Fed's decision also can be interpreted as a sign the economy is back on its feet and no longer needs as much stimulus as it once did.
Bernanke said Wednesday that the Fed could take "further measured steps" to reduce its holdings, but he stressed that it will continue buying bonds "at a rapid pace" after the taper. He also said the Fed expects to hold interest rates at historic lows past the point when the unemployment rate falls to 6%.