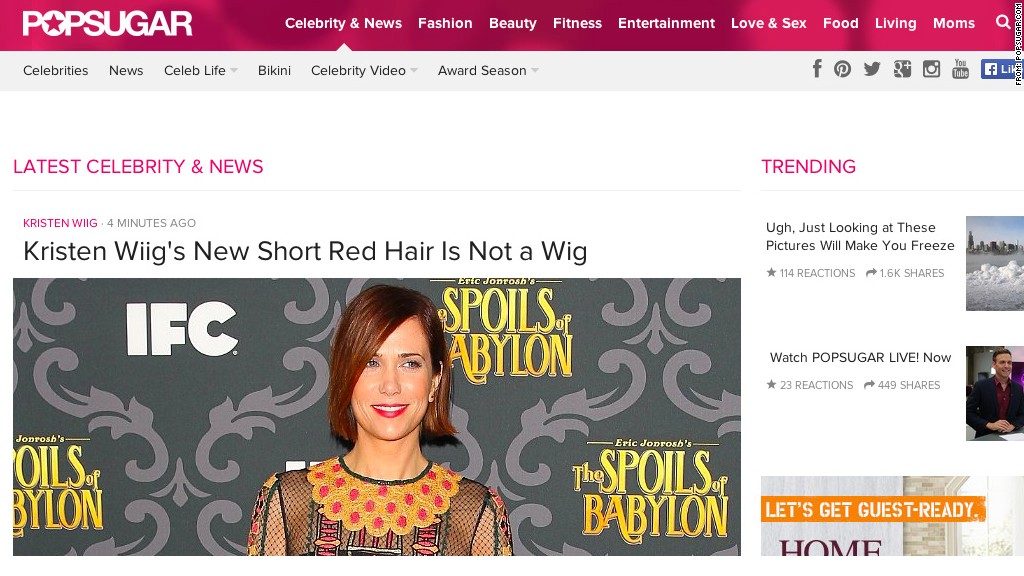 PopSugar, the popular entertainment Web site for young women, is getting its first shot on television in a partnership with the TV Guide Network, the cable channel also known as TVGN.
For 12 weeks beginning Monday, a half-hour entertainment show called "PopSugar Now" will be shown on TVGN, which is slowly shedding its old TV-listings identity and becoming a broad entertainment channel.
The show is being televised at 6 p.m. ET weeknights, suggesting a brewing rivalry with the much bigger E! cable channel, which has its own nightly celebrity newscast at 7 p.m. ET.
"PopSugar Now" is being billed as an awards season addition to TVGN. But if it performs, "Now" could become a permanent part of the lineup.
The television partnership is a big endorsement for PopSugar, which was founded by a husband and wife (last name: Sugar) in 2006 and grew into a dependable source of celebrity and pop culture news for its target demographic, women ages 18 to 40.
The startup already produces dozens of hours of Web video each month, including a daily show called "PopSugar Live." David Grant, the president of PopSugar Studios, said "Live" would be the basis for the TVGN show.
Why is PopSugar, a proudly digital venture, angling for television airtime at all?
Grant prefaced his answer by saying, "I might have a different answer to this question in 2020," since TV is gradually ceding ground to the Web. But for the time being, "the television screen attracts viewers for many hours of the day in all demographics," he said. "We want to be on that screen; we think it's very important."
Brad Schwartz, the president of TVGN, said the channel's evolving brand and PopSugar's are complementary. CBS acquired a 50% stake in the channel last year from Lionsgate, which remains the other owner. Since then, the relatively low-rated channel has been moving in E!'s direction. Schwartz said in an interview on Wednesday that TVGN is in the midst of a strategic review to determine "how we can differentiate from everything else that's out there."
A daily show from PopSugar might be one way to do that. Along with the 6 p.m. show, TVGN will partner with a famous CBS asset — the syndicated newsmagazine "Entertainment Tonight" — for live red carpet coverage before the Grammy Awards and the Oscars. Executives said this was an example of newly-enabled synergies with CBS.
Correction: The president of PopSugar Studios is David Grant, not David Clark as initially reported.