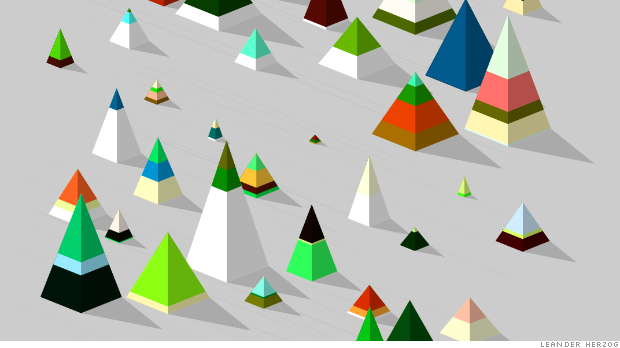 NEW YORK (CNNMoney)
-
A weekly collection of design, data and interactive links.

Design/Data viz
Basecamp | Animation created with d3.js by visual artist Leander Herzog.
Temperature and Morality of London | Infographic by William Farr from 1848-1849.
The Weight of Rain | Jonathan Corum's presentation from the Visualized conference.
Palette | Free form hardware interface.
Flappy Bert | The Sesame Street remix.

Photo/Video
Slope Style | Visual breakdown of Snowboarding.
Cinematics | A timeline of classic films and characters.
3D gifs | Two vertical lines can transform flat images into 3.

Illustration
Ludo | Outdoor work by Parisian artist Ludo.
Chameleonic | Illustration and lettering by Jonathan Calugi.

Code/Tools
You Might Not Need jQuery | Some alternatives to the popular JS library.
Hemingway | An interesting look at sentence structure.
The MicroSlice | A mini Arduino laser cutter and engraver.

See last week's links

Have a nice weekend!
@dubly and @talyellin