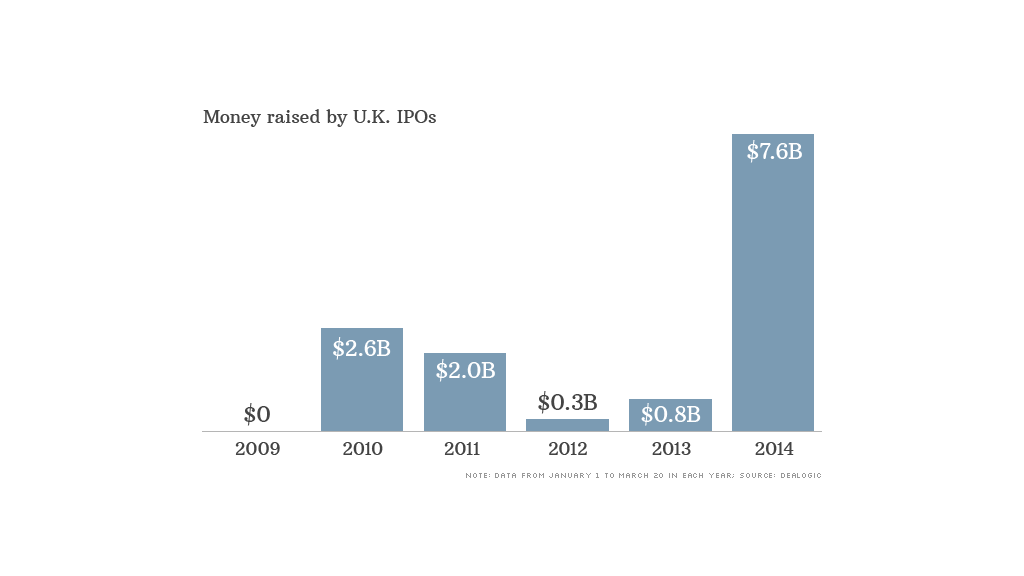 Europe is enjoying a boom in companies going public, driven by rising market confidence and pent-up demand for new shares after a five-year drought.
Initial public offerings on exchanges in the U.K., the Netherlands, Denmark and Spain have raised $12.4 billion so far this year, easily surpassing the $9.2 billion raised in the United States, according to data from Dealogic.
The London Stock Exchange has seen a parade of offerings, raising 10 times as much as during the same period last year, according to Thomson Reuters (TRI) data.
Other European exchanges such as Euronext in Paris have also hosted big IPOs, unlike 2013 when new issues were few and far between.
As the bull market in equities continues into its fifth year, and the eurozone crisis fades, companies see this as an ideal time to raise money and investors are happy to snap up new shares.
"There had been a lack of new names and companies over the last five years [in Europe]," said Matt Toole, head of Thomson Reuters' deal intelligence unit. "Investors are looking for those new names to put in their portfolio and companies are lining up to sell shares."
Related: Yee-haw! Riding the mechanical bull market
The IPO rush is also being fueled by private equity firms looking to cash out of their investments.
"The whole [private equity] market is talking about the IPO window," said Ernst & Young's European IPO expert Martin Steinbach. "If you have an exit window, you take the chance."
Attractive valuations in Europe may be playing a part too. London's FTSE 350 index is currently trading at 14 times earnings, compared with 16.5 times for the S&P 500.
Related: Royal Mail delivers... for investors
A global IPO boom got underway in late 2013 as investors became increasingly confident in the economic outlook and central banks continued to pump cheap money into markets. Over $40 billion has been raised globally so far this year, twice as much as at the same point in 2013.
That trend continues for now as investors expect markets to remain firm, despite geopolitical tensions, slower growth in China and prospects of tighter monetary policy in the U.S. and U.K.
Internet, e-commerce and retail companies are leading the charge in London. U.K.-based online food delivery service Just Eat said this week it planned to issue shares. The firm could be worth as much as $1.5 billion, according to reports.
"There's more risk appetite. Investors are looking for growth, and that's represented through technology [firms]," said Ernst & Young's Steinbach.
Last year's successful Twitter (TWTR) IPO in the U.S. helped boost the pipeline of tech offerings. Dealogic data shows 26 tech firms have raised nearly $6 billion in IPOs around the world this year, with more to come.
Candy Crush maker King goes public next week in New York, and China's Alibaba has said it also plans to list in the U.S.
Related: China's Alibaba picks U.S. for IPO
There's been a crush of new IPOs from mainland China after Beijing lifted a year-long ban in late 2013. Dealogic data shows 62 Chinese companies have raised roughly $7.3 billion on global exchanges since the start of the year.