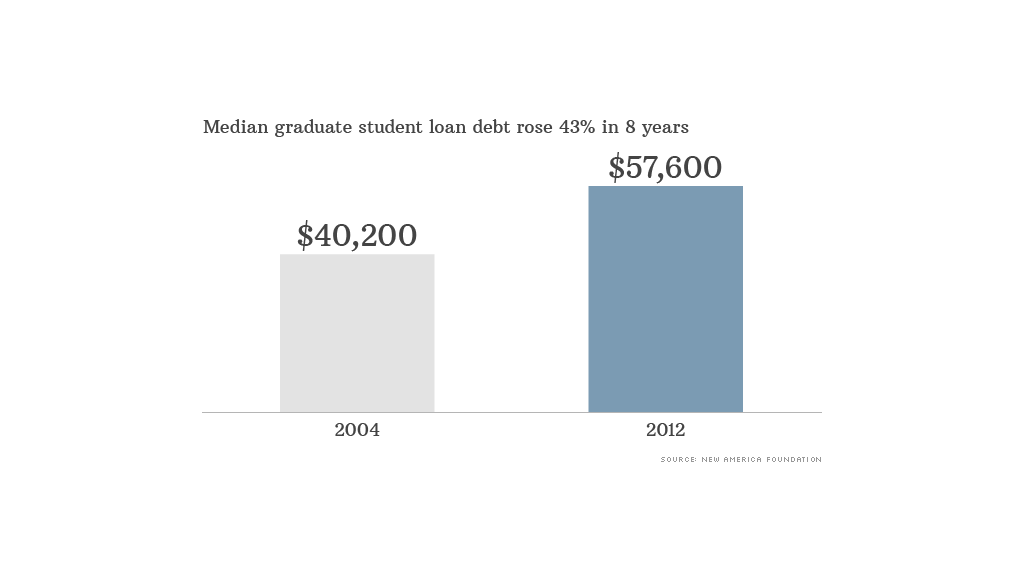 Graduate school debt is playing a key and often overlooked role in the ballooning of overall student loan debt, new research suggests.
Students who went to university for a graduate degree borrowed $57,600 in 2012, a 43% increase from $40,209 in 2004, according to new research released Tuesday by the New America Foundation.
"The jump in graduate school borrowing is bigger than I thought it was going to be," said the report's author Jason Delisle, director of the Federal Education Budget Project.
Overall student loan debt is a little more than $1 trillion, outpacing all other loans except mortgages.
Though the research doesn't say how much of it comes from graduate students, separate federal data showed that graduate loans were 41% of student loans issued in the fall of 2012. That's despite the fact that graduate students were only 17% of all student loan borrowers, according to New America, a think tank.
"Are graduate students thinking: I've got less money to get a graduate education, so I should borrow more? My employment prospects look worse, so should I borrow more? That's problematic," Delisle said.
It certainly was the case with Robert Ridley, who will graduate this year from the University of Kentucky with a master's degree in public policy and $60,000 in federal student loans.
Ridley completed his undergraduate degree in 2002 with almost no debt. However, he went back to school to get a graduate degree after struggling for years to find a decent full-time job.
Related: 3 simple steps to get out of debt
Ridley is among 1.7 million graduate school students nationwide, many of whom are still borrowing more to get a leg up in this struggling economy. Some are unsure if a graduate degree will actually get them a job that will bring in extra money.
"I'll know for sure after I graduate in December whether graduate school was the right thing to do," said Ridley, whose undergraduate degree in sociology from the University of Cincinnati was mostly paid by a National Merit Scholarship and Pell Grants.
The New America study found that some students are getting graduate degrees that don't necessarily lead to larger salary gains.
2 million students missing out on college aid
Those getting a Master of Business Administration took out $42,000 to finance their education in 2012, just $600 more than the same graduates borrowed in 2004.
By contrast, borrowers financing Master of Arts degrees were $58,500 in debt in 2012, or $20,500 more than in 2004.
"Those getting MBAs have decided I'm not going to borrow any more for that degree, but these other degrees that aren't matched to careers are borrowing a lot more," Delisle said.
Ridley is hoping graduate school will help give him a jumpstart when he gets back in the work force.
After his undergraduate degree he worked several jobs, including part-time stints doing accounting for municipal government and tutoring in accounting and math. But after he was let go from a part-time job at a university in 2004, he struggled to land an interview for any job.
"I was forced to live with my mother much longer than I wanted or needed to. I tried everything," Ridley said.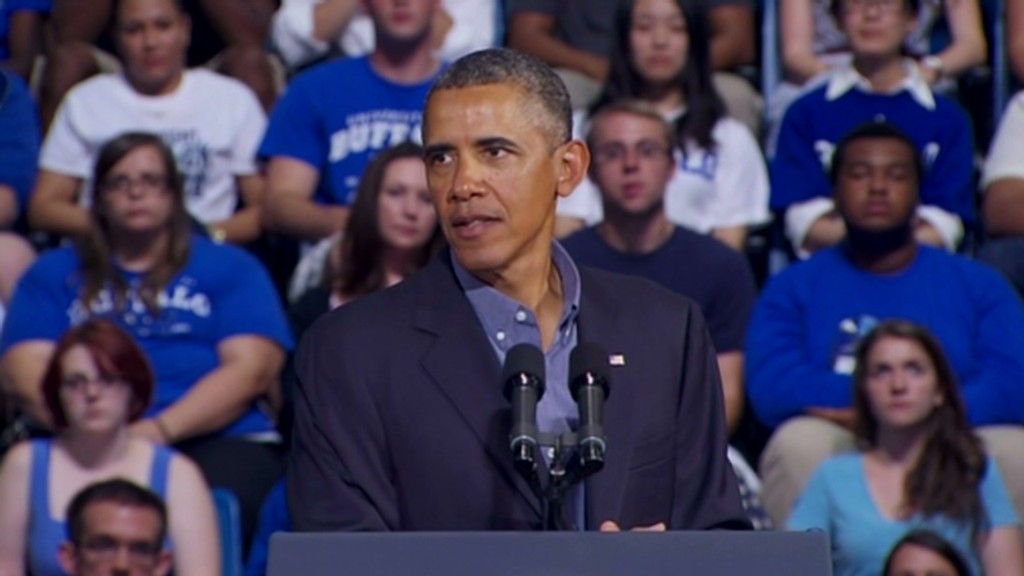 He went to community college in Cincinnati to retrain in 2009. He was recruited by University of Kentucky, after making the academic honor society at the college.
Ridley is hopeful. Last summer, he interned at the U.S. Government Accountability Office in Washington, D.C., a watchdog agency for Congress. He wants to use that experience to land a full-time job as a policy analyst.
"I didn't know what else to do, I'm just hoping to get a real job," he said.