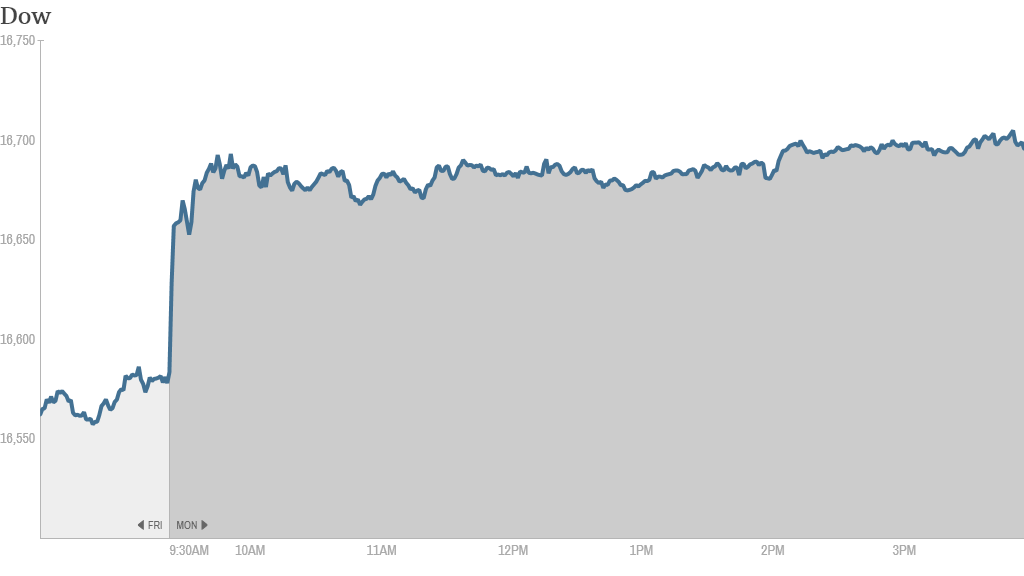 With the weather finally warming up, investors were feeling some spring in their step.
The Dow Jones industrial average and S&P 500 closed at record highs Monday. The Dow jumped over 112 points to close at 16,695.47, and the S&P 500 ended the day about a percent higher at 1,896.65. Even the Nasdaq, which has been volatile amidst a pullback in tech stocks, got a nice bounce of roughly 1.8%.
Investors poured money into the perceived safety of blue chip companies and seem to believe the economy is improving, albeit slowly. There's still concern about tech stocks though as investors fret about sky-high valuations and, in the case of some tech companies, unproven business models.
CNNMoney's Fear and Greed Index has been languishing in fear mode for the last month, mainly dragged down by tech stocks, but the index finally moved into neutral mode on Monday.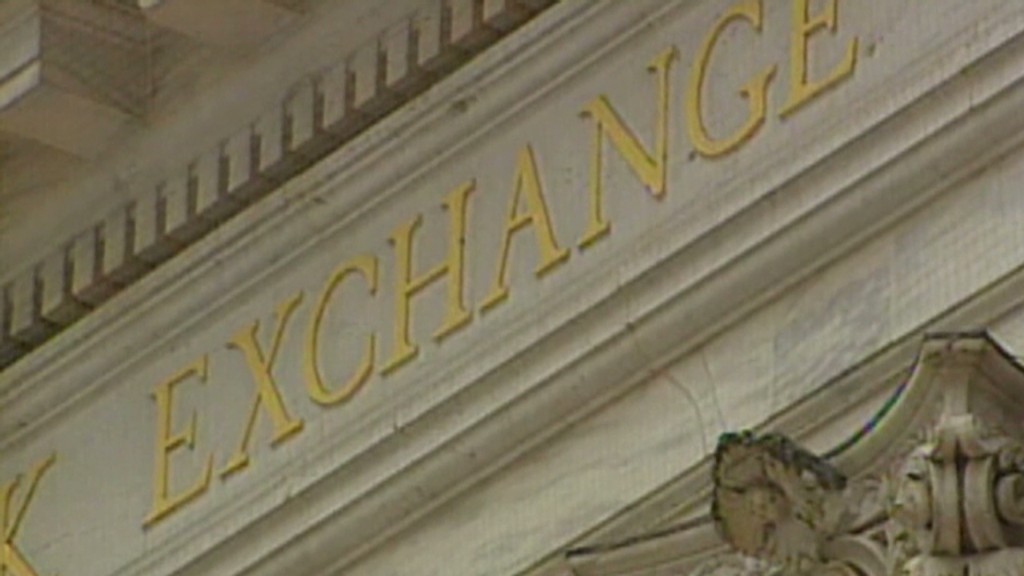 There was also a bit of that merger Monday feeling in the air, after Hillshire Brands (HSH) announced plans to acquire rival Pinnacle Foods (PF) for $6.6 billion. Shares of Pinnacle surged 13% on the news, while shares of Hillshire dropped 3%.
But stocktwits trader CrosbyVenture thinks Hillshire made out nicely.
"On $PF, it looks like $HSH is getting a sweet deal, " he said.
Related: Hillshire Brands to buy Pinnacle Foods for $6.6 billion
Investors are also on the lookout for another mega health care deal, of which there have been aplenty so far this year.
Pfizer (PFE)shares rose slightly after the company published a letter to a parliamentary committee in the United Kingdom arguing its case for its proposed $106 billion acquisition of AstraZeneca (AZN).
The chief executives of both companies will be grilled by British lawmakers Tuesday and Wednesday, reflecting high levels of public anxiety over the impact a takeover could have on jobs and scientific research in the U.K.
Gogo (GOGO) soared 6% after the company beat earnings estimates. The inflight internet provider reported a narrower loss compared to a year earlier and said that its revenue climbed 35%.
One StockTwits trader was bullish about the stock based on firsthand experience.
"$GOGO I've used GOGO a number of times in flight and thought their service was great/ easy to use / seamless," said TheDragonfly.
But another StockTwits user isn't convinced that Gogo can continue to fly until it actually starts making money.
"$GOGO Dead money until it proves it has a clue on how to turn a profit," said ricster3.
Shares of J.C.Penney (JCP) popped 4% after Goldman Sachs analysts maintained their "neutral" rating on the stock, but said they expect to see continuing progress from the struggling retailer's turnaround efforts.
With Monday's gains, J.C. Penney shares are now flat for 2014. They've made an impressive 60% run in the last three months, but are still down nearly 50% over the last year.
Investors will have more insight into the company's progress, or lack thereof, on Thursday when it reports earnings.
StockTwits trader operaghost88 isn't buying into the J.C.Penney hype.
"$JCP This is a bump right before earnings. Very typical. Then it will go to where it should be," he said.
Ralph Lauren (RL) suffered after the iconic clothing company's stock was hit with an analyst downgrade. The stock has been sliding and is down more than 17% this year as it struggles to keep up with the competition.
CNN's Tech 30 Index still negative for 2014
Twitter (TWTR) crawled back Monday with an almost 6% bump after an analyst at SunTrust upgraded the stock. Shares plunged last week after insiders were allowed to sell Twitter following the expiration of a lockup period tied to the company's initial public offering in November.
A number of tech stocks had a great day with Netflix (NFLX), Facebook (FB) and Amazon (AMZN) some of the biggest gainers among companies in the S&P 500.
Investors also kept a close eye on geopolitical developments, but they seemed to shrug off Sunday's vote in a region of eastern Ukraine that showed an overwhelming majority in favor of independence. Ukraine and several Western countries have condemned the referendum, organized by pro-Russian separatists.
European Union foreign ministers met to discuss the situation in Ukraine today. They modestly expanded sanctions on Russia by placing travel bans and freezing assets of additional Russian power players who are close to Vladimir Putin.
Related: Boko Haram threatens Nigeria's economic future
European markets closed higher. Most major Asian markets ended firmer. The Shanghai Composite index surged by just over 2%.