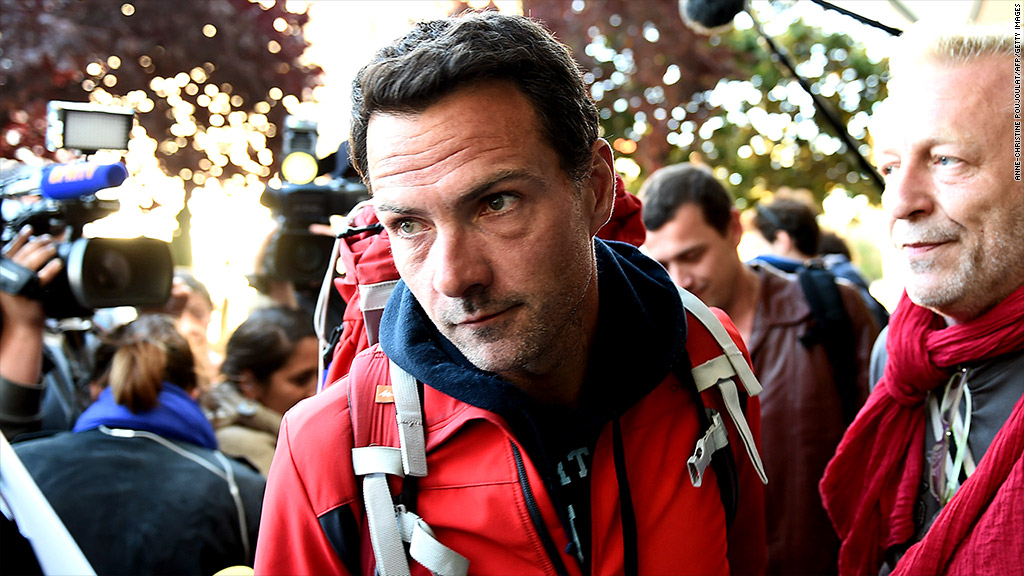 A rogue trader who racked up one of the biggest losses in history has begun serving a three-year prison sentence after walking hundreds of miles to surrender to French police.
Jérôme Kerviel, whose actions nearly destroyed Societe Generale (SCGLF) in 2008, was arrested after walking from Rome in a bid to publicize his case.
Kerviel was found guilty in 2010 of betting 50 billion euros of the French bank's money without its knowledge, leading to losses of nearly 5 billion euros. That was worth about $7.2 billion at the time.
He was sentenced to prison and ordered to pay 4.9 billion euros in damages. France's highest court struck down the damages award in March, and a new trial will be held to determine how much Kerviel owes.
After appealing unsuccessfully against his conviction and jail term, Kerviel was given until midnight Sunday to give himself up.
Kerviel claims he is the victim of a dysfunctional banking system, where his superiors knew about his trading and covered for him. He also argues that there were "major malfunctions" in the way his case was handled by the judicial system.
After meeting the Pope in Rome in February, he resolved to serve his sentence but not before trekking more than 400 miles on foot back to France. His odyssey drew a big following of supporters on social media, and crowds of reporters gathered as he prepared to cross the border.
At the 11th hour, his resolve appeared to waver and he threatened to stay in Italy. Kerviel called on French President Francois Hollande to protect witnesses who could speak on his behalf. But, without an immediate answer from Hollande, he turned himself in.
Related: Goldman Sachs under scrutiny for high speed trading
Kerviel's trading losses dwarfed those made by many other famous rogue traders, including Nick Leeson. The trader's losses of over a billion dollars in 1995 brought down Barings Bank, one of Britain's oldest private banks which counted the Queen among its clients.
A more recent rogue trading incident at JP Morgan (JPM) -- dubbed the "London Whale" -- led to a loss of roughly $6 billion at the bank. During 2013, the bank agreed to pay $1 billion in fines to U.S. and U.K. regulators for lack of proper oversight of its traders related to that loss.
-- CNN's Sandrine Amiel and the Paris bureau staff contributed to this report.