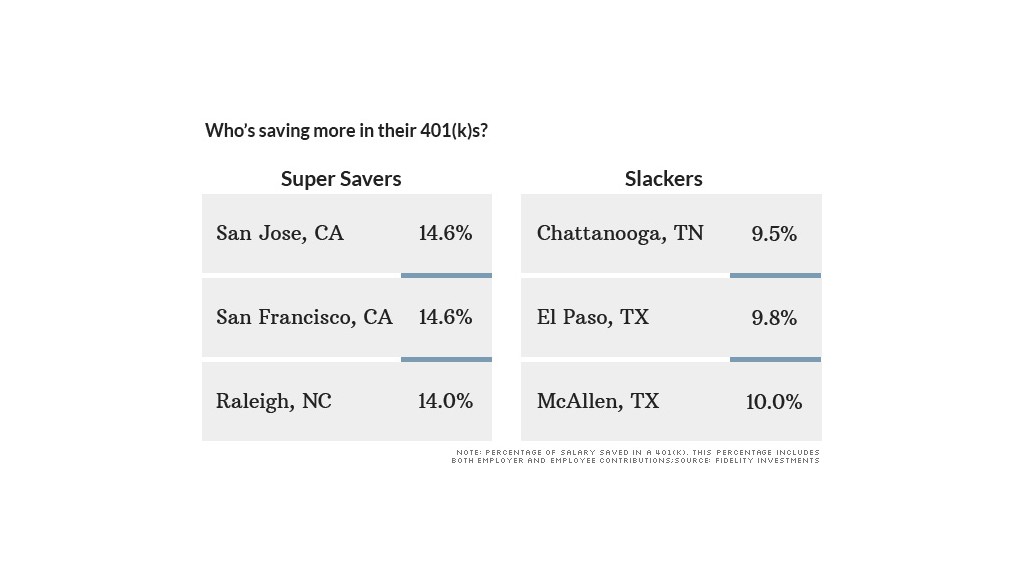 Tech jobs and real estate aren't the only things booming in the Silicon Valley. Workers there are also socking away a lot more money for retirement.
On average, workers in San Jose and San Francisco save close to 15% of their annual pay in 401(k)s -- the highest average savings rate in the country, according to a Fidelity analysis of 13 million savers in 100 metro areas.
Many of them can afford to: The region has some of the highest median incomes in the country thanks to its wealth of high-paying tech jobs.
A similar situation is playing out in Raleigh, N.C., another area rich in tech and medical jobs. Number four, Houston, is an oil and energy hub that has seen a surge of newcomers as employers ramp up hiring and oil prices surge.
Related: 10 fastest growing cities
And if you think all of those super savers are boosted by generous company 401(k) matches, think again.
Employers in San Jose, for example, are only pitching in an average of 3.5% to their worker's 401(k)s -- well below the national average of 4.4%. (Fidelity didn't account for any profit sharing, stock options or other corporate perks, however.)
On the flip side, cities in the South dominated the list of places with the lowest savings rates, all of which were several percentage points below the national average of 12.4%.
In these cities, many workers earn much more modest incomes, making it more difficult to set aside money for retirement.
McAllen, Texas, for example, has a median household income of less than $35,000 a year, while Chattanooga, Tenn. isn't much higher at around $44,000.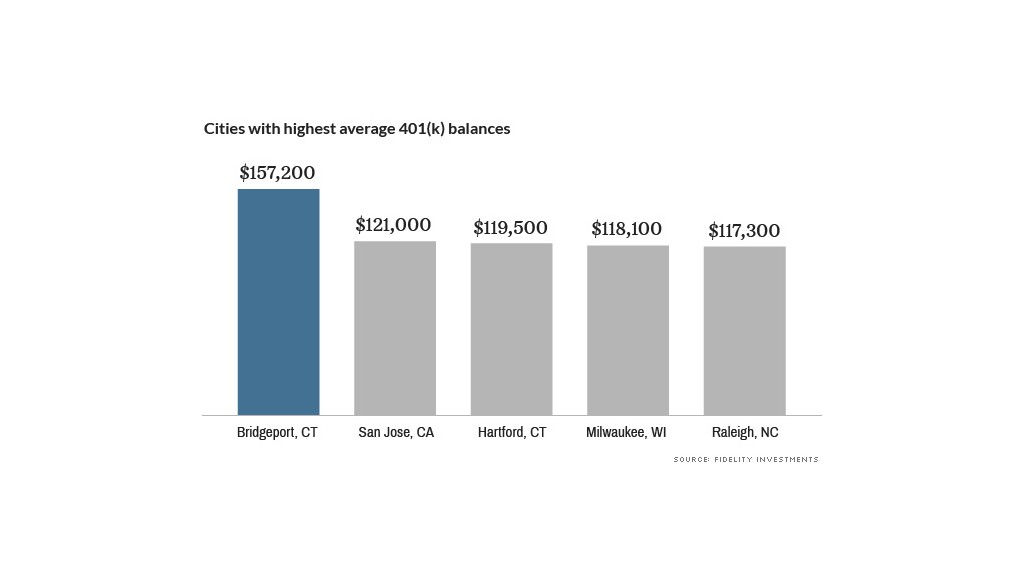 Financial planners typically recommend that workers save between 10% and 15% of each paycheck. But building up a big enough nest egg often requires saving even more than that.
Related: Will you have enough to retire?
As a benchmark, planners suggest that you aim to save at least 8 times the salary you are earning right before you retire. So someone making $100,000, for example, should have at least $800,000 set aside.
By that count, the average $157,200 that workers in Bridgeport, Conn. have saved is hardly enough to fund a long retirement. But it's significantly higher than the national average of roughly $89,000. Of course these averages are based on workers of all ages, whether they're decades or mere years away from retiring.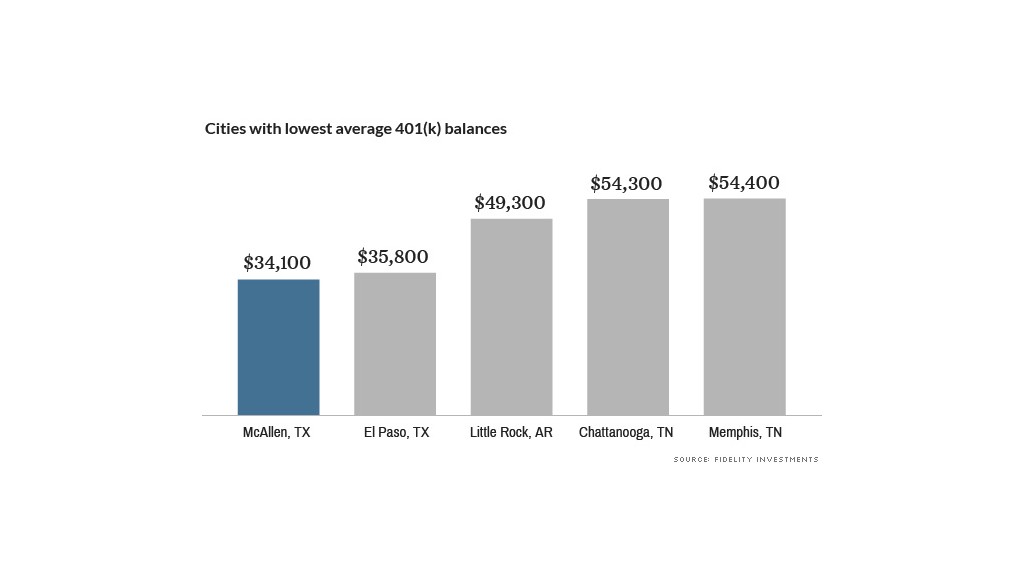 In McAllen, Texas, 401(k) savers are well short of any savings benchmark, with an average balance of just $34,100.
A big part of the problem: Many workers in McAllen are raiding their savings before they even retire. Fidelity found that a third of all account holders in the city had a 401(k) loan outstanding, compared to only 11% in San Jose and 22% nationwide.
Related: How to be a 401(k) millionaire
Typically, 401(k) plans allow savers to borrow up to $50,000 from their account, which is paid back through automatic deductions from their paycheck.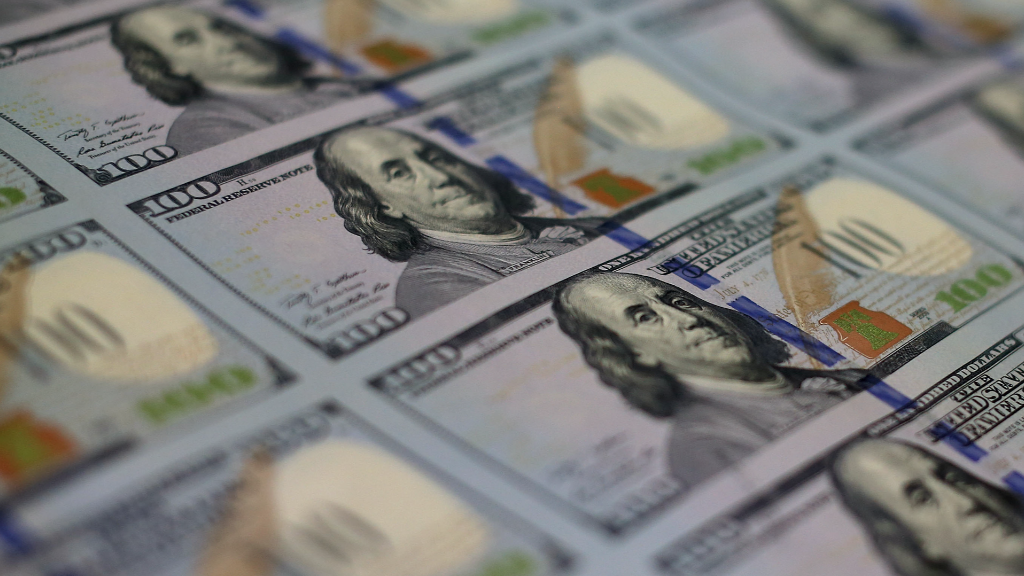 But not only do borrowers miss out on the returns the money would have earned, they also end up taking a tax hit since they repay the loan in after-tax dollars and will pay taxes again when they withdraw the funds in retirement.
Plus, if the worker changes jobs and is unable to repay the loan by a specified deadline, usually 60 days, they can be hit with another tax bill and a 10% early withdrawal penalty if you're younger than 59 1/2.
"It is a triple whammy..." said Jeanne Thompson, a vice president at Fidelity. "Many people don't realize the impact."