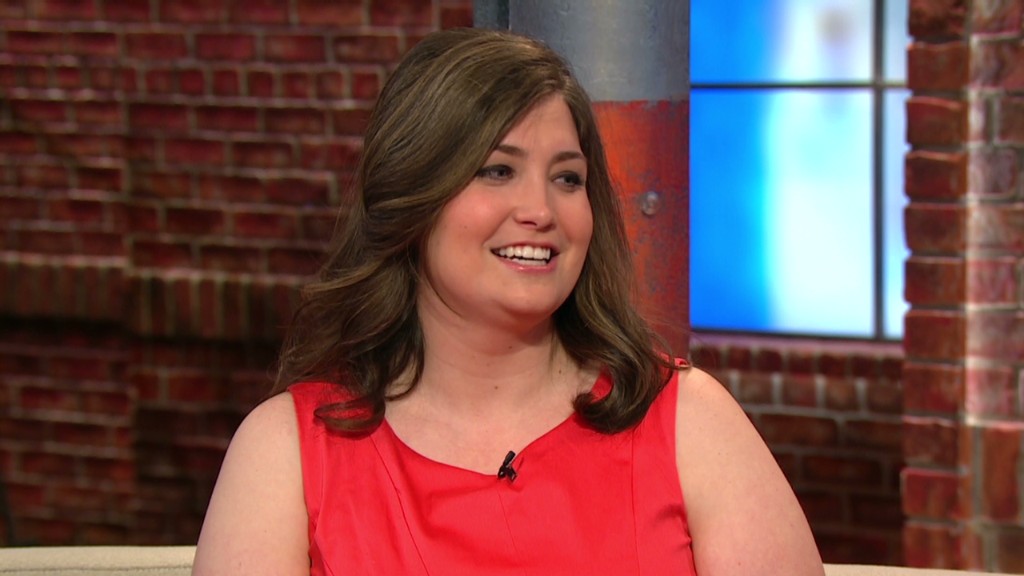 Julia Collins is America's trivia queen. Her 20-game victory streak on Jeopardy is the second longest ever on the show and the best -- by a lot -- by a female contestant.
"Nobody wins forever," she told CNNMoney after she finally lost. That episode aired Monday night.
"Part of what has helped me get through it is that I'll be back for the next Tournament of Champions. It's not the end of the line for me," she says.
Here are some takeaways from her historic performance:
Jeopardy Julia's run: By the numbers
Games won: 20
Total winnings: $428,100
Dating offers: One -- sort of. A father in the show's audience tried to set her up with his son.
Twitter followers: Over 9,500
Job offers: A lot of calls
Recognized by strangers in New York City: Once. At a restaurant.
Prior Jeopardy record by a female player: 7 wins
Related: Can you keep up with Julia in trivia?
Making the case for art and history majors
Collins majored in art and history at Wellesley College. Her favorite trivia categories are literature and art.
"I read a lot. I read widely: periodicals, newspapers, websites, novels, history books, everything" she says. It was her best preparation and what she recommends to other trivia players.
"Once I got on the show, I didn't worry as much about the things I didn't know. I focused on answering the questions I could correctly," she says.
While some parents bristle at the idea of their child majoring in the arts and humanities, Collins defends these areas of study.
"It makes you a less boring person," she says.
Related: Girl on fire: Jeopardy champ Julia Collins wins 20 games
Plan your outfits
Collins wore similar sweaters during each of her 21 appearances, often in green, blue or black. Her outfits became such a talking point that they spurred their own Twitter account: @JCSweaters.
When asked about them, Collins notes that she taped five shows a day during her run, and she often had to change quickly between games. She jokes that if J. Crew wants to sponsor her, she would welcome that.
Collins also wrote her name slightly differently on her podium for each appearance.
"There's not much room to innovate [on the show] beyond how you write your name and your sweaters," she says.
The most stressful part of the game is your "fun fact"
Jeopardy host Alex Trebek briefly interviews each contestant after one of the commercial breaks. It's meant to be lighthearted and a chance for the audience to meet the players. But it can often be the most stressful part for players.
"I ran into Ken Jennings years ago at a museum. He was very polite and gracious," she says. Jennings is Jeopardy's grand master, with 74 straight wins on the show a decade ago.
Jennings turned out to be her good luck charm. She recounted the story of how she met him during the audition process to impress the producers.
After multiple appearances on the show, Collins had to keep coming up with things to talk about. Toward the end, Trebek started giving her suggestions, such as discussing her Chicago hometown.
The final Jeopardy theme song is frightening
"I heard that Ken Jennings gets stressed out every time he hears it," she says of the notorious final Jeopardy theme song.
Collins still gets a little tense when it comes on TV.
"I have to think of the answer now," she thinks whenever it comes on. "But I'm trying to get over that."