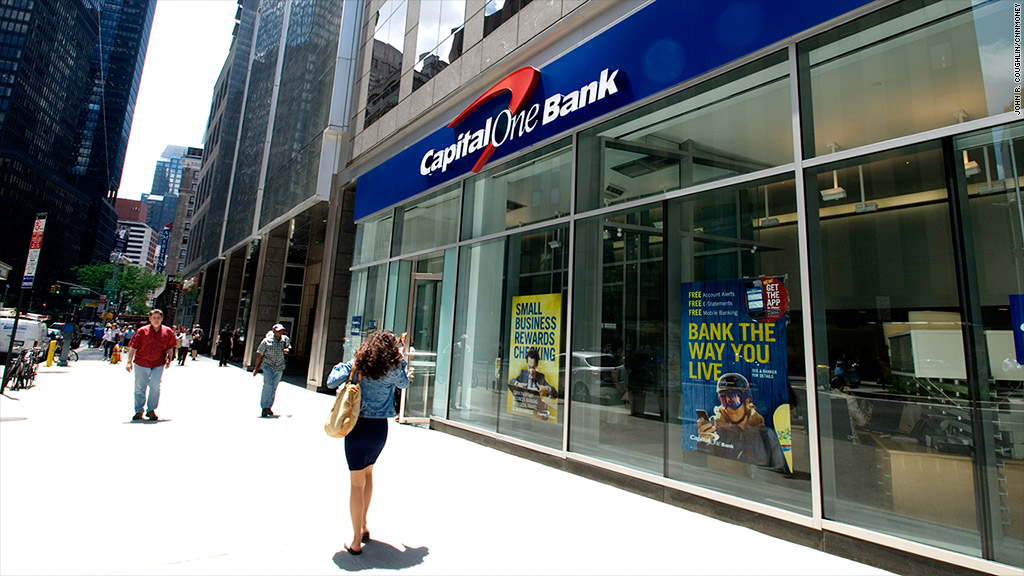 Capital One is pledging to make it easier for people with bad banking histories to qualify for checking accounts.
As part of an ongoing investigation into the credit bureaus that banks use to screen checking account applicants, New York State Attorney General Eric Schneiderman said Monday that Capital One (COF) will change its policies and make it possible for "many thousands" of New Yorkers -- and consumers nationwide -- to qualify for bank accounts.
While little-known to consumers, credit reports used by banks contain past records of everything from overdrafts and bounced checks to fraudulent activity like identity theft. ChexSystems is the main player in this space, used by 80% of the nation's banks -- including Capital One.
The bureau's massive database holds information about more than 300 million Americans and sends reports to banks about each applicant they want to screen. It's then up to banks to determine how they want to use those reports.
By one estimate, information from ChexSystems results in more than two million people getting denied bank accounts per year.
Related: Bank customers - you're being tracked
"Such databases disproportionately affect lower-income Americans, often punishing them for relatively small financial errors and forcing them to resort to fringe banking services that are more costly than mainstream checking and savings accounts," the New York State Attorney General said in a statement.
Under its agreement with the Attorney General, Capital One will no longer use ChexSystems or other credit bureaus to assess the risk of a customer based on past missteps like a bounced check. It will, however, continue to conduct background checks to look for fraudulent activity.
Related: 'I was denied a bank account!'
"ChexSystem[s] currently screens for a variety of factors, we will continue to use the database but only to help us identify individuals who are in the database as a result of indications of fraudulent activity," a Capital One spokeswoman said.
ChexSystems did not immediately respond to a request for comment for this article.
Capital One also plans to donate $50,000 to the Office of Financial Empowerment, a financial counseling agency in New York for low-income residents. That money will be used to help applicants who have been denied bank accounts due to a ChexSystems report get back into the banking system.
These developments will take place by the end of the year, and the New York AG hopes it won't stop with Capital One.
"I would hope other banks will step up and join us to do the same," he said.