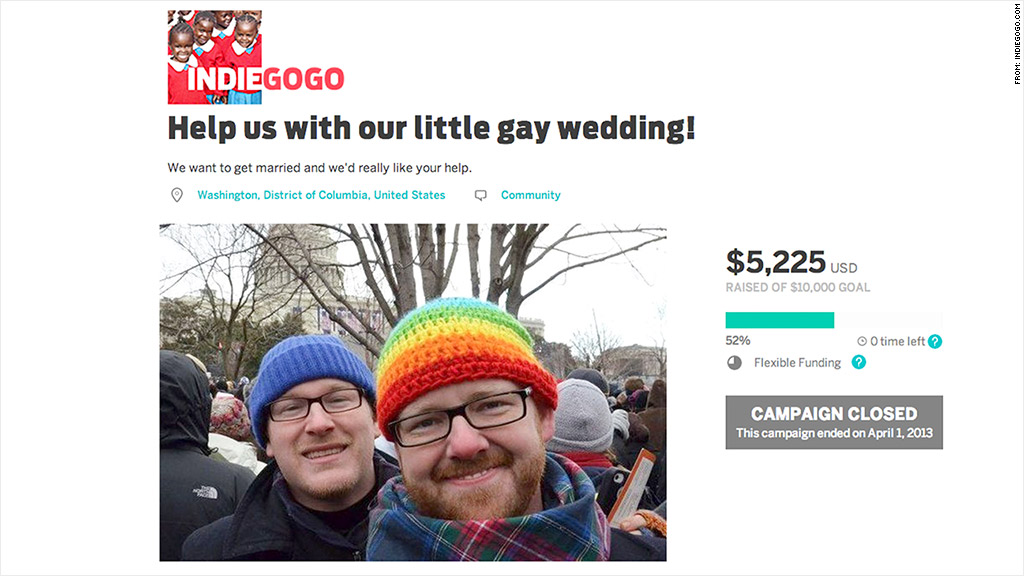 As weddings get more and more expensive, some couples are turning to friends, relatives and even strangers to help pay for their big day.
Unable to afford a wedding on their own or with the help of their parents, couples are mounting campaigns on crowdfunding websites asking for financial help.
Detroit resident Elizabeth Rodriquez, 22, and her fiancé Otoniel Cabrera, 26, turned to crowdfunding site GoFundMe in January -- soon after Cabrera lost his job, leaving him out of work for months. So far, the couple has raised around $4,200 from seven donors, which will go towards their $28,000 wedding in April 2015.
"We're trying to save as much as possible," said Rodriguez, who said they cut their guest list from 200 to 135 in order to trim costs. "The rest is pretty much depending on our family and friends."
Related: Creative (and painless) ways I cut my wedding costs
Their "Dream Wedding" campaign is one of more than 1,500 wedding-related campaigns that have been launched on GoFundMe.com since 2010.
GoFundMe would not provide fundraising totals, but said more than 16,000 donors have contributed to these wedding and honeymoon fundraising campaigns. But while some campaigns attract thousands of dollars, many receive only a few hundred, if any money at all.
Many campaigns are framed like a reverse registry, with couples asking friends and family to rethink the traditional wedding gift.
"We ask that any money you would spend on a gift goes towards our wedding expenses. Any little bit helps!" 21-year-old Ashlyn Walker wrote in May on her campaign on GoFundMe.
Walker and her fiancé, John Schneider, have received $500 from half a dozen people since starting their fundraising page in early May. With their parents unable to contribute much, the couple is hoping to stick to a $3,000 budget.
Beyond the online donations, Walker said many friends and family members are helping in other ways. Her wedding dress is a hand-me-down from Schneider's aunt, while a family friend will provide catering services for just the cost of the food.
Etiquette expert Lizzie Post said that while "many a wedding has been thrown by a bunch of people pooling together resources," the new trend of online fundraising could create "awkward"situations, where potential wedding guests feel pressured to contribute.
"I'm not yet convinced that the general population is ready to receive a link about crowdfunding a wedding they are invited to," said Post, the great-great-granddaughter of now-deceased etiquette expert Emily Post and a spokesperson for The Emily Post Institute.
Related: Average wedding bill hits $30,000
Last year, LGBT rights activist Jamie McGonnigal and his now-husband Sean Carlson were overwhelmed when $5,225 poured in to their Indiegogo campaign from dozens of donors, including friends and family, and even some people they'd never met.
The funds they received covered around a third of the $15,000 in expenses they had for their Provincetown, Mass., wedding last May.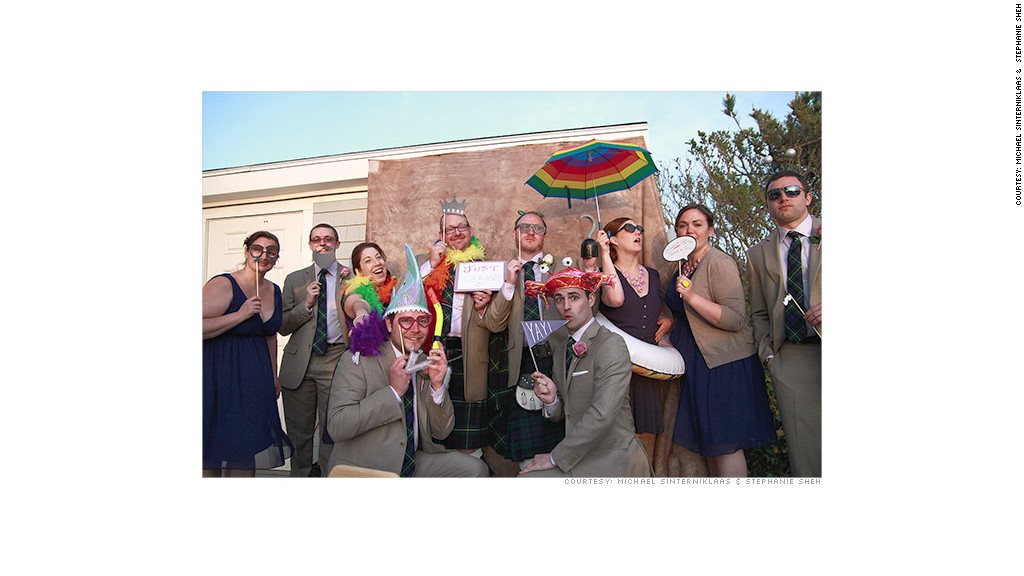 Still, McGonnigal said some people weren't as supportive. "I definitely got a lot of push back from a few people," he said. McGonnigal even found an online message board attacking the campaign.
But there are some cases where people are willing to chip in -- especially when a couple is down on their luck.
Take, for example Brandi Ryans and R.J. Foster, who saw their wedding plans crumble in May when the owner of a popular Brooklyn, N.Y., restaurant called reBar unexpectedly shut the place down after having taken more than $1 million in wedding deposits.
A month earlier, Ryans' parents had written owner Jason Stevens a check for $16,500, which he had said would cover the entire cost of their December wedding.
The New York Attorney General's Office estimates Stevens owes $1.8 million to around 150 couples. While Stevens has agreed to pay restitution to these couples, it's unclear if or when he will have the money to pay them back.
Related: Same-sex marriage: 'Our finances one year later'
Determined to help the couple salvage their wedding, Ryans' friend Erin Telford launched a GoFundMe campaign, "Save Brandi & R.J.'s Wedding" which has received around $7,500 from 142 donors.
Ryans said their wedding will likely be "smaller and less frilly" than originally planned, but that the support they're receiving is "literally saving the day."
"It has been a roller coaster, but it's hard to still be angry when this many people are doing such amazing things for you," Ryans said. "It's making this wedding that much more special knowing it was put together with so much love."