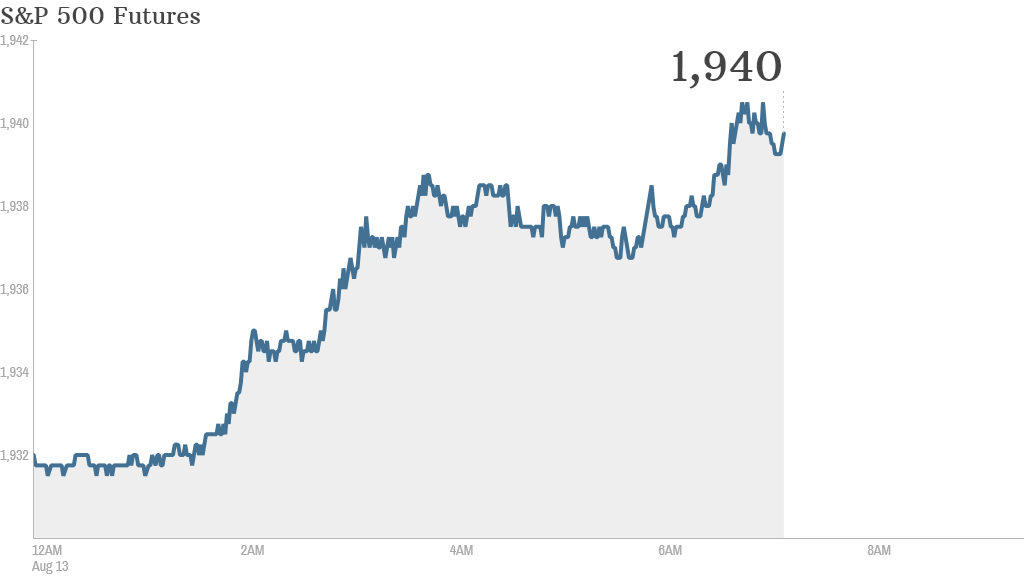 The U.S. trading day is nearly upon us.
Futures were moving higher, pointing toward a strong start at the opening bell, even though headlines are dominated by wars in Iraq, Ukraine, Syria, Gaza, and other places.
"It looks like the geopolitical headlines are taking a back seat this morning," said Peter Cardillo, chief market economist at Rockwell Capital Group. "Basically investors are focusing on the fundamentals of the economy, so markets are on an upswing this morning."
Here are the four things you need to know before the opening bell rings in New York:
1. Japan's economy posts major slump: Japan's economic growth collapsed in the second quarter but the results weren't quite as bad as feared. The economy suffered its worst contraction since the 2011 tsunami. Many people had made big purchases ahead of a tax rise in April and spending slumped in its wake.
Asian markets were relatively stable Wednesday. The benchmark Nikkei index in Tokyo advanced by 0.4%.
2. Western markets calm despite Ukraine concerns: U.S. stock futures were rising and European markets were also making gains Wednesday.
Investors are watching as Russia sends a convoy of 280 trucks to Ukraine -- Russia says it's sending humanitarian aid to battle-torn eastern Ukraine, but Ukrainian officials say the trucks will be used as part of a Russian invasion, and have vowed to stop the convoy at the border.
CNNMoney's Fear & Greed index shows market sentiment is pointing to 'extreme fear'.
Over the previous session, U.S. stocks closed slightly lower. The Dow lost about nine points. The Nasdaq was down about 0.3% and the S&P 500 closed 0.2% lower.
Related: Fear & Greed Index still languishes in extreme fear
3. Stock market movers -- King Digital, American Apparel: Shares in the company behind the popular Candy Crush game -- King Digital Entertainment (KING) -- plunged by 23% in premarket trading after the company reported that it generated less revenue and signed up fewer users than Wall Street expected.
It's worth watching American Apparel (APP) shares Wednesday after the company said it was delaying its earnings report. The firm has been in turmoil since its controversial CEO Dov Charney was ousted in June.
In a regulatory statement, the company said, "The new board needs additional time to review the financials and ask questions of management before the company is in a position to finalize [quarterly earnings]."
4. U.S. earnings and economics: Macy's (M) will report earnings before the opening bell and Cisco Systems (CSCO) will report after the close.
Deere (DE) reported a quarterly decline in sales and income, compared to the year-earlier quarter. CEO Samuel Allen blamed "moderating conditions in the global farm sector."
The Census Bureau will post July retail sales at 8:30 a.m. ET. A consensus of economist opinion collected by Briefing.com forecasts an increase of 0.3%.